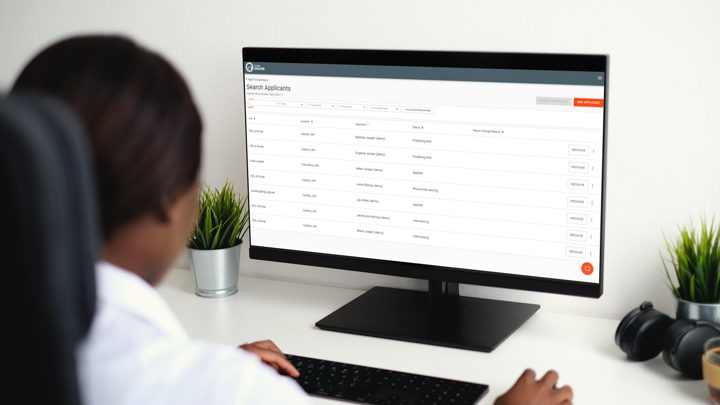 Today we're announcing a new feature that allows Team Engine users to find job applicants inside the system more quickly and easily. That means you can now search for an applicant across all jobs and filter by name, position, location, status and availability.
What's new?
Team Engine users have always had the ability to search applicants (by name) for a particular job, but we've now expanded that functionality in several ways:
Applicant search is no longer siloed by job, meaning you can search ALL of your saved applicants at once, regardless of what job they initially applied for.

Full screen search results where you can view and filter a wider range of applicant details: name, position, location, hiring status and availability

You can access applicant search from anywhere within the software.
When might I use this?
The use cases for this new feature are vast and varied, but a few common scenarios include:
When you're looking for a specific applicant, but forget or do not know their name, the job or location they applied for, and/or their current hiring status

When you're trying to "go broad" by searching or browsing applicants by criteria (instead of looking for a specific candidate)

When it's faster or easier to find someone by conducting a quick search instead of locating them by clicking into the job they applied for and then their hiring status tab
For example, you might remember that an applicant applied in Dallas, but not remember to what job. Or, perhaps you want to review all applicants that applied to either the labor or supervisor positions in Dallas. You could filter to a job location and browse all applicants in Dallas in a specific period of time.
How do I find it?
Team Engine users will now see a search bar in the upper right corner of their account. This search bar is accessible throughout the system, no matter what screen you're on, so you can hop to the applicant directory with ease. 

From there, you can continue to refine your search using filters for jobs, locations, statuses, and availability.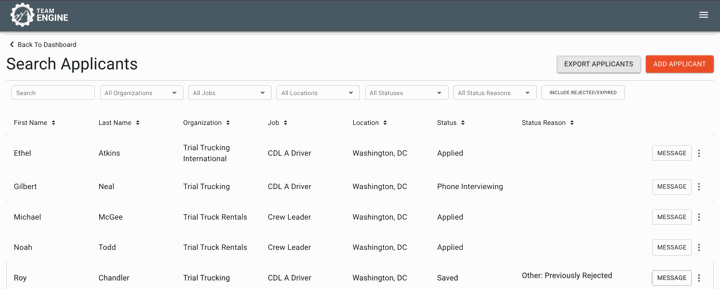 Use the < Back button in the upper left corner of the directory to return to the previous page you were on before using the applicant directory.
---
Having trouble accessing or using the applicant search bar and directory? Send a message to our Customer Success team (support@teamengine.io) for assistance!