Team Engine users can now receive files of all types on inbound texts and emails from employees and applicants. 
In addition to receiving those files in the text message feed, any files that employees send to you will also be accessible on the Documents tab of their applicant or employee profile.
How might this be useful?
Supporting culture & building rapport:

When someone replies to your text with a reaction GIF, you'll now be able to see it and reply accordingly. (note: outbound text messages from Team Engine do not support sending of GIFs)

Faster completion of paperwork

: No more wasting days waiting for new hires to remember to bring in their onboarding documents, when they can text or email photos and PDFs from home.

Documenting of excused absences:

Employees won't lose the documentation you need, when they can text it in to you the moment they receive it.

Reporting safety issues:

Sometimes, a video or audio recording is necessary to understand the context and gravity of a situation, or is needed as proof and documentation of something happening.
These are just a few ways we're already seeing our customers using this new feature to their benefit!
What types of files can be received via text message from applicants and employees?
You can receive:
audio files

video files

PDFs

Word docs

spreadsheets

photos

animated GIFs
More image file types — such as GIFs, SVGs, and WEBPs — will now render in Team Engine, based on browser support. This means you can see the actual image, and not just an icon representing the image for download.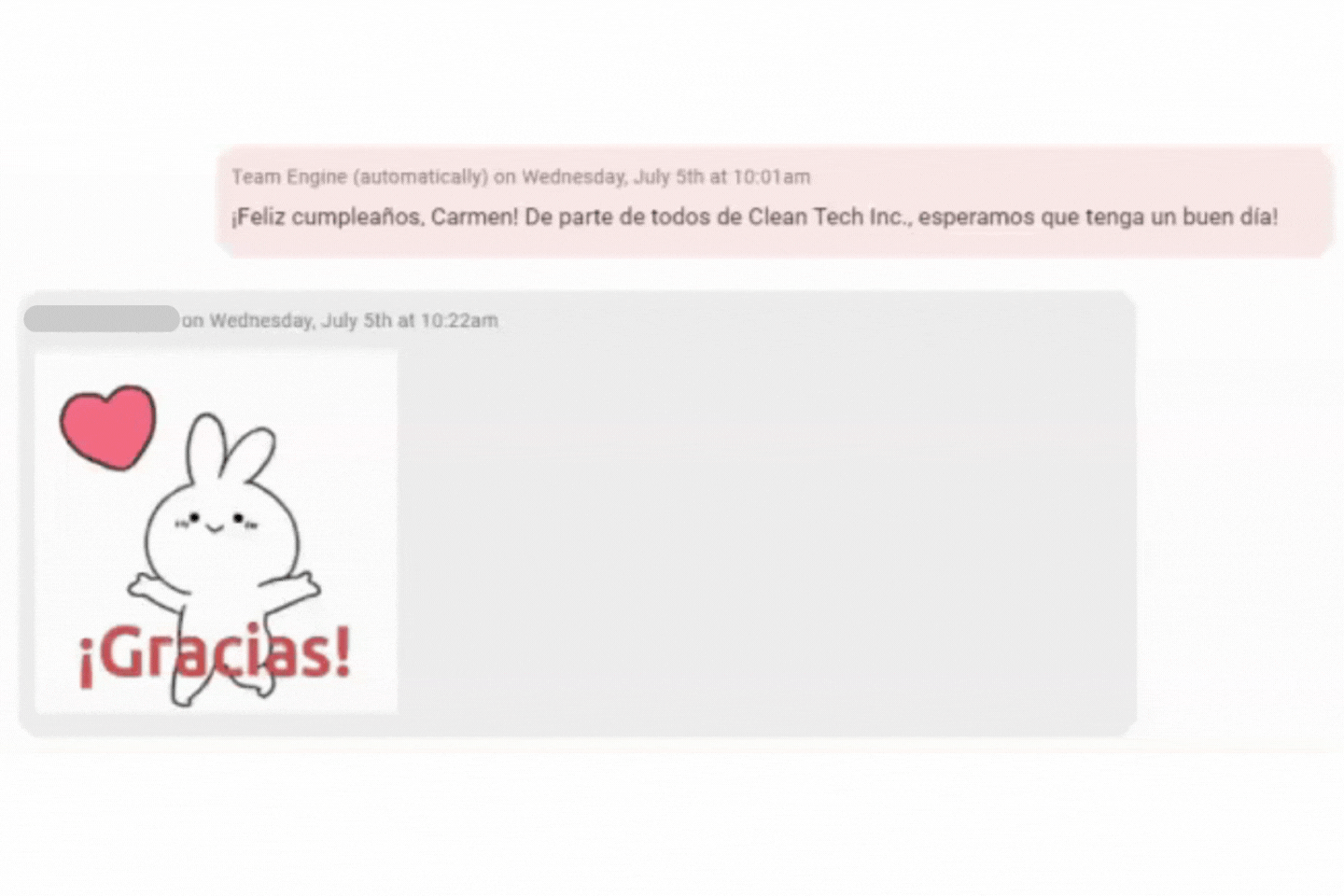 How is this different from before?
Previously, Team Engine users were ONLY able to receive JPEG and PNG image files via text messaging. (Inbound emails did not accept any file attachments.)
What should be my first step?
First, test it out with yourself. From your personal cell phone, send a text message to your organization's texting line. Attach a GIF from Giphy, or a video from your photo album. Then, see how it looks in the Team Engine inbox. Next, send your personal account an email from inside Team Engine, reply to it from your personal account with a PDF attachment, and examine the reply inside your Team Engine account.
Once you have a feel for it on both the sending and receiving end, and some ideas about how this might be useful for your specific organization, consider making an announcement to let your employees know about this new functionality and how you'd like them to use it.
Also think about how this could fit into & improve your hiring process, then make necessary adjustments to any checklists or templates you may use.
Still have questions?
Send us an email! (support@teamengine.io)