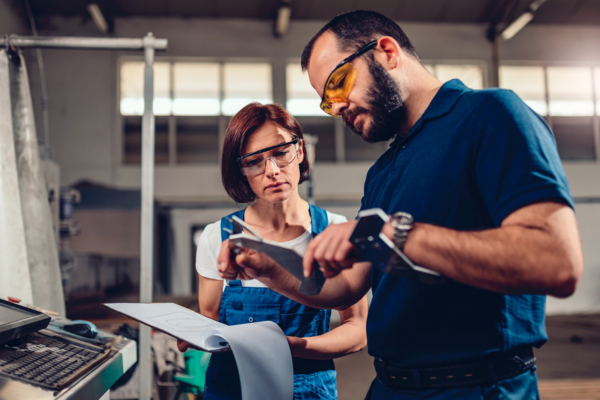 Manufacturing roles are essential to the continued growth of the American economy. But with millions of unfilled positions in the industry, we can imagine you're feeling the strain of the labor shortage. Don't despair! If you've been posting vacant production positions on the big job boards with little success, it might be time to try other options.
There are plenty of niche job boards out there that cater specifically to manufacturing roles, and they're designed to help employers quickly find qualified candidates. In this article, we'll take a look at 9 of the best manufacturing job boards for finding top talent in the industry.
Looking for a one-stop-shop to post on all these job boards, and manage them all in one place? Check out our integrated job posting feature, or sign up for a risk-free trial to see it in action for yourself!
1. ManufacturingJobs.com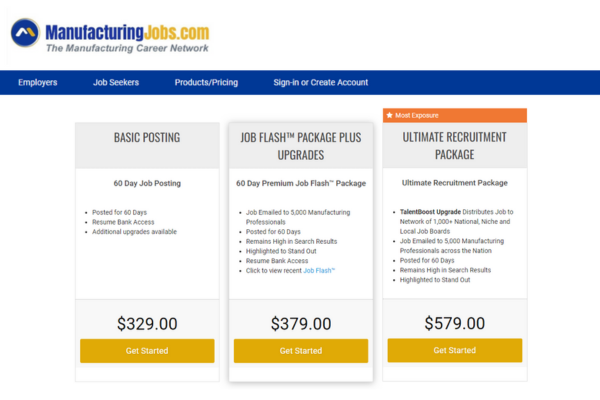 ManufacturingJobs.com is a leading job board for the manufacturing industry, offering around 11,400 applicants in various fields within manufacturing, including engineering, operations, and production. Employers can post job openings or search through resumes to find great candidates, so you can quickly find the perfect person for the job.
The job board offers a range of cost-effective pricing plans to fit budgets of all sizes. You have the option to post open positions using a 30-day volume rate, or you can upgrade to feature your jobs on the home page and at the top of search results. If those options don't meet your needs, you can customize a package.
As an added benefit, ManufacturingJobs.com will spread your job postings across other reputable job boards and affiliated sites without any additional charges. Plus there are upgrades for better visibility on social media or as a featured listing in their Job Flash™ Emails (which goes out to 5,000 potential job seekers).
Advantages
Extra visibility via other related job boards, affiliate sites, social media, and featured listings

Easy-to-use search function to search through resumes

Open positions stay live for 30 or 60 days

Volume discounts depending on length of job posting

Competitively priced in comparison to other job boards
Disadvantages
You must have a paid plan to post and use the resume search
2. ManufacturingWorkers.com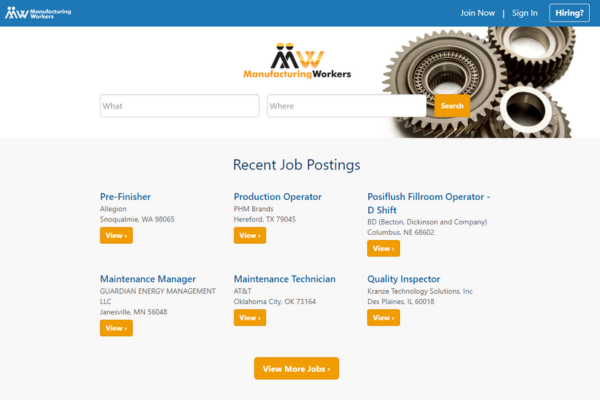 ManufacturingWorkers.com is another popular job board that can help you find the perfect candidate for your open manufacturing role. This site is operated by Nexxt, which offers a wealth of tools beyond just the job board to help employers recruit and hire.
For employers, this innovative platform offers a wide range of attractive features to optimize your recruiting and hiring efforts. Like ManufacturingJobs.com, you're able to post jobs and search through resumes at various price points. But what makes this job board truly stand out is its advanced capabilities that you can't find on other manufacturing sites, such as:
Texting and emailing job seekers

Programmatic and display advertising campaigns

Various hiring events

Advanced analytics and reports
Manufacturingworkers.com offers competitive pricing and even better discounts when you post multiple job openings.
Advantages
Integrates with the Nexxt career network

Cost-effective pricing plans

Advanced communication features for reaching qualified candidates quickly and maintaining long-term relationships

Digital advertising features for better visibility

Candidate qualification filtering

Generating reports to monitor and evaluate candidate engagement
Disadvantages
All plans must be purchased and job listings must be managed through Nexxt

The intricate user interface may be challenging to use for less tech-savvy employers

Navigating the wide range of recruitment features can be overwhelming

Employers can't control which sites display their job openings

3. Warehousing Education and Research Council (WERC) Job Board
The Warehousing Education and Research Council (WERC) job board was launched back in the early 2000s and is an exclusive hub for positions within the warehouse and distribution industry. It's managed by a non-profit organization and has grown to become one of the most trusted job boards in the space.
The WERC board is well equipped with powerful search capabilities, including keyword-based searches and advanced filters that enable both employers and job-seekers to narrow down their results.
WERC offers a range of pricing options depending on which features you want to use and the length of your job postings. Their "Job Flash" feature is a popular one, as it sends out your open position via email to an impressive 30,000+ Supply Chain Professionals and WERC Members. They claim that this can boost the number of candidates you receive by up to 500%!
Advantages
Free access to explore resumes

Established and trusted job board

Advanced filter and search capabilities

Discounted pricing plans for 30 or 60-day job listings
Disadvantages 
Limited to jobs within warehousing and distribution
4. iHireManufacturing
iHireManufacturing is a one-stop shop for job postings in the manufacturing industry such as engineering, production, and operations. With a network of 467,000+ registered manufacturing candidates and 108,000+ resumes (and growing!), you'll find all types of talent to meet any hiring need.
Like their competitors, employers on iHireManufacturing can post their job openings or sift through resumes to find potential candidates (albeit, at a cost). The platform also provides a series of features to help you get the most out of your job postings, like the ability to refresh each one every 15 days and their innovative iMatch technology, which recommends relevant positions to active job seekers.
And because this is part of the larger iHire network, your open positions are automatically shared across all the other job boards within the same network (again, at an added cost). This gives employers wider exposure and a better chance of hiring top-notch talent.
Advantages
Large pool of registered candidates in the manufacturing space

Automatic job refreshing every 15 days

Advanced matching technology for easy searches

Volume discount packages

Additional marketing tools include customized email notifications and automated social sourcing

Good reputation with positive results based on

Trustpilot reviews
Disadvantages
Must have a paid plan to access any features

Range of pricing plans, but not as affordable as other job boards

Additional cost for resume searching and sharing open roles to partner sites
5. American Society of Mechanical Engineers (ASME) Career Center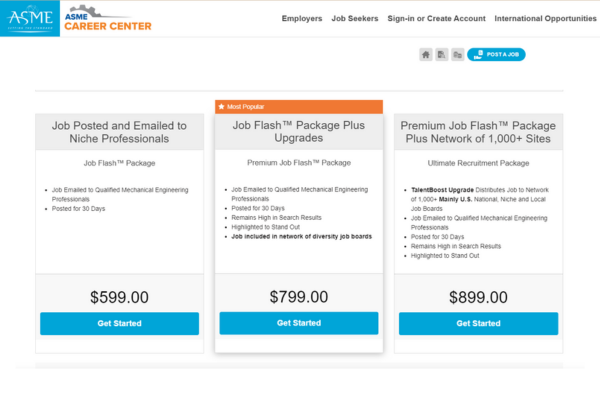 Since its foundation in 1880 by a group of pioneering industrialists, the ASME Career Center Job Board has become a trusted platform tailored to mechanical engineering professionals from major brands like Lockheed Martin, Boeing, and Tesla. Now boasting over 85,000 members from across 135 countries, this niche job board continues to be a reliable source for employers and job-seekers alike.
If you offer internship opportunities, you can create a company profile and post these roles to the ASME board for free. Otherwise, you'll need to sign up for one of their paid plans. With no volume discounts, the limited plans may be considered a bit pricey for employers.
Advantages
Job listings are shared to 1,000+ job boards for better visibility

Job posts remain live for 60 days

The Social upgrade option broadcasts job postings to a wide range of social media platforms

Offers specific upgrades to recruit veteran or minority candidates
Disadvantages
All upgraded features come with their own additional fees

No bulk job posting capabilities

More expensive than other competitor job boards
6. ManufacturingCrossing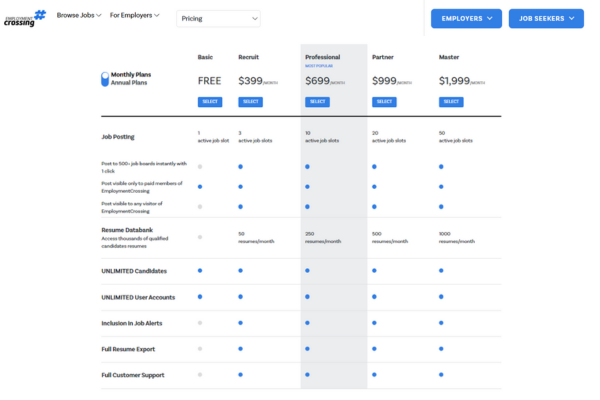 ManufacturingCrossing is another job board with a focus on the manufacturing industry. Like many niche job boards, this one nets less traffic than the larger job aggregators. But it has a distinct advantage: the site draws in manufacturing jobs from more than 4.4 million sources, enticing candidates to check in regularly. Plus, it offers a few features that make it worth considering:
For starters, employers are given free access to post jobs and search resumes (with limitations). Beyond that there are four paid packages offering options for a range of budgets. And the site is powered by Employment Crossing, giving users access to additional features like job distribution on 500+ job boards, inclusion in job alert emails, and live customer support.
Advantages
Trusted by major brands for hiring (like Apple, Google, and Amazon)

Free access to post jobs and search resumes

Automatic job distribution on 500+ job boards

Live customer support via chat, email, and phone

Affordable packages compared to competitors

Discounted pricing when you purchase an annual plan
Disadvantages
Platform can be challenging to navigate
7. JobsInManufacturing.com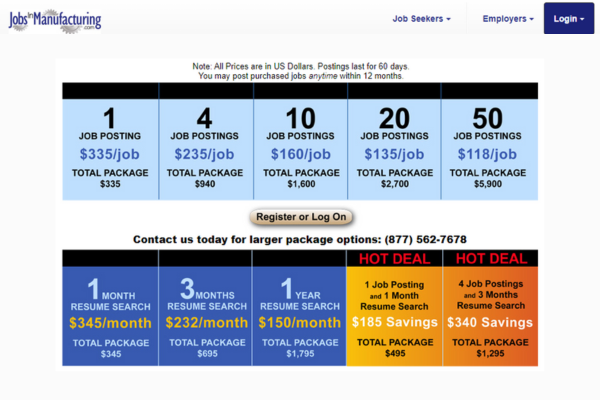 JobsInManufacturing.com is another longstanding and strong contender in the niche manufacturing job board space. Created in 2002, they've developed a solid reputation with big-name companies like Amazon, Coca-Cola, and Sysco. With over 300,000 manufacturing professionals from all levels and areas of expertise, you're sure to find the right fit for your open positions.
Employers can take advantage of lead generation tools that source candidates who meet specific criteria, as well as a searchable candidate resume database. And for those looking to hire at scale, bulk posting discounts are available to save you money. 
Unlike other job boards that have 30-day posting expiration periods, JobsInManufacturing.com offers posts that stay live for 60 days.
Advantages
Automatic distribution of job posts to major job boards

A large audience of 300,000+ manufacturing professionals

Longer active listing period (60 days)

Volume discounts for multiple job postings

Banner advertising upgrades available

Customizable job posts with media like photos and video
Disadvantages
No free plan available

Need to buy a new posting to change job title or location

Max of 250 active job postings
8. WiMWorks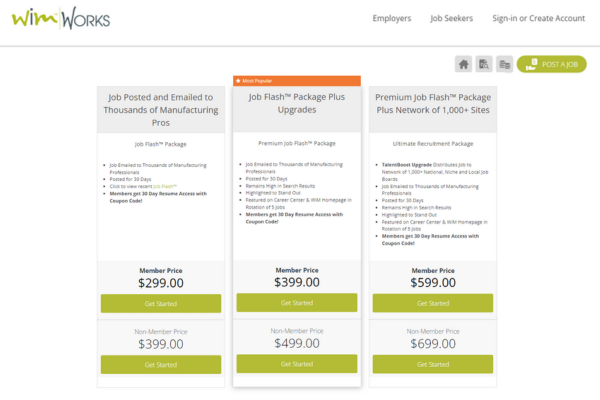 Women in Manufacturing's (WiM) official job board, WiMWorks is a platform created to provide equal opportunities and inclusive workplaces for the manufacturing industry. With esteemed corporate partners like Google and Tesla, WiMWorks stands out as an innovative resource for diverse candidates in manufacturing, including women and veterans.
While it is a worthwhile endeavor, and will certainly grow in popularity, the site currently remains small in comparison to other job boards. Their "Career Center Snapshot" highlights only 300+ active job seekers and around 50 resumes. But you only need to find one perfect candidate, right? So that small pool could be your goldmine.
Pricing is affordable, with a range of plans to suit employers of all sizes and bulk job posting at reduced rates. And there are even bigger discounts and upgrades available if you hold a WiM membership, such as free access to explore resumes.
Advantages
A range of affordable posting packages

Add-ons for attracting diverse and veteran candidates

Free resume search for members

Bulk posting discounts and further discounts for WiM members

Easy to navigate

Advanced packages include posting across 1,000+ boards
Disadvantages
No free plan available

Small pool of active job seekers and resumes
9. Niche Manufacturing Groups on Social Media
Another alternative to traditional job boards is niche manufacturing groups on platforms like LinkedIn and Facebook. Active groups dedicated to manufacturing could be a place to post your job openings and source passive candidates.
Plus, these platforms offer the added bonus of offering employers the chance to showcase their company culture through posts and discussion threads, helping attract more engaged applicants. And, of course, they're free to join and post. Who doesn't love free?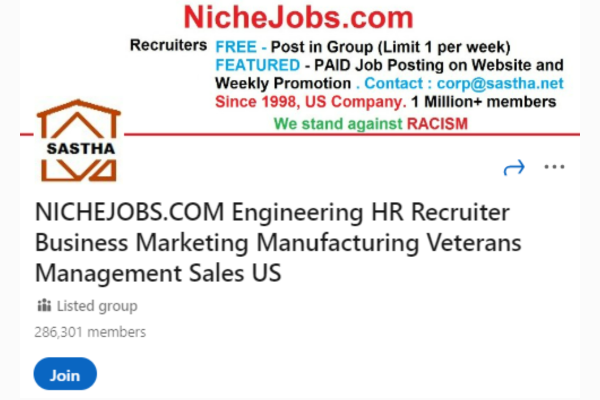 Some examples of relevant LinkedIn Groups include:
Facebook has even more users and groups, so employers have a great opportunity to get their business in front of plenty of potential candidates. But it does take some digging to find the groups that are US-based. These groups bring people from near and far into your virtual space, making it more challenging to unearth local qualified candidates.
---
When it comes to finding qualified candidates in the manufacturing industry, it can be overwhelming to navigate through the many job boards and social networks available. But there's an easier way to publish your job posting: Team Engine!
Our manufacturing HR software automates manual tasks and helps streamline the entire hiring process, making it quicker and easier to reach a wider audience. With our pre-screening and tracking features, you can quickly identify top candidates and stay organized.
So why waste time posting individual listings manually across multiple job boards? Give Team Engine a try and see why it's the best manufacturing job board for employers! Sign up for a free trial today.