At Team Engine, we know that effective communication is at the heart of success. That's why we're dedicated to building a comprehensive solution for companies with a multi-language workforce.
Building upon the success of our 1:1 Message Translation feature, we are excited to announce that Team Engine users can now translate incoming and outgoing Spanish messages with groups of people, as well as individuals.
Our powerful, AI-driven translation feature utilizes the latest in large language model (LLM) technology to translate not just words, but also tone and dialect. Now accessible anywhere you message an applicant or employee in the software, this feature offers accurate and immediate one-click translating capabilities for both incoming and outgoing text messages and emails.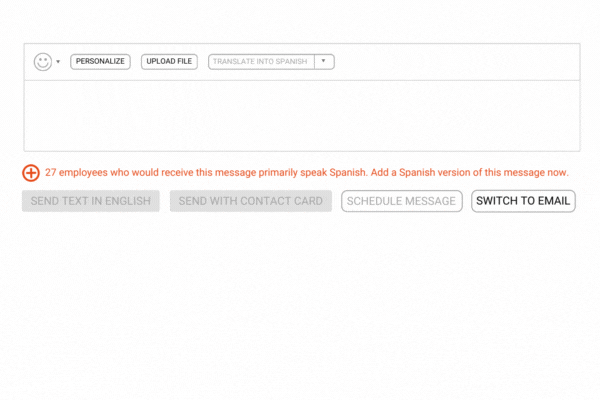 New Extended Translation Capabilities
With this release, we are extending our translation capabilities to include bulk messaging, encompassing announcements and surveys in the Team Engine software. This expansion is a direct response to the needs of HR users and leaders who wish to communicate with their employees in their preferred languages en masse.
We have focused on supporting instances where English and Spanish are involved, which are the primary two languages spoken in our customer organizations. Now, when you begin a new announcement or survey, Team Engine will alert you if any employees receiving the message prefer Spanish, and invite you to create a Spanish version of the message you're composing.
To send an announcement in English & Spanish:
1. Start a new announcement and select the appropriate employee group
2. Compose your message in English
3. Click the orange + at the bottom to open a new text box and add a Spanish version

4. Copy your message from the text box labeled English and paste it into the text box labeled Spanish, or retype it from scratch
5. Click the "Translate" button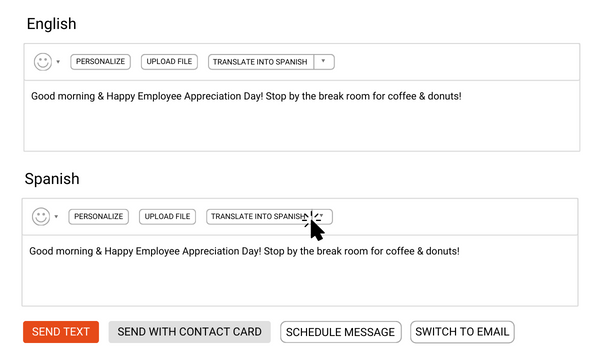 6. You can then send or schedule the message, or upload an attachment. (see below)
---
In addition to this new translation ability, we have also enhanced our attachment functionality to allow you to send the correct attachment based on the recipient's language preference.
To send attachments in different languages:
1. Create two different versions of the attachment you wish to send—one in English and one in Spanish (note: we can not translate your attachment; you must create two separate versions)
2. Click 'Upload File' in the header of the English text box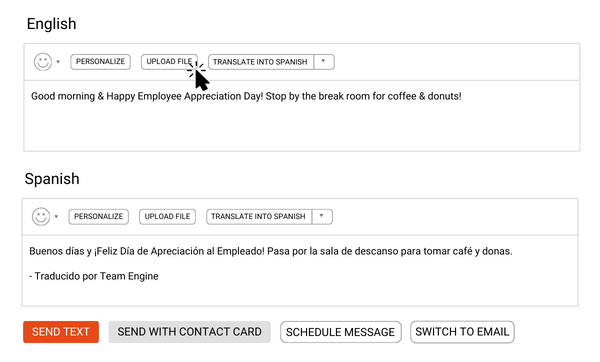 3. Select the file for English speakers
4. Repeat the process in the Spanish text box, attaching the Spanish version instead.
5. Send or schedule the message
Note: While this release focuses on translating to Spanish and supports messaging in a maximum of two languages, we have the goal of enabling translation into any language, expanding beyond Spanish. If you would like to see this feature developed, please contact Nick from our product team directly at nick.steele@teamengine.io.
---
Effective communication is the cornerstone of any successful organization. With this expansion of our translation functionality, Team Engine continues its commitment to help you create and maintain a high-functioning, agile, and engaged workforce. 
In a world where language diversity is an asset, Team Engine is here to empower your organization with the tools you need to thrive. Stay tuned for more updates and get ready to take your communication to the next level with Team Engine.
 As always, we value your feedback and insights to shape the future of our functionality.