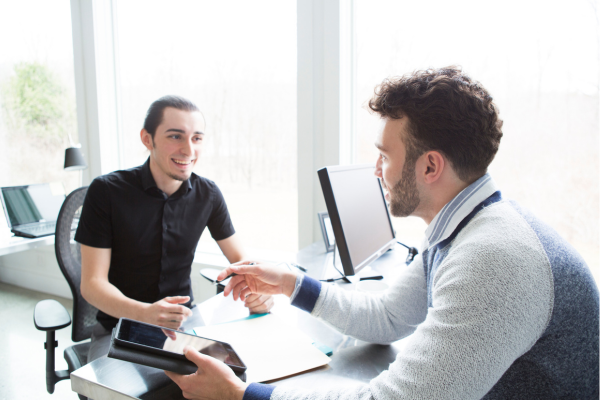 With a massive labor shortage impacting all industries, the need to bring on employees quickly has never been greater. Companies are scrambling to fill vacancies, but are they doing so in a way that's beneficial for their business?
Tito Caceres, Recruiter and Talent Consultant for the landscape and construction industries and Managing Partner at Bloom Partners Talent Solutions, joined Team Engine for a webinar to discuss how to approach hiring during this time.
74% of the country is currently struggling to find talent. But Tito emphasizes that, while it's important to fill positions quickly, making rushed decisions can be costly in the long run. 
Below are just a few key takeaways from the webinar. Uncover all his strategies for an efficient and effective hiring process by watching our full on-demand webinar here!
The Impact of Time to Hire and Cost of Vacancy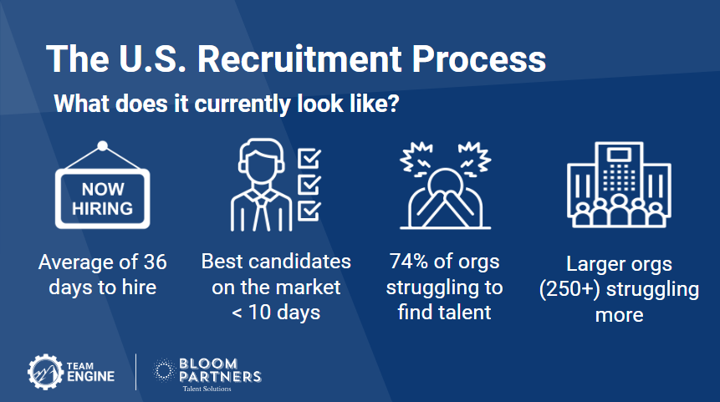 Time is money, as the saying goes. And when it comes to the hiring process, this couldn't be more true. The longer it takes to fill a vacancy, the more money a company stands to lose.
There are several different metrics that companies should track to understand where they're losing time and money during the hiring process. Time to fill and time to hire are two of the most important. The former measures how long it takes to fill a vacancy, while the latter measures how long it takes to find a qualified candidate.
But calculating the cost of a vacancy is what really brings all these metrics to life. 
By measuring how much money a company stands to lose from each day that a position remains vacant, this metric serves as an eye-opening reminder for companies to prioritize filling those roles quickly.
As Tito explains, businesses need to understand this figure in order to maximize their success and minimize losses that relate to open positions.
Here's a quick breakdown of how to calculate the cost per vacancy:
Step 1: Take your annual revenue and divide it by the number of employees to get your average employee revenue.

Step 2: Divide your average employee revenue by

260 working days

to get your daily average employee revenue.

Step 3: Multiply your daily average employee revenue by your average days to hire to get your cost of vacancy.
Now, most companies are reporting that it takes about 36 days to hire someone. So Tito uses the example below:
Let's say you're a $20 million company with 150 employees hiring for an account management role. If we divide the annual revenue by the number of employees, we get an average employee revenue of $133,000.
To get the daily average employee revenue, we divide that number by 261 working days, which is $510.85. Then, if we multiply the daily average employee revenue by the national average of 36 days to hire, we get a whopping $18,390 as the cost of vacancy — or potential revenue loss!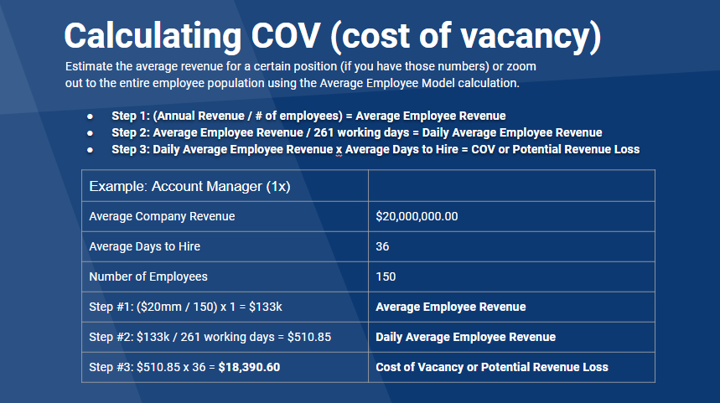 But it's not just about the money. Taking too long to hire can have other negative impacts on your organization including:
Poor customer service due to a shortage of staff

Increased workload and burnout for existing employees

Difficulty in attracting top candidates if the hiring process is perceived as slow or inefficient
So it's important for companies to be proactive in their hiring process and to track the different stages in their recruiting funnel. This allows you to identify areas for improvement and streamline the process to reduce the impact of time to hire on the organization.
Plus, an efficient hiring process leads to a positive candidate experience, which can attract the best talent and ultimately contribute to the success of the organization.
The Most Time-Consuming Components of the Hiring Process
Tito brings over a decade and a half of knowledge to the table in both landscaping and executive recruitment. Through his consulting with 30+ clients within the construction and landscaping industries, he understands that screening and interviewing potential candidates are the most time-consuming pieces of the hiring puzzle.
"One of the only things that can be our competitive advantage is time. And so, ultimately, we want to start thinking about becoming more proactive versus reactive," Tito said.
Some alarming statistics from a recent Entelo survey reveal just how much time companies spend on hiring:
On average, hiring professionals spent 13 hours per week sourcing candidates for just one open position!

27% of respondents spend 20+ hours sourcing for just one role!
These numbers emphasize the importance of efficiency and automation in the hiring process, which can help speed up the search for qualified candidates.
Team Engine is a software solution for deskless employers that helps streamline the hiring process by eliminating manual tasks like:
Posting jobs on a range of job boards

Sifting through resumes

Pre-screening candidates

Scheduling interviews

Tracking and following up with candidates
By leveraging technology for hiring, companies can slash their time to hire and reduce the costs associated with open positions. See if Team Engine could simplify the stress of hiring in your company by grabbing a risk-free trial here.
But, Tito points out, while technology can help with sourcing and screening talent, interviewing requires people to be available. Being proactive in this process can help employers become more efficient, while also creating a better candidate experience.
Efficiency and the Candidate Experience
Efficiency is key to the hiring process, but it's not just about time and cost. The candidate experience is just as important.
"The best candidates are on the market for less than 10 days. I will say that's something that I see very often." Tito elaborates, "I've seen certain instances that it takes two to three weeks just to line up an interview. If we think about some of those best candidates being off the market in 10 days, we have to be mindful of that."
And with 75% of people saying they would not take a job with a company that has a bad reputation, you want to strike a balance between efficiency and the candidate experience.
Here are some of Tito's tips for making the process more efficient while also improving the experience for job seekers:
Streamline the interview process to avoid losing highly qualified candidates

Use automated tools and assessments to

screen candidates quicker

and with less disruption

Consider hiring an external staffing or recruiting firm to maximize efficiency

Offer remote and hybrid options to open up the talent pool
And, maybe most importantly, Tito says to track each stage in your recruiting funnel. When faced with lengthy or complicated job applications, a staggering 60% of potential candidates give up. So the less hurdles job seekers have to jump through, the more likely they are to stay engaged until they land the job. Tito recommends tracking your hiring process, identifying areas for improvement, and setting expectations for the speed of each stage.
In the full webinar, Tito even breaks down how many days you should spend in each stage and what you should be focused on during that time (among many other tips and tricks to make hiring less stressful and costly).
If you missed the webinar, don't worry! You can access the on-demand replay to learn more about the cost of rushed hiring decisions and how to improve your hiring process. Click here to get access now!