At Team Engine, we're thrilled to announce a groundbreaking addition to our platform that's set to redefine communication dynamics. We're excited to introduce our latest feature: 1:1 Message Translation. This powerful tool empowers English speakers to connect with their staff members who speak any language.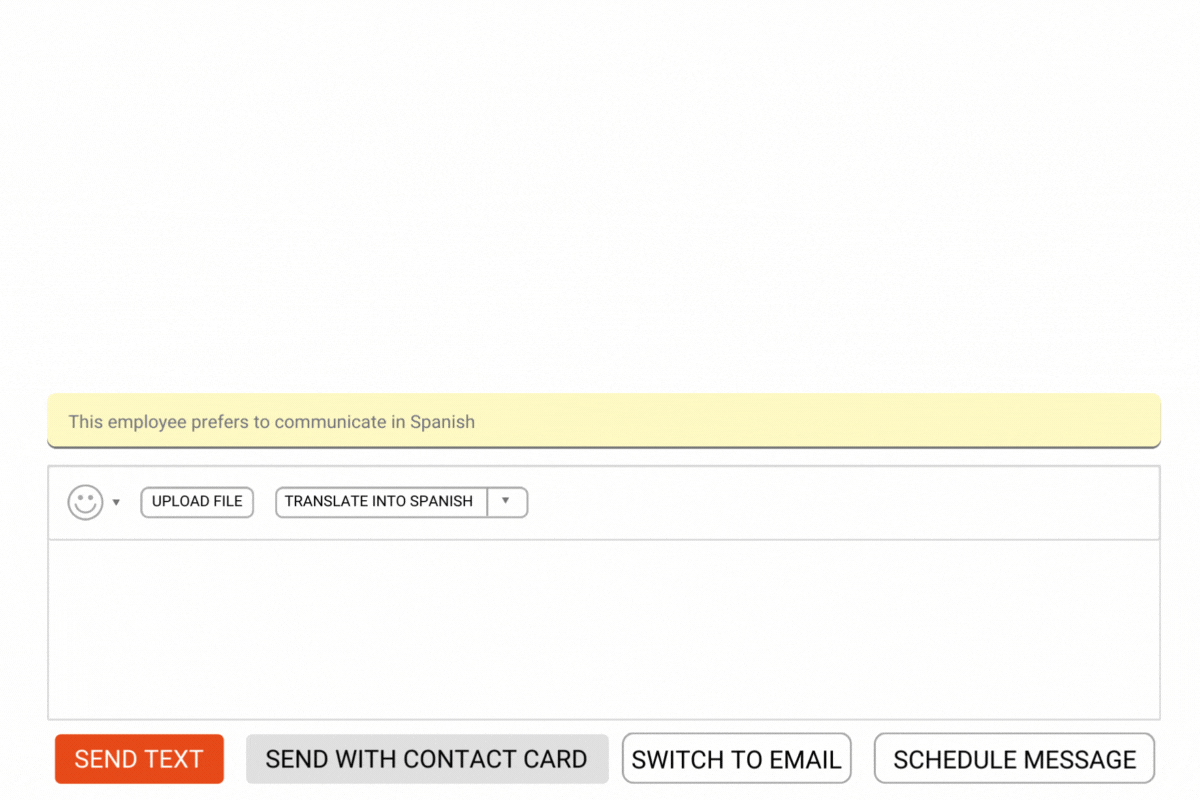 Unlocking Seamless Communication: 1:1 Message Translation
We understand the challenges posed by language differences on your diverse teams. Whether you have to lean on a handful of bilingual staffers to translate to your field team or you are constantly having to run texts through an external translator, translation can pose unique problems for communication. We've designed this feature to make your and your team's jobs easier by giving you the power to translate incoming and outgoing one-on-one messages within Team Engine. We aim to facilitate open, clear communication among team members, fostering inclusivity and collaboration.
Why You'll Love It:
Imagine the possibilities of having instant translation at your fingertips. This feature is not only a game-changer for bilingual employees but for entire teams. Here's why it matters:
Ease the Load: Bilingual team members often act as intermediaries for cross-language communication. With 1:1 Message Translation, everyone can communicate directly, reducing the burden on bilingual staff.
Clearer Conversations: Miscommunication due to language barriers can lead to lost productivity, miscommunications, and poor employee engagement. This tool ensures that messages are accurately conveyed, which guarantees your employees are all on the same page. 
Inclusive Culture: Embracing diverse languages can lead to a more inclusive work environment and can unlock new channels for recruiters. Encourage a culture where team members can communicate in languages they're comfortable with.
Using 1:1 Message Translation
Whether you're reading messages in a language you're not fluent in or composing messages for recipients who speak a different language, our feature streamlines the process:
For Reading Messages
Translating a message that comes in Spanish, Burmese, or any other language can now be done with the click of a button in any message thread. 
You will now notice that there is a "Translate" button in the bottom right corner of all 1:1 messages. Pressing this button will translate that message into English, no matter what the language of the text is.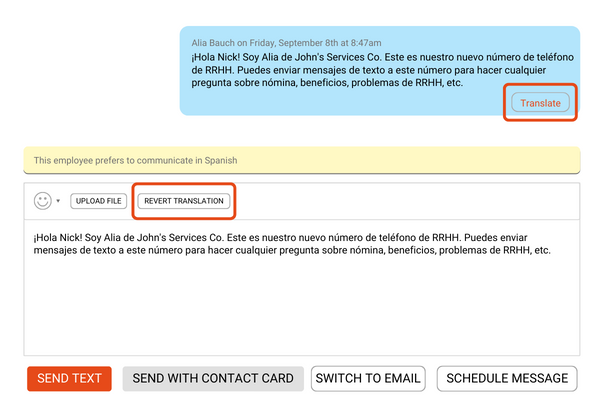 Pressing that button will kick off a process that streams translated text right in the message - don't worry though, this won't show up to the other person in the text chain, it's only visible to you. 
Once the translation is finished streaming in, you can return to the original text at any time by pressing the button in the bottom right that reads "Show Original". 

For Writing Messages
You can also now translate any 1:1 message you write in Team Engine with a few clicks. When you navigate to any 1:1 conversation, you will now see the option to translate in the middle of the text box menu.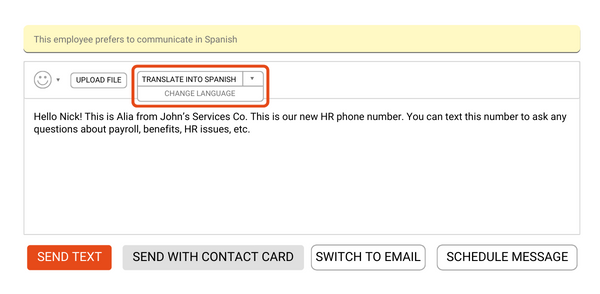 Pressing this button for the first time will prompt you to choose a language you want your text to be translated into, and you can change this at any time by pressing the arrow next to the translate button.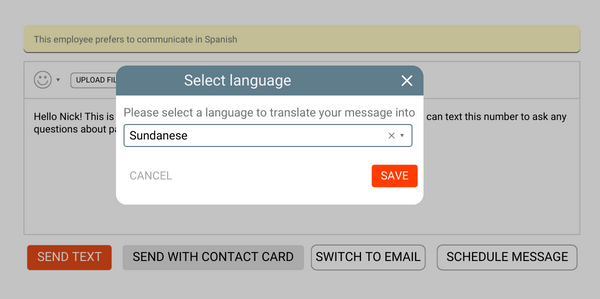 Once you have done that, type out your message, then hit the translate button. We will then stream in the translation directly to the text box, and will add an indication that this translation is one of ours to the bottom of the message to reduce the possibility for miscommunication.
For example, if I was translating the message into Spanish:
"Hello, please remember to bring gloves and all your cold weather gear to work tomorrow"
Our translation will read:
"Hola, por favor recuerda traer guantes y todo tu equipo para el clima frío al trabajo mañana. --Traducido por Team Engine"
You can continue to edit your message as normal, and send it when you are ready!
Frequently Asked Questions
Is this feature available for announcements and surveys?
Not yet, but stay tuned for updates! We're continuously enhancing our features, and bulk messaging translation may be on the horizon.
If I send an announcement, and an employee replies in their native language, am I able to translate that in the 1:1 message feed with them?
In short: yes. 
While the ability to translate outgoing announcements and surveys doesn't exist (yet) in the software, when employees reply back to your bulk messages, those replies can be translated in the 1:1 message thread with each individual employee.
Got Feedback? We're All Ears!
This feature is a leap into new territory for us, and we value your insights. If you have feedback, suggestions, or stories about how 1:1 Message Translation has impacted your communication, reach out to me at nick.steele@teamengine.io. Your input will shape the evolution of this functionality and help us provide even more value to you.
In a world where effective communication fuels success, Team Engine's 1:1 Message Translation feature is a testament to our commitment to helping you create and maintain a high-functioning, agile, and engaged workforce.