Bouncing between multiple pages when finalizing details with new hires increases the chance of miscommunication and important context falls through the cracks. 
In response to this, we wanted to make it as easy as possible for users to connect with their new hires in the moment—armed with the full context of where that new hire stands in their onboarding process, what tasks are outstanding, and more.
That's why we've released an all-new Onboarding page in the software—to centralize all of your pre-hire onboarding needs in one place. Easily take note of what steps in the onboarding process are incomplete, and then quickly take action by messaging candidates to cross off those outstanding to-dos.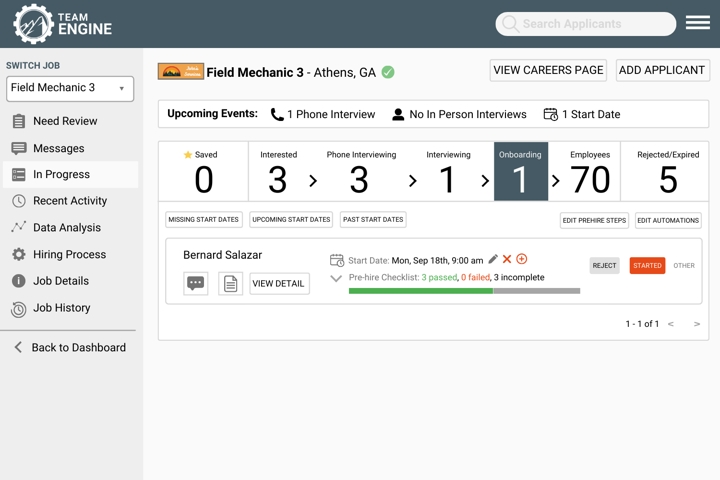 With this new feature, users can:
Ensure everything is completed by a new hire

before

their start date

Easily communicate with new hires about their start date, such as essentials to bring on the first day (like their social security card or a check for direct deposit setup)

Showcase your company's culture by demonstrating how easy it is to communicate with company leadership to get answers to questions
What's new or changing:
The goal of this new Onboarding page is to create one location for users to complete onboarding tasks and view/use pre-hire checklists directly in the software.
Here's what's new as a result:
"Finalizing Hire" and "Awaiting Start" have been combined into one new stage, now called "Onboarding"

You can message new employees from within the Onboarding page

You can easily see who's missing a start date and reach out to them to get one set

As start dates approach, you can see at a glance which pre-hire steps are outstanding
Why you'll love it:
Easily identify new hires that are "stuck" in the onboarding process. 

Monitor the progress of hiring managers, recruiters and other HR business partners

Stay in communication with candidates who need reminders to complete pre-hire tasks

Complete new hire paperwork

before

employees show up on their start date

Store all pre-hire and onboarding documents on the employee profile in Team Engine
What's Next?
As is often the case, we have plans to build on this new functionality over time, including expanding in the onboarding area and automating more pre-hire tasks you have to routinely complete. 
If you have feedback on this new feature, or ideas about how to make it even better, we'd love to hear from you! Reach out to maggie.bronkie@teamengine.io or book a meeting with Maggie below.