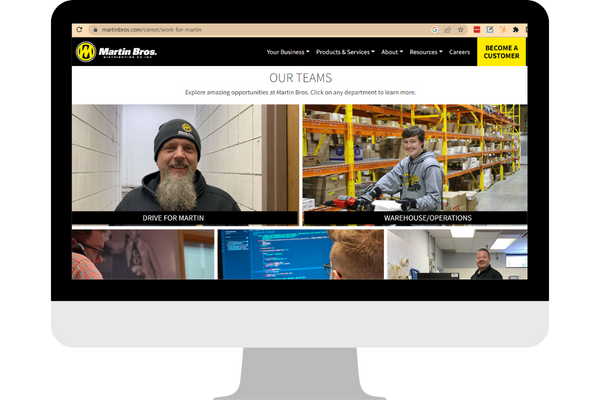 In the trades, quality job applicants are the key to success. Team Engine and Tim Brown from Hook Agency recently hosted an eye-opening webinar on ways to optimize your careers page – so you can get more of the right people applying.
This webinar was designed for any business that:
Struggles to get enough applicants

Receives too many unqualified candidates

Hires bad culture fits

Or relies too heavily on job posting websites
Tim Brown shared an easy-to-follow recipe that will help you rank your job posts and website pages on Google, so you can start receiving more qualified applicants! Below is his ultimate recipe for optimizing your careers page.
And if you would like to watch the full webinar on-demand, you can get access here.
Keyword Research
Your company probably puts effort into getting to page one of Google so customers can find you... So why not do the same for job searches?  This is where keyword research comes into play — and it should be your first step in optimizing your careers page.
The main idea here is to determine what keywords or keyword phrases you want to rank for.
Tim recommends using the free versions of Ahrefs and SEMrush to figure out what people are searching for when it comes to jobs in your industry.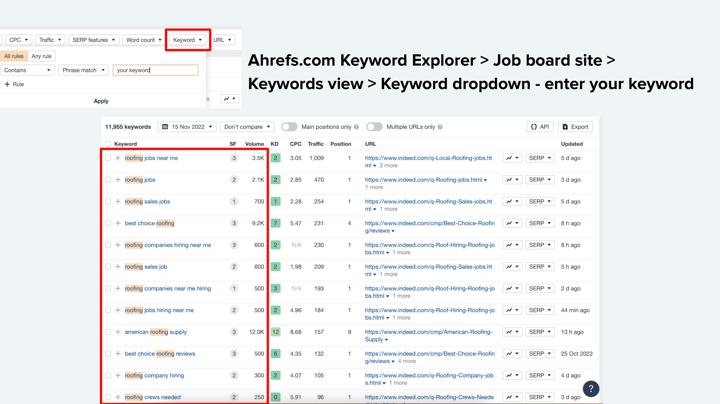 Once you have an idea of the keywords, you can start using them in your job postings and on your careers subpages (see more info on that below).
When it comes to job titles that you want to rank for, it's important to avoid getting cute or creative. Instead, use terms that people normally use when searching for that role. Use job boards, like Indeed's keyword search feature, and enter your targeted keyword (i.e. HVAC technician or roofer) to see which keywords the site is ranking for on Google.
Technical SEO Structure
The second step in optimizing your careers page is to focus on technical SEO structure. While this may sound complicated, there are a few key points to keep in mind that are fairly simple:
Make sure that the site is easy to navigate

Make sure that your website is fast

Have a main careers page

Build subpages for each of your roles
All of these contribute to how well your careers page ranks on Google and can make a huge difference in the number of applicants that you receive.

Niche Landing Pages
If you're looking to fill multiple positions in one distinct location or job type, it's essential that you create a specialized landing page for the specified area or position. For example, if you're an HVAC company and you're always hiring HVAC technicians in Minneapolis, you should create a landing page specifically for that location and job type.
Not only will you be giving Google the content it needs to rank your website for that job type or location, but you'll also be giving candidates a more tailored experience. This can help to cut down on unqualified applicants – as they'll have a better understanding of the position and your expectations – as well as increase the chances that you get the right person for the job.
When creating these niche landing pages, it's important to focus on comprehensive content that is completely original, not copy and pasted from other sources. That's a surefire way to get penalized by Google.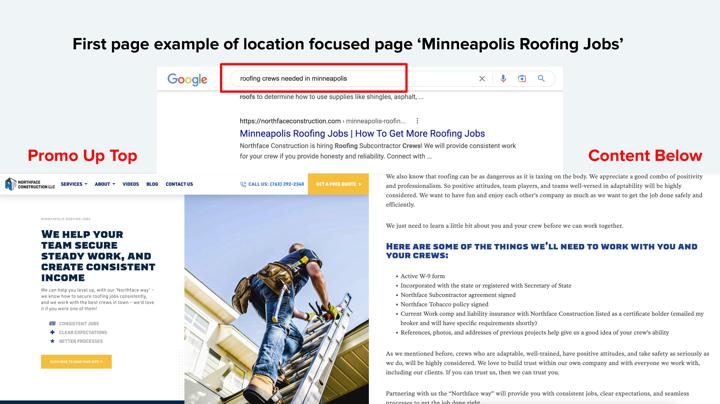 Each page should have at least 300 words of content. This gives plenty of detail to both the search engine and job seekers. Focus on using your targeted keywords and other relevant keywords throughout the page so that Google can better understand the page's intent.
Keep in mind, it can take 3-6 months for your website to see improvement from SEO efforts. Even if there isn't a lot of search traffic now, it may increase in the future. For example, if you plan to hire seasonal workers in the summer, you should optimize your hiring page at least 3 months in advance so your website is ready and at the top of the search results when those job opportunities arise.

Internal and External Linking
In addition to creating niche landing pages, Tim notes the importance of internal and external linking. This means getting your open positions on as many job posting sites as possible. By doing this, you'll create more backlinks to your website.
Backlinks are links from other websites that point to your website, and they're a major signal for how well your site ranks on Google. The more high-quality backlinks you have, the better this will be for ranking.
Plus, by being on all those different recruiting and hiring websites, you're casting a wider net and giving yourself access to more potential applicants. Just make sure you're monitoring these platforms and responding to inbound applications quickly so you don't miss out on any great talent.
Team Engine can make your recruitment process a breeze. With the click of one button, you can post to several different sites and manage the candidates from each site in just one place! It's the most efficient way to recruit and hire!
Now, you'll also want to put effort into internal linking. This means creating links from other pages on your website to the careers page or landing pages you created. This will boost the ranking of all your career-related content and make it easier for job seekers to find what they're looking for.
Content Optimization
As Tim mentioned, your careers page and its subpages should be keyword-rich and lengthy — and this all takes time. Just get something up and running, then take time to optimize as you go. Recruiting is an ongoing process and you'll likely need to hire for that role or location again in the future. So the more you optimize, the better it will be for your website and talent pipeline down the line.
Tim says you shouldn't ever remove website pages related to past job openings. The URL is powerful and has a lot of ranking potential that you don't want to throw away. Instead, edit the page or just add a line of content saying something like, "This position is no longer available." By doing this, you're preserving all the SEO power of the URL while keeping your website up-to-date.
---
Want to know all of Tim's secrets for boosting your website's SEO and standing out in the job market? This must-see webinar includes even more expert tips from Tim like:
His proven "roundup blog strategy" for skyrocketing your website's rankings

The secret sauce for crafting call-to-actions that drive hiring success

The must-have skills, responsibilities, and expectations your site needs to include

The communication strategies your competitors are lacking that (if you use them) will give you the competitive edge

And so much more!
Don't miss out on this opportunity to level up your hiring efforts. Click here to watch the on-demand webinar now!