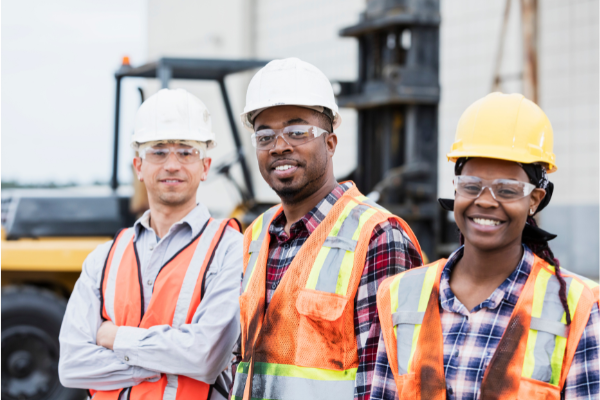 With more than 40% of the current construction workforce set to retire by 2031, recruiting Millennials and Gen Z's to fill those spots is critical. But there are some challenges to be aware of.
Millennials
Priorities for this rising workforce have shifted. Millennials are more interested in perks and benefits than getting a raise. It is not impossible to recruit millennials; it just requires a different approach.
Interestingly, millennials are on the rise in today's workforce. About half of the millennial population comprises various cultures, directly impacting their priorities. They want to know where companies stand on numerous social issues.
Mission, Vision, Values
Consider this: how do your hiring practices reflect your company values? Does your mission statement exist for looks, or does it have a real purpose? And how do your working practices and expectations reflect your company's values?
Diversity, Equity & Inclusion
Diversity and inclusion are critical to millennials. Unfortunately, these are not used much in the construction industry until more recently. Right now, just a little more than 9% of the workforce in construction is female. You can improve diversity and inclusion. It just takes some work.
There are benefits to committing to inclusion and diversity, for example. Adding females to your workforce brings different and fresh ideas to the table. And adding females to your executive management team can increase your profitability. 
Benefits and Perks
Focus more on benefits and perks. Millennials often share with others the perks they get on the job. If you can be the contractor who gives millennials better perks and benefits, they will likely brag about it to their friends. In addition, consider offering more career development opportunities, better health insurance, and a technology-driven workspace.
Flexibility
Work-life balance is crucial to millennial construction workers, primarily due to the long hours and the risk involved. Millennials seek flexibility. They look for it in a company. Many millennials are now becoming parents, and it is more difficult for them to figure out a schedule that works for their families. Determine where you can add flexibility to work schedules. Consider offering a paid leave program to give workers paid time off when they have a child or adopt one, or need to care for a sick family member. 
Gen Z
Recruiting Gen Z workers into the roofing industry might be a walk in the park compared to luring Millennials into the fold. Still, contractors need to know the ins and outs of hiring those born between 1995 and 2010. Unlike millennials, who are considered by many to be entitled and job hoppers, Gen Zers are more interested in stability, a breath of fresh air for some.
With a shortage of tradespeople coming up as so many are nearing retirement age, employers must turn some of their focus to figuring out Gen Z. The leaders in this generation are already graduating college and heading to jobs. There are 72.8 million of them, and many are hands-on, entrepreneurial, and financially prudent. That means they are more likely to find appeal in construction and roofing work than the older millennials. Know the difference to attract this generation successfully.
Recruiting Gen Z
Being the newest or youngest employees on the market, Gen Z workers know they have to start at the bottom, but quickly move forward. They want to seek common ground with their managers and coworkers. They feel lucky to have the job and are willing to work their way up.
Be clear and transparent about what you can provide for them.
When working to recruit this age group, discuss opportunities. Figure out what your best value propositions are and move them forward. For example, while millennials are more concerned with making a difference in the world than how hefty their paycheck is, Gen Z wants to hear about salaries and benefits and their opportunities for advancement.
They are a more traditional generation than millennials, so they are eager to get more traditional benefits, including health insurance and a 401K. Some older managers may embrace this familiarity, but companies would be remiss if they didn't develop a more substantial incentive to promote loyalty. So plan to pay them more and give them more opportunities if you want them to stick around.
Offer a career path, and support along the way.
Focus also on giving them a career path or listening when they tell you the course they wish to travel. For example, millennials worked to advance their career paths faster, laying the groundwork for Gen Z. This younger generation will continue to seek fast advancement and not just in pace. Their advancement should be based on performance rather than how long they have been on the job. To them, it should not matter if they've been with your company for a month or five years. Unlike millennials, Gen Z also expects to receive mentoring from more experienced workers since their parents have hammered home the message that they can learn a lot from others.
Allow for job customization & cross-training.
Offer Gen Z employees or job candidates several experiences they can learn at once. Most want the opportunity to fill multiple roles. Gen Z seeks out customization, with most preferring to write their own job descriptions rather than being expected to follow a more generic path. In addition, they want to personally customize their plan, rather than having someone else write it for them.
Figure out a way to offer Gen Z multiple career paths and expose them to as many roles in the company as possible. For example, consider rotation programs and cross-training. That will give Gen Z employees more confidence that they are assets to your company and have more flexibility.
Change the Perception of the Construction Industry
The construction industry is perceived as one that does not pay well and is deeply affected by economic downturns. That is not entirely true. What is true is that contractors often leaned on lower salaries, especially for the entry-level jobs, then made up for them in bonuses. The lay-offs that came amid the Great Recession in the mid-2000s only added to the negative narrative.
That type of operation does not align with millennials seeking economic stability. However, low pay is not in the picture for construction management graduates, which offers competitive pay. Construction requires skill, which means trained workers who need to be paid accordingly. The days of paying construction workers $13 an hour to start are gone.
It's up to all of us to do our part to put our industry back in a positive light—to show that construction jobs pay well (at all experience levels) and offer both stability and satisfaction. We can only accomplish this by adjusting current recruiting methods and strategies in the subtle, but important, ways discussed above.