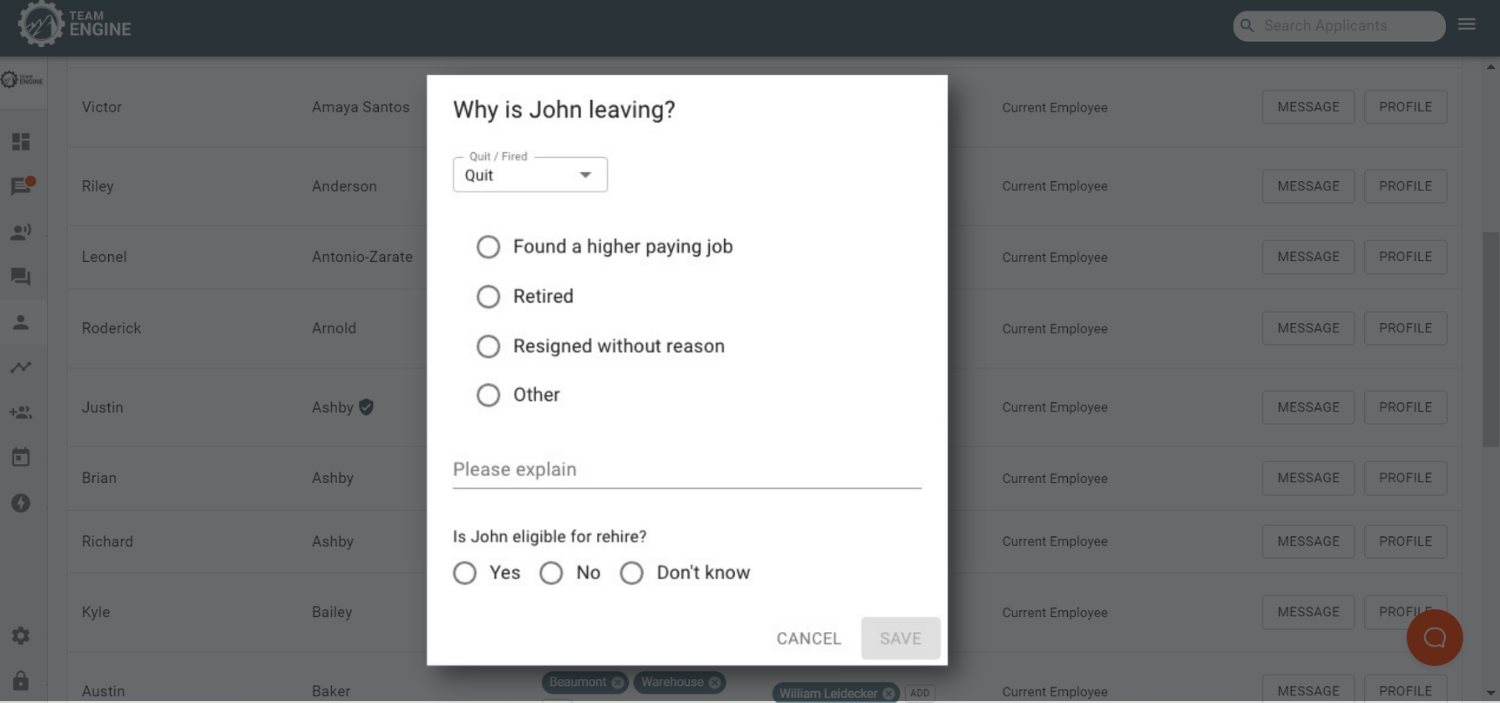 Sourcing can often be the biggest hurdle in recruiting. All too often, we see employers so focused on finding new talent that they forget about the folks already in their pipeline, who already know the company, but weren't a good fit at one point in time, for whatever reason. 
But circumstances change—on both the employer side and the employee side—so it's worth revisiting that pool of candidates from time to time. 
To that end, we've recently added the ability to designate 'quit' or 'fired' employees as 'eligible for rehire.' Users can even include an optional note about why or when the ex-employee should be reconsidered.
How It Works
When updating the status of a quit or fired employee, Team Engine users will now be prompted to include details about the cause of their termination, as well as leave notes about their eligibility for rehire. 
When you open a new requisition and begin the hunt for talent to fill it, you can start by filtering your employee directory to view former employees who are rehire eligible (with your notes on why or when to reach out) and message them individually with a click of a button.
When Rehiring Employees Might Make Sense
Seasonal Hires
If your business has seasonality to it, you might lay off workers when things are slow and bring them back for busy season.
Amicable Quits or Firings
Sometimes an employee leaves on their terms because they found what they believe to be a better opportunity. However, the grass isn't always greener on the other side. If that ex-employee comes to realize your benefits and culture mean more to their job satisfaction than extra money, they might be interested in coming back.
Alternatively, sometimes employees are let go due to no fault of their own. Those terminations are often a result of external environmental factors (like a global pandemic, for example) and are no reflection of the employees' performance or value they brought to the company.
Naturally, these are sensitive situations that should be handled with care, but that doesn't mean the bridge has been burned. Don't be afraid to rekindle these relationships, or keep them warm over time through nurturing.
A Change in the Job
Maybe you finally got approval to increase the pay for that position, which was previously a deal-breaker for the former employee. Maybe the position no longer calls for certain requirements they didn't have. Conversely, maybe the scope of the role has changed and they're now a better fit.
Whatever the reason that it wasn't a good fit in the past, doesn't mean it won't be a good fit now—so reach out to ask!
---
Having trouble accessing or using the employee directory? Send a message to our Customer Success team (support@teamengine.io) for assistance!