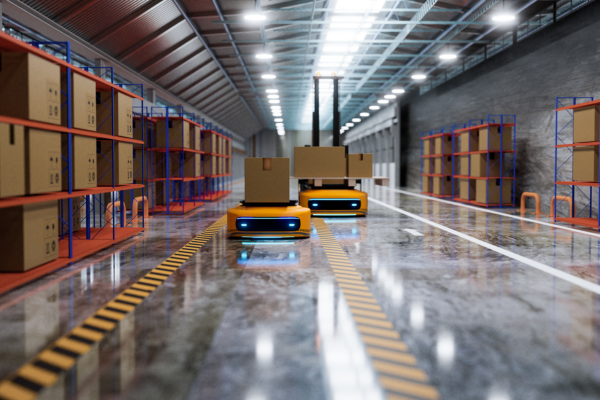 I don't know about you, but the last few years have seemed to me like a science fiction movie…it's been a very extraordinary time!
On the one hand, a global pandemic led to record-setting despair, put the economy into shock, and disrupted supply chains.
On the other hand, there's been this technological revolution going on, one that continues to push us all further into the digital sphere.
If you have any involvement in your warehouse distribution operations—perhaps just some organizational interaction, or maybe a more direct day-to-day and hands-on management responsibility—then like many others you've probably felt the pressure of growth and all that goes along with it. Higher order volumes and some deep concerns about labor availability are probably chief among them.
Today's new warehouse technologies are built to operate more on our terms, in our spaces, and in our environments. That is, they are designed to handle these repetitive, tough, sometimes menial, and sometimes accident-prone tasks.
Technology and labor availability are two factors that almost all warehouse distribution companies are currently grappling with in their ongoing battle for growth and productivity. Let's examine both, and how they affect each other.
Technology in Manufacturing & Distribution
Autonomous Mobile Robots—so called AMR's—and other forms of automated distribution warehouse order fulfillment technology are becoming more main-steam. Yet, it depends on who you are. Larger companies are adopting them at a faster rate than smaller and mid-size companies, although I find that companies of all sizes have similar pain points.
To be clear, for a variety of reasons, this technology is not necessarily always about replacing people, either. Instead, many times it's about enhancing and augmenting the human capital you already possess as a way of increasing productivity overall.
Does it create opportunities for worker reduction? Yes, in some cases. But it depends. Are you just trying to "do more with less" or is it that, because of anticipated growth, you don't want to fall into the trap of "compensating" for that growth with comparably higher volume of workers? It's a trap many of us often fall into.
The real opportunity here is that, because of the diverse activities that warehouse associates perform, it represents a unique opportunity to think differently about your order fulfillment workflow and its impact on employee burden.
Walking Ain't Cheap & Time Is Irretrievable
Analysis after analysis that we've performed indicates that warehouse personnel often walk thousands of steps per day—in fact, up to 8 miles per day, per shift.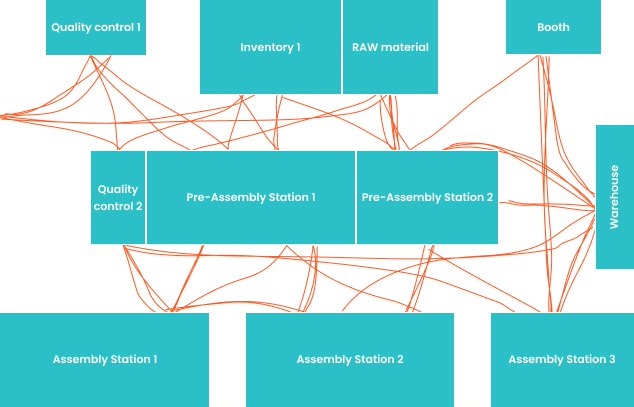 image via 4industry.com
If you were traveling with me to distribution facilities that I visit, you would often hear me say; "Walking ain't cheap," and "Time is irretrievable." It's become a mantra of mine. Both of those short phrases, for me, represent negative attributes! They correlate with—and equate to—higher costs. It's a function of all the traveling people do just to perform the "value-added contribution" to a warehouse workflow process.
So yes, it is possible that four to five hours per day out of every eight-hour shift is spent getting to product and transporting that product around. This puts a lid on labor productivity by not constraining the transaction costs associated with the workflow activity being performed.
So, AMR's and other new distribution fulfillment technology can provide higher levels of productivity with the staffing level component you already have, or with even fewer people. Much will depend on your level of adoption of the new technology available and your openness to workflow changes, which is what will determine the impact on ROI for your company. 
How Tech Impacts Labor Availability 
The ongoing labor shortage has hit every industry. Thousands of workers have retired, some early. Others have moved on to something they feel is better somewhere else. 
People—particularly younger workers—enjoy working in a technology-centric workplace. It helps fulfill some very different and specific "workplace values" having to do with viable personal growth opportunities and the desire to work in a more technology-centric environment.
What else is in it for them…and for you as an employer?
It eases the onboarding process of new employees (for them

and

for you)

It reduces training time

It provides more productive work assignments
So, consistent with my mantra, walking is a great way to stay healthy. But in your warehouse, time spent walking is time when people are not being productive. 
Employ the best technologies that can help attract, hire and retain workers. Robotics is just one way. But it's about more than just machines – it's about more collaborative approach between "man and machine."
Your level of technology adoption then can become a selling point in your employee recruiting and retention activities. So promote it on social media, in your job postings and on your company career pages. Let job seekers find out—early in the hiring process, or even sooner—about what you've done (or will do) to make your workplace tech-friendly. Begin to "hook" them early, long before they're looking for a job, to start building a talent pipeline of fresh, innovative minds right now!