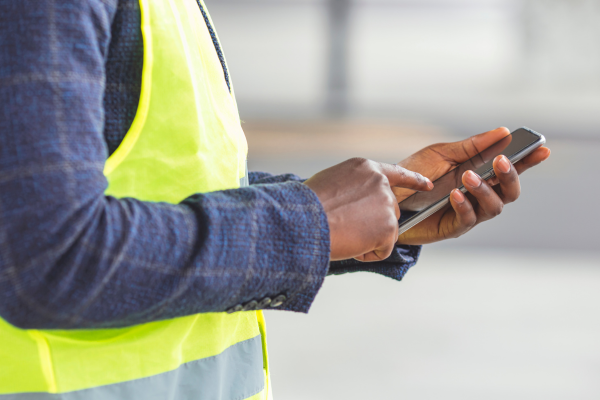 Time is of the essence during the recruiting and hiring process, and the traditional methods of communication can be frustratingly slow. Playing phone tag, managing emails, and waiting on candidates to respond takes up valuable time. And the manual effort is huge. 
But with the widespread acceptance of text messaging, getting the right candidate to apply, interview, and onboard has become much more efficient. 
Team Engine's software is designed specifically for blue-collar industries like construction, manufacturing, and landscaping. And with our text recruiting software, you can ditch the voicemails and emails and welcome a faster, more efficient way of reaching potential recruits. Keep reading to discover how text recruitment can save you time and money.
What is SMS Text Recruiting?
Did you know that one out of every three Americans would rather send a text than make a phone call? Even in a work environment, studies show that a growing number of employees prefer to communicate through SMS (Short Message Service). So it's no wonder that text recruiting has become increasingly popular when it comes to hiring the right people.
Text recruiting is the process of using SMS messaging to communicate with job candidates at various touchpoints, like setting up interviews or sending a reminder. It's a faster alternative to conventional methods, such as email or phone calls, which can take days or even weeks to get a response (if at all).
Text messages are read and responded to much faster than emails and phone calls. In fact, 90% of people read their incoming texts in as little as 3 minutes. Plus the 45% response rate for texts is significantly higher than for email, which is just 6%.
Not only are your texts more likely to get opened and responded to quickly, but job candidates won't have to wait days or weeks for a response from you, which ultimately speeds up the entire process and makes you appear more professional and organized. But that's just the start of this benefit-rich technology…
Why Text Recruiting is a Game-Changer for Blue-Collar Hiring
How many hours do you spend each week on recruiting? How much of that time is spent trying to get potential recruits to answer their phones or respond to emails?
Like we mentioned above, text recruiting is a great way to quickly and easily get in touch with potential candidates. But it also reduces your workload in the process.
Team Engine's text recruiting features are designed to reduce time spent on mundane tasks like following up and scheduling interviews. Each touchpoint of the hiring process has a corresponding automated text message triggered so you don't have to manually reach out each time. These texts can be personalized to fit your business, the position you're recruiting for, or the ideal candidate you're trying to connect with (we'll go into more detail below).
But that's not all. The very best candidates are the ones who are already employed. So they may not be able to take a phone call or check their emails because they're at work. With a quick glance at their phone, they can read and respond to your text message when it's convenient for them. This means you get access to top talent, without having to wait on their availability.
And finally, text recruiting is the perfect solution to tackle labor shortage issues related to the skilled trades stigma. If blue-collar businesses want to survive and thrive, they need young blood. Younger generations are more tech-savvy and appreciate this form of communication. It's a great way to bridge the gap between older and younger generations while also ensuring your recruiting needs are met.
Text Recruiting Features Built into TeamEngine.io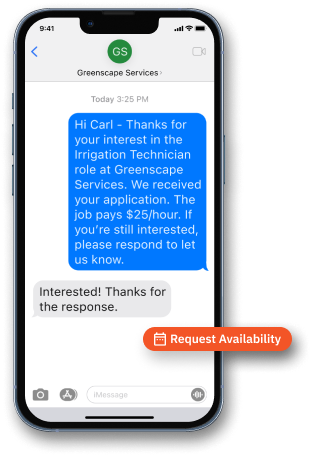 While Team Engine is more than just a text recruiting software, it does have several fantastic text features that are automated to streamline the recruitment process and improve the candidate experience:
Automated Pre-Screening
Sick of scrolling through resumes until your eyes glaze over? Put an end to that problem with automated pre-screening.
The automated pre-screening feature checks if an applicant's information is complete and accurately filled out. This eliminates potential bad fits without you having to lift a finger.
For example, if an applicant's work history is missing or their home address doesn't match your business location, Team Engine will text them to update their information. This saves you time and ensures that only the most qualified candidates move forward in the process.
Interest Confirmation Text
The interest confirmation text is an application follow-up text that asks applicants why they are interested in meeting with your company. This open-ended question puts the ball back in their court to see how serious they are about your company and the position. If you never get a reply to that answer, no need to waste your time reaching out to an applicant who isn't responsive.
Interview Scheduling
Going back and forth on emails or trying to coordinate availability for a phone call is time-consuming. The interview scheduling feature allows you to skip the back and forth and come to a quick agreement for a time that works for both you and the candidate.
Interview Reminders
Who hasn't been saved by the dentist appointment reminder text a few hours before their scheduled time? The same concept applies here. The interview reminder feature mitigates no-shows, which is a common problem in recruitment. Reminders via text the day before and the day of the interview help you avoid waiting for someone who completely forgot they scheduled an interview.
Best Practices of Text Recruiting
While using a tool like Team Engine will make your text recruiting efforts easier, you don't have to invest in software to start reaping the benefits. After all, this type of communication is already part of our daily lives.
However, we do recommend that you keep a few best practices in mind:
Be concise:

Text messages should always be short and relevant. Stick to only the most important information and avoid unnecessary details. You don't want to overwhelm or confuse candidates by sending a novel.

Be clear:

Make sure that your text messages are easy to understand and free of jargon. Use simple language that anyone can understand. Proofread for any typos or errors.

Use a friendly tone:

A friendly tone can help make candidates feel more comfortable and excited about the opportunity. Use a conversational tone that reflects the culture of your company. If emojis are appropriate, feel free to use them. It can be a fun and unexpected way to show your company's personality.

Be respectful:

Texting is a direct and personal way of communication. Remember that, while a text at 9 pm or on a Saturday afternoon might seem like an efficient way to reach someone, it can be intrusive and disrespectful. Respect the privacy of your applicants and make sure that you aren't contacting them too frequently or at odd times.

Be professional:

Although text messaging is more informal than email or phone calls, it's important to maintain a level of professionalism. Like we said above, a well-placed emoji could be a fun way to show personality, but it could also turn off a candidate. So know your audience and, when in doubt, keep it professional.
Text Templates for Text Recruiting
Whether you use text recruiting software or not, start with pre-written templates. That way you are able to quickly build out personalized messages for each candidate without having to start from scratch every time.
Team Engine even makes this part easy. Once an applicant's details are in the platform, the process kicks off without you having to click a button. Every candidate receives a tailored message that drives the conversation forward.
But if you're planning to try out text recruiting on your own, creating templates can help you maximize your efforts. Here are a few examples of text templates that you can use for different stages of the recruitment process: 
Application follow-up (missing information)
"Hi [Applicant Name] - thanks for applying to the [Position Name] role. As a next step, could you please enter your last 2 jobs on your application? Thanks! [Link to Application]"
Application follow-up (interest confirmation)
"Thanks for your interest in [Position Name] at [Company Name]. We'd like to learn more about you. Why are you interested in this role?"
Invitation to interview (request availability)
"Hi [Applicant Name], this is [Your Name] from [Company Name]. We received your application and would love to chat further. Can you please give me 3 times in the next few days when you're available to meet?"
Invitation to interview (confirm date and time)
"Hi [Applicant Name], this is [Your Name] from [Company Name]. We'd like to invite you to an interview for the [Position Name] role. Here are the details: [Date], [Time], [Location]. Let us know if that works for you."
Interview Reminder
"We're excited for your interview tomorrow at [Date/Time of Interview] for the [Position Name] role at [Company Name]. Please reply if you need to reschedule."
---
Text recruiting is a game-changer for blue-collar hiring, but when you use Team Engine, you also get a suite of other great features. From integrated job posting and candidate sourcing to applicant tracking and employee surveys, Team Engine is the ultimate tool for blue-collar recruitment. Click here for a free trial!