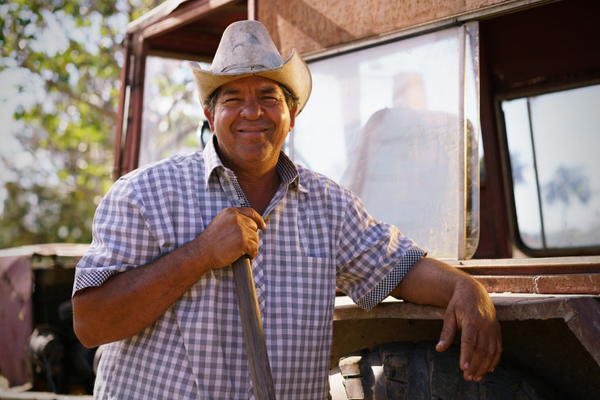 Step onto any construction site today and you'll hear a blend of English and Spanish voices amidst the clamor of tools. This is a familiar scene that reflects the evolving American workforce. The U.S. Bureau of Labor Statistics predicts a surge of 7.4 million Hispanics in the labor force, predominantly in sectors like construction, transportation, warehousing and landscaping. So as a blue collar employer, how can you bridge the language gap and ensure everyone's on the same page? 
Whether it's about recruiting Spanish-speaking employees or integrating them seamlessly into your team, understanding and addressing this language barrier is crucial for the success of your company. In this article, we'll explore 5 tools that can help you overcome language barriers and build a strong, diverse team.
1:1 Message Translation in Team Engine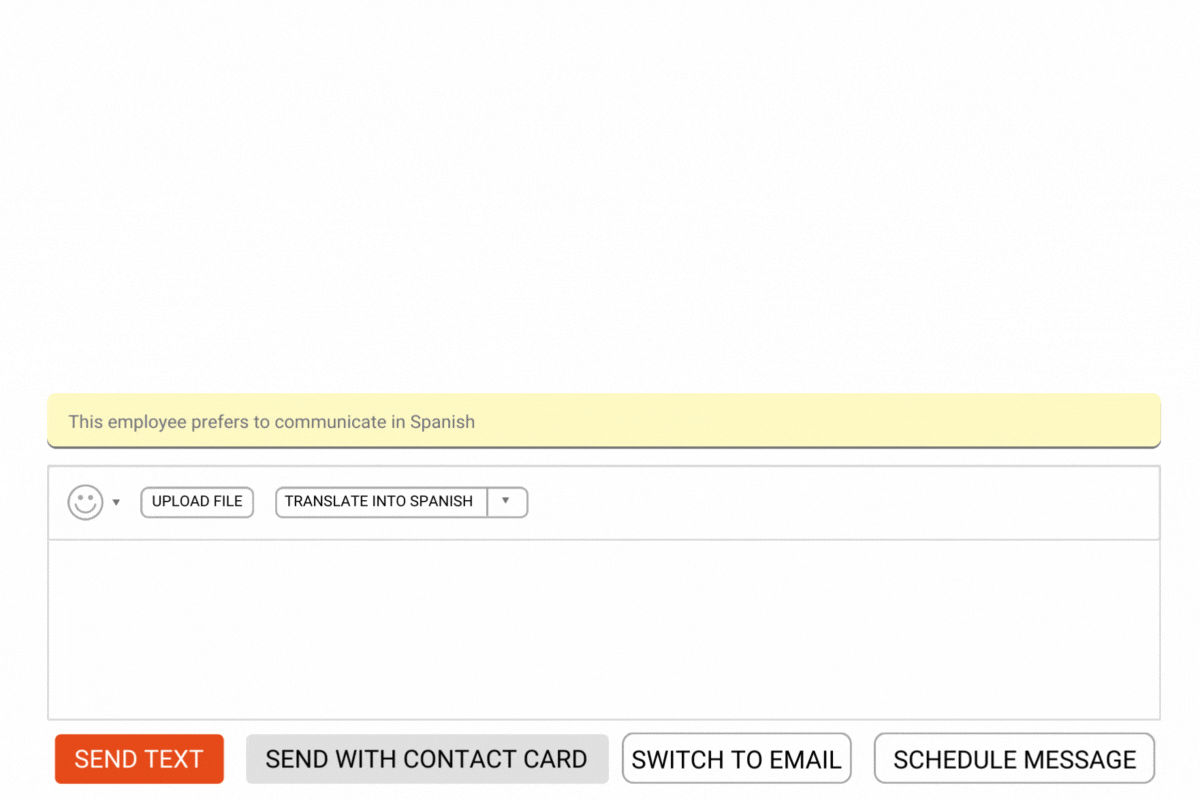 As a software designed specifically for recruiting, hiring, and onboarding in blue-collar industries, Team Engine understands the challenges of hiring bilingual employees. In response, a new feature was recently released that allows for 1:1 message translation right within the platform. 
This means that you can easily communicate with your Spanish-speaking employees and candidates without having to juggle between different translation tools or multilingual staff.
Here's what makes this feature stand out:
Instant Translation:

With just one click, text messages can be translated from English to Spanish or vice versa. This means you can quickly respond to inquiries, confirm schedules, and provide updates without any delay.

Ease for Bilingual Staff:

No longer will bilingual employees need to act as the go-between. Everyone can communicate their needs directly, lightening the load and making your workflows more efficient.

Clearer Conversations:

Say goodbye to misunderstandings. This feature ensures messages are accurately conveyed, keeping everyone on the same page.

Cost-Effective Solution:

The feature is built into the Team Engine platform at no additional cost, making it a cost-effective solution for your company.
One of the best parts about the 1:1 message translation feature is that it can bridge the language gap for any non-English speaking employee or candidate. The tool offers translation for over 90 languages, making it a versatile option as your workforce evolves.
Google Translate
Google Translate has been around since 2006 and remains one of the most popular language translation tools. With support for over 130 languages, it's a popular option for individuals and businesses alike.
The tool offers a variety of services, including translation of text, websites, and even speech. However, you won't have the direct integration of Team Engine's 1:1 message translation, which can be a drawback for efficient communication within your team. 
Instead of having a one-click translation feature, you would need to copy and paste the text into Google Translate to get the translation and then copy and paste it back into your texting app. 
This makes it less efficient for quick communication and can lead to delays in response time.
Bilingual Employees
Having bilingual employees on your team can be a great asset, especially when it comes to bridging the language gap. These employees can act as interpreters and help facilitate communication between English and Spanish-speaking team members. 
Even customer service roles can benefit from having bilingual employees, because they can directly communicate with Spanish-speaking customers without the need for translation tools. 
This not only saves time and increases efficiency, but it can help you serve customers on a more personal level.
Of course, there will always be limitations to their availability and capabilities. You can't expect them to be available 24/7, and they may not have the technical vocabulary needed in certain situations. 
Not only that but if you have a team with a diverse range of languages, relying on bilingual employees as your only solution probably isn't sustainable.
Providing English Courses as a Company Perk
Like many employers, you're likely facing a major hurdle: a substantial shortage of skilled workers. The construction industry alone needs to attract around 546,000 additional workers this year — and that's on top of the usual hiring pace.
As companies scramble to fill these gaps, there's a growing emphasis on:
Providing

competitive benefits and perks

to attract top talent
One unique way to address both of these needs is by offering English courses or training as a company perk. This can be a great incentive for recruiting Spanish-speaking employees, giving you a competitive edge in this tight labor market. 
And the value of English training as a company perk isn't just theoretical... There's solid evidence to back it up. Here are a few stats to consider:
A

survey by Rosetta Stone

found that 66% of employees from multinational companies said that language training has led to more positive engagement with colleagues and customers, indicating improved team dynamics and customer satisfaction.

According to the

American Society for Training and Development

, companies that offer comprehensive training programs have a 218% higher income per employee than companies without formalized training. This indicates that upskilling, including language training, can positively impact company productivity and profitability. 
You can even quantify the return on investment of corporate language training to see its impact on your company's bottom line. 
For instance, if a language training program costs $10,000 and the calculated benefits result in a $30,000 increase in revenue, the ROI would be 200%. This means that for every dollar invested, the business gains $2 in return. 
So by offering English courses or training as an employee benefit or perk, you not only attract and retain top talent but also invest in the growth and success of your business!
ChatGPT
Since ChatGPT's launch in late 2022, users have been raving over all the unique ways it can be used. But have you considered using ChatGPT for language translation?
With its advanced natural language processing capabilities, ChatGPT can seamlessly translate messages in real time between English, Spanish, and countless other languages. And it offers more than just literal translations. ChatGPT comprehends the essence of the conversation, providing translations that maintain the original tone and context, which is crucial for effective communication in a diverse workforce.
Remember, while ChatGPT is highly advanced, it's not infallible. ChatGPT has been known to hallucinate, which could cause communication issues instead of solving them.
Mastering Communication with Spanish-Speaking Employees in Your Company
Navigating the language barrier with Spanish-speaking employees is a challenge, but with tools like Team Engine's 1:1 message translation, it's easier than ever. 
Beyond translation, Team Engine streamlines the entire hiring process—from posting jobs on job boards, to automatically pre-screening and facilitating the candidates journey through your hiring process.
Ready to try Team Engine 1:1 message translation and all the other features designed to make your life easier? Elevate your recruitment strategy and ensure clear communication across your team with a risk-free trial of Team Engine today.