You're facing a hundred different problems every day trying to build and lead a productive blue-collar workforce; that's no surprise. What is surprising is the number of HR software "solutions" out there that claim to have all the answers.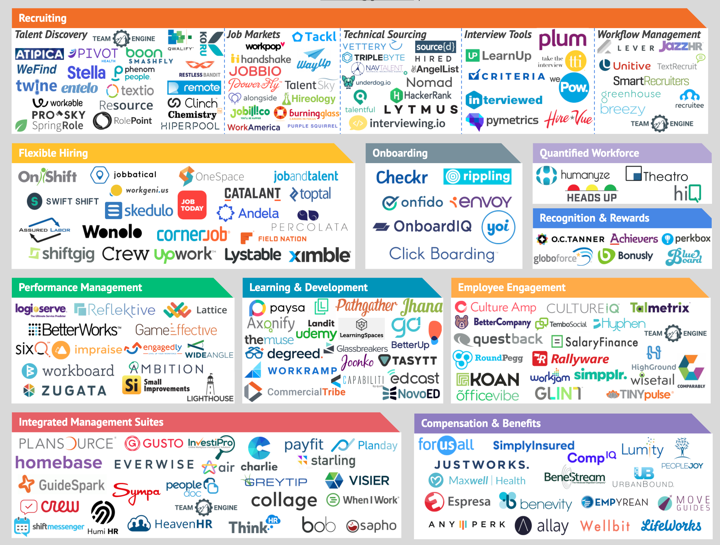 How do you know which HR software company to use? Do you need a different software solution for every category? Are there any applicant tracking systems that do more than just screen applicants? With sales calls coming in left and right, it can be challenging to remember what companies offer and which features and functionality will actually benefit your company most. 
There are lots of great sites out there that compare different software options (Capterra, G2, and TrustRadius are just a few of my favorites), but they have one major flaw:
They compare the software companies; they don't tell you which software is right for
your
problems. 
Look at all the different sub-categories each of these sites has for just HR software!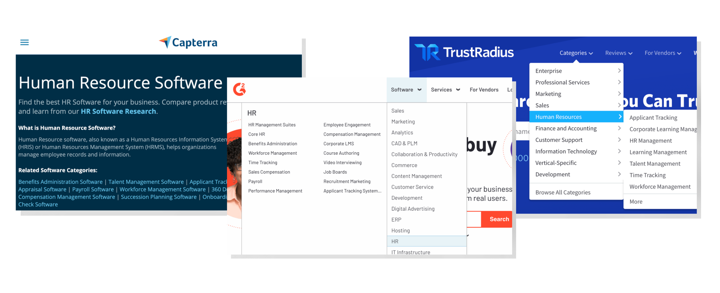 So we took all the actual pain points we hear each and every day from blue-collar companies with deskless and distributed workforces, and we broke them down across the most popular software offerings to show and tell who is the best and the worst in blue-collar team management software. 
What blue-collar problems are we covering today?
Too Many Unqualified Applicants

Lengthy Hiring Process Loses Candidates

No Reliable Way to Communicate with Employees
Problem #1: Too Many Unqualified Applicants
When it comes to hiring, it's pretty simple to pull in applicants—just sponsor an ad and you'll get resumes by the dozens—but it's not easy to pull in high-quality applicants. There are many job boards out there, and some companies promise to post your position to hundreds, if not thousands, of job boards, but the quality of the incoming applicants can be...lacking. So who are the biggest players in the "get me the best applicants" game and how do they stack up?
Indeed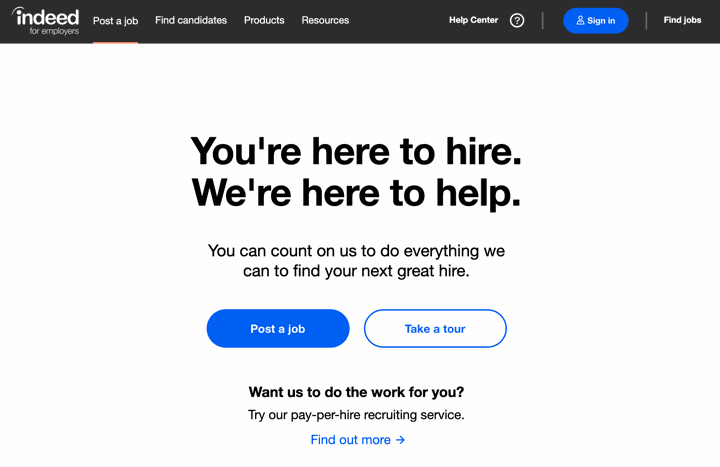 Indeed is the #1 job site in the world with over 250 million unique visitors every month. Their mission is simple: to get people jobs.
Pros:
Lots of applicants:

Because they pull together job listings from different websites and job boards (adding at least 10 jobs per second globally), they can deliver the most applications per job of any dedicated job board.

Free and paid options:

It's free to post a job, but they also have a variety of paid options for sponsoring job posts, searching applicant resumes for the exact skills you need, and creating company showcase pages.
Cons:
Lots of competition:

Thanks to their popularity, unless you sponsor your job post, it may get lost in the sea of job postings.

Applicants bulk apply:

Indeed's number 1 goal is "to create the best experience for job seekers" which is a noble goal, but not always best for the hiring company. Because applicants can upload their resume once and apply to jobs with one click, it is not uncommon for job seekers to apply to a hundred or more jobs in a day just to see who gets back to them first.

Applicants are not responsive:

Also listed in the pros, but you will get a LOT of applications. You will spend a lot of time sifting through them all trying to find the few qualified candidates, then you'll need to find out if they are actually interested or if they just clicked on your job along with a hundred others. 
ClearCompany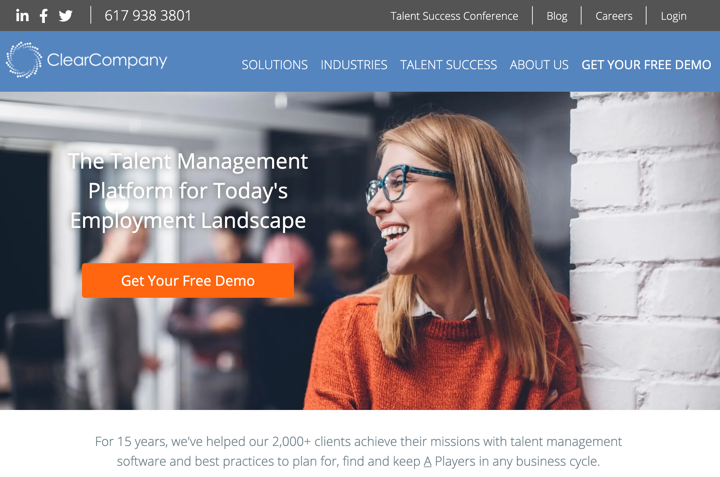 ClearCompany isn't a job board, but rather a talent management software. They "manage your entire employee lifecycle to create a better hiring experience, seamless onboarding, goal alignment, and performance management across departments and teams to keep your workforce engaged and successful."
Pros: 
Employer-focused:

The platform is built around helping companies hire for their open roles quickly and cheaply, designing many of the workflows and features with the hiring manager in mind.

Uses multiple job boards:

ClearCompany puts your job listing on many job boards, so it gets your job in front of a lot of different people, no matter where they are looking.

ATS+:

Clear Company is an ATS (

applicant tracking system

) that focuses deeply on optimizing the recruitment process but also includes lots of nifty features for onboarding and employee performance reviews.
Cons: 
Very job board focused:

While they post your positions on "all of the top job boards," they don't broaden their postings into social media to reach those passive job-seekers.

No automated communication:

Once you find a candidate that is qualified, you still have a lot of manual steps to take via messaging or phone to gather missing information, get in touch, and verify experience. 
Team Engine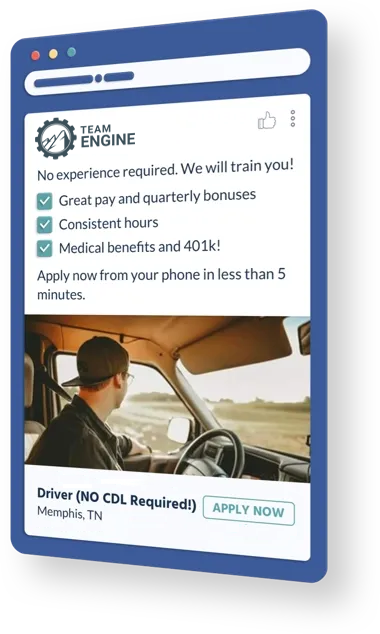 You are busy and don't have hours to sift through resumes, so Team Engine's automated resume screening software does it for you, ensuring you only see the most-qualified and most-responsive candidates for each job. 
Pros:
Passive candidate targeting:

The most qualified employees often already have full-time employment and aren't actively looking on the job boards. So in addition to getting your posting on all the top boards, Team Engine also creates smart, targeted ads to put your job where everyone is looking: Facebook. 

Automated candidate outreach:

No more phone tag or emails that never get opened. Team Engine automatically reaches out to candidates you tag as "interested" so you can schedule next steps without ever picking up the phone or typing an email.

Auto-ranking and sorting:

Team Engine uses an Intelligent Hiring Assistant to score each applicant against the job requirements

and

other attributes like commute time, responsiveness, and how often they change jobs. Team Engine auto-screens the applicants who don't meet your requirements so you don't waste any time looking at unqualified resumes. 
Problem #2: Losing Applicants to the Competition
So you have lots of applications, but you're spending hours sorting through them all to find the few qualified gems. By the time you call them several times—because no one picks up a number they don't recognize—and actually have a conversation to verify experience, they have likely already moved on to the next stage of interviews at another company that has a faster process. You still want lots of great applicants to choose from, so how can software make sure you see—and reach—the best ones first?
ZipRecruiter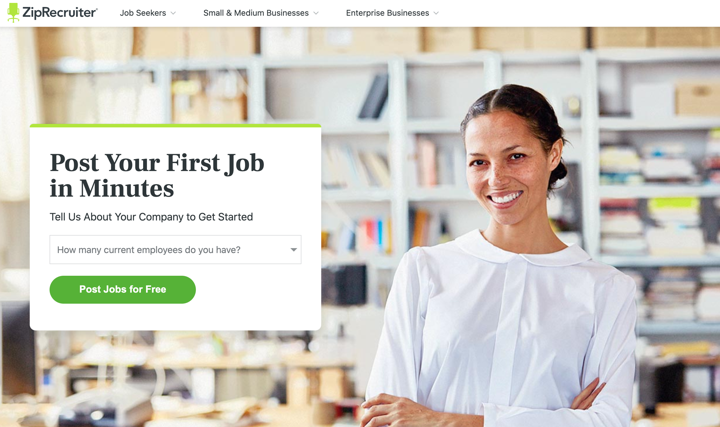 ZipRecruiter is an online employment marketplace that leverages smart matching technology to actively connect 25 million job seekers to over 9 million job postings every day.
Pros:
One-click job posting:

Upload your job description, and ZipRecruiter pushes it out to over 100 different job boards at the same time.

Instant matching:

Applicants upload their resumes to ZipRecruiter so they get notifications for every job that is a good match for their skills, ensuring you get lots of highly-qualified applicants. 
Cons
Competition:

Because applicants get matched with every job that could be a good fit, and ZipRecruiter boasts 9 million job postings every day, the competition is tough. It often comes down to which company can get in touch first that wins the best candidate.

No communication features:

Once you decide to contact a candidate, you have to contact them through your phone or email. ZipRecruiter does not offer in-app messaging or chat.
Monster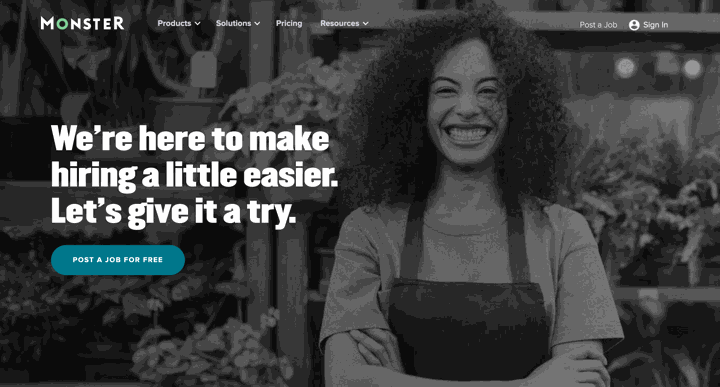 Monster is a global online employment website that has been around for more than 20 years. It boasts that every minute, "29 resumes are uploaded, 7,900 jobs searched, and 2,800 jobs viewed."
Pros: 
Unlimited applicants:

While some job sites have a maximum number of applications you can receive for each job post, Monster does not have a limit, letting you gather as many candidates as you want for as long as you have the job posting live.

Built-in messaging:

If you subscribe to the Premium tier ($999/month), you can send texts and emails to candidates directly from the website, wasting no time connecting with the best fits.
Cons:
SPAM:

Thanks to its popularity around the world, Monster has become a target for spammers and scammers, making job applicants less likely to answer calls from unknown numbers and more likely to sort messages from Monster directly into their SPAM folders.

Limited job postings:

Unless you are paying for their highest tier, you are limited to 1 or 2 jobs listed at a time during a 30-day period.
Team Engine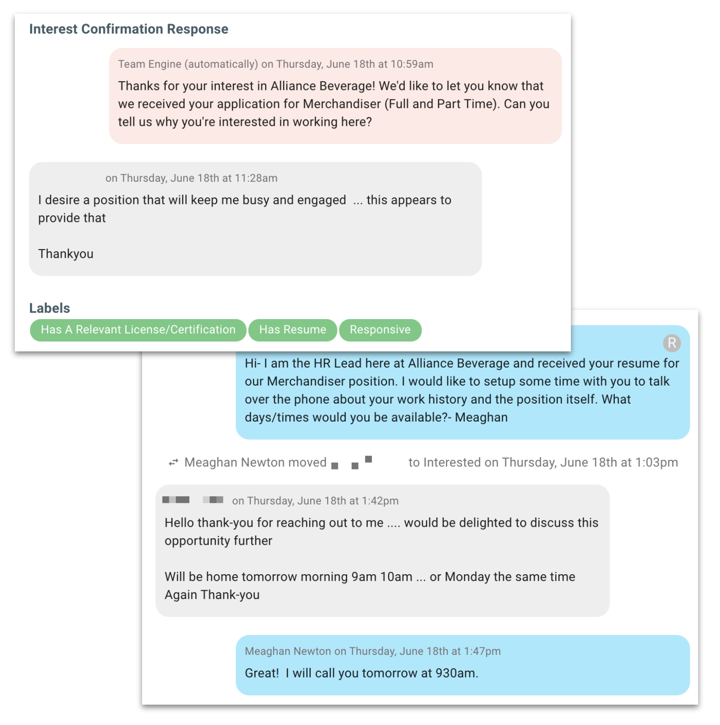 Team Engine: Thanks to our Intelligent Hiring Assistant, you can rest assured that the best candidates are engaged from the moment they apply, so you never miss out on a single applicant.
Pros: 
Automated messages:

When a candidate applies, they automatically receive a confirmation email and text thanking them for applying and asking personalized follow-up questions to rank their responsiveness. 

Intelligent Hiring Assistant:

Our HR automation software continues the conversation with the applicant to gather additional information such as licensing or willingness to commute, without you ever having to pick up the phone or send a single email. 
Problem #3: Employee Communication
Once you finally get a great hire in the door, ensuring they always have the information they need to do their best job becomes the next greatest challenge. For many businesses, company-wide emails are the preferred method of internal communication (although, studies find that the average open rate of internal announcement emails and newsletters is only 66%!), but what about businesses where workers aren't sitting in front of a computer all day? Those employees rarely have a company email address to even send announcements to since they primarily work on the warehouse floor or out in the field on the job.
So what are the top employee communication software companies out there doing to help solve your problems? How are they helping ensure every employee has the latest information on safety procedures, open enrollment, or timecard deadlines? Do they have multi-format support for surveys, announcements, and one-to-one messaging? And where do the replies go? 
BeeKeeper

Beekeeper is a mobile communication app built to coordinate frontline teams across a variety of industries such as hospitality, retail, manufacturing, and foodservice. They "help geographically distributed workforces and non-desk employees feel as if they were sitting right next to each other and...keep everyone in the company aligned."
Pros: 
Multi-format support:

Beekeeper has a very robust set of features including chat, video, surveys, and FAQ chatbots to keep employees engaged at every turn. 

Auto-translation:

Users see the app interface in their preferred language, and all users can easily translate any incoming message in one click.
Cons: 
App download required:

Since Beekeeper is an app, employees would have to download it before they could access any messaging, requiring access to a smartphone or tablet. While key messaging can be sent to digital signage, there are no promises everyone will see it.

Lots and lots of channels:

From news streams for every team to group chats, surveys, chat bots, and 1:1 messaging, it takes a while to explore and really learn every area of the app for admins and end-users alike.
Crew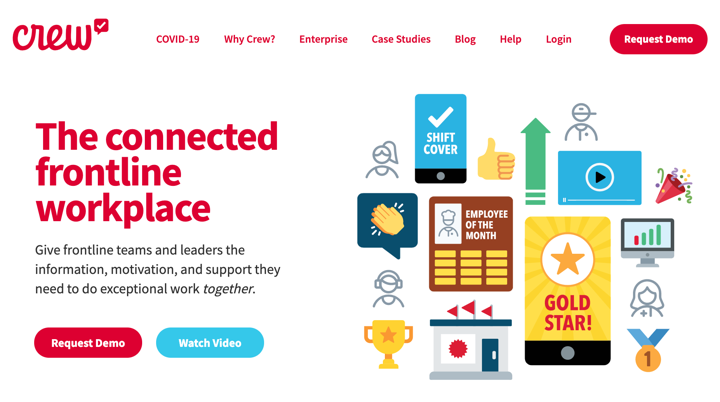 Crew: Crew is a team communications app that "gives companies and frontline employees a new way to communicate, stay engaged, and be more successful." They specialize in large franchise companies like gas stations, fast food restaurants, and gyms.
Pros:
Communication boards:

Crew lets teams communicate with each other via group, team, or company-level chat boards. Admins can delete public posts if needed.

Shift schedules:

Employees can offer up their open shifts and get covers for shifts they know they can't make. 
Cons:
App download required:

Installing an app on every employees phone is a huge barrier. In addition, nearly 20% of blue-collar workers do not have a smartphone, so would be unable to download an application to their phones.

All responses are seen:

If you send out a group message to your team in Crew, unless your employee responds to you separately, your entire team will see everyone else's responses. This can get tricky when the response isn't appropriate or is very personal. 
Team Engine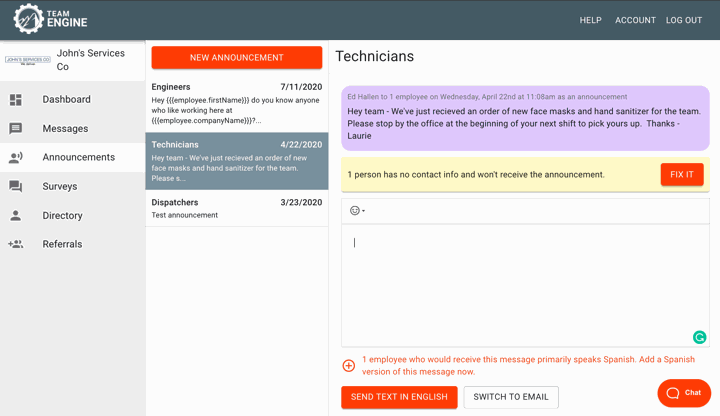 Thanks to announcements, surveys, and 1:1 messaging, you can keep your distributed, deskless teams up to date with the latest information in under a minute, without downloading a single app.
Pros: 
No need to download an app:

You can send out a text message from our software that goes directly to your employees' cell phones, no need for them to download an app.

Replies are private:

If you send out a message to your entire company or just your team, the responses are private. It's not a group message that everyone will see, but anything that is texted back just goes directly to you in the software.

Multi-language support:

Team Engine supports messaging in multiple languages and always alerts you to your employees' preferred language when you send a message, so you can be sure you are always sending the right message to the right person.
So Which Blue-Collar Software Is Right For Me?
There are many solutions out there when it comes to blue-collar hiring software and employee engagement solutions. You can even combine multiple platforms to get the solutions that are the best fit for your business's needs. Fortunately, you don't have to.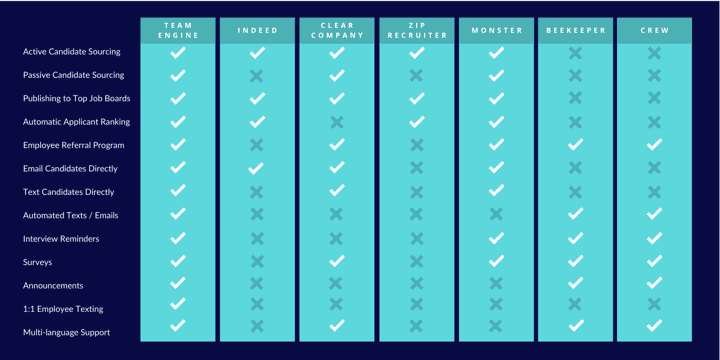 Team Engine not only out-performs Indeed, ClearCompany, Crew, Beekeeper, ZipRecruiter, and Monster in these top problem areas, we do it for less.
If you're interested in learning more about how Team Engine can provide the all-in-one software solution for your blue-collar hiring and employee communication needs, book a customized demo with one of our software specialists. They'll walk you through our process and show you how you can start improving your company today.