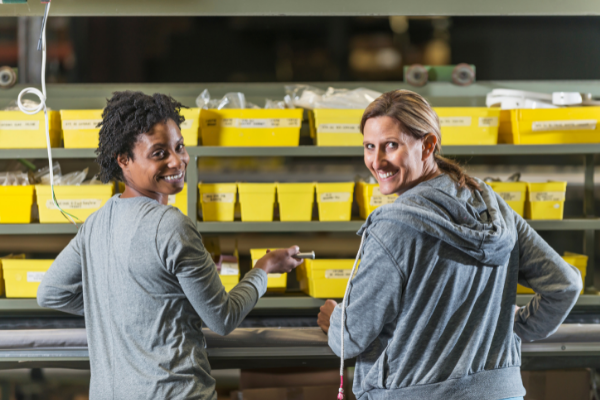 As we continue to find ourselves in the midst of an intense labor shortage, referral programs are becoming increasingly common in the blue-collar world, and for good reason. They're a great way to find quality employees without investing a ton of time and money into extensive advertising or recruiting processes.
But if you're not sure how to set up a referral program, or you're worried about how it will be received by your employees, don't worry! We've got you covered. Read on for guidance on how to roll out your employee referral program.
1. Decide how to structure your program.
The first step in rolling out an employee referral program is to determine how to structure the program. The key to success is to keep it simple - both to understand and to execute. Questions to answer include: 
Who is and is not eligible for referral?
Desiree Grosman of Female Home Service Pros says you need to paint a picture to help your employees visualize the type of person you're looking for.
"Think about things like personality traits, hobbies, lifestyle choices and career aspirations. More often than not, you're looking for culture fit before specific experience, so answering these questions about your ideal candidate (even if just for yourself) will help you articulate the type of person you want to hire and the type of work you're hiring them to perform."
You'll also want to define the parameters that must be met in order for an employee to be paid for their referral, such as:
The referred applicant must meet the qualifications and skill requirements of the position

The referred applicant must not be a previous employee of the company

The referred applicant must not currently be involved in that company's recruiting process.
How will you incentivize employees for their referral? 
According to Talentlyft, 70% of companies offer cash incentives between $1,000 and $5,000 for successful referrals. If that sounds high to you, consider the cost of recruiting, interviewing, onboarding and training an employee that doesn't stay longer than a month or two. In fact, ERIN app found that employee referrals save a company over $7,500 per hire!
Not sure if your employees would prefer cash or something else, like vacation days or a home cleaning service? Desiree Grosman recommends asking your employees what would motivate them to refer. You might be surprised at what kind of answers you get!
At what point will they be paid? 
Most companies offer a tiered reward system where the employee gets some cash upon their referral's hire, and even more cash after that referral has stayed for a certain period of time, such as 90 days. Don't forget to include the new referred employee in those payouts, too!
How will you run it/track it from a practical standpoint? 
Keeping track of employee referrals on spreadsheets can get messy, so we recommend using employee referral software. Lots of options exist on the market, but none are designed to respond to the unique needs and preferences of blue-collar companies like Team Engine is. 
Who will answer questions about the program?
Assign a single point of accountability for execution of the employee referral program. Make sure they know all the ins and outs of the program so that they can field questions from employees. 
2. Promote the program and educate employees.
This is the hardest and most important step in rolling out an employee referral program. You've put a lot of thought and effort into developing the program, now it's time to let the cat out of the bag! 
Start with an official announcement (maybe even a launch party), ideally with visible support from upper level management to emphasize the importance of participation. Encourage employees to participate both for the monetary bonus and to create a positive, productive workplace. Make sure the launch includes an educational component to teach employees how to submit referrals and who to direct questions to. 
After the initial launch, hang signs in prominent places around the building advertising the program. Include program details on TV slides in the breakroom. Periodically remind employees about the program and directly ask for referrals. Distribute an employee referral program FAQ with check stubs or at company meetings. Do whatever you can to keep the program fresh and top of mind.
3. Follow-up with everyone who submits a referral, whether the referral was hired or not.
Follow up with everyone who submits an employee referral, even if that referral did not result in a hire. Let the referring employee know how much you appreciate their participation and encourage them to keep referring. You may even want to consider some kind of gift (such as a $25 or $50 gift card) as a token of your appreciation and incentive to continue to refer.
You should also ask the individual for feedback on their experience of submitting a referral and ask if there's anything you can do to improve the program. 
4. Give public attention to people who refer - even if they don't result in a hire.
It doesn't have to be a grand gesture; you just need to give credit where credit is due. Shoutouts at company meetings. Mentions on TV slides in breakroom. Inclusion in the company newsletter. Do whatever you can do to give the employee recognition for participation and to encourage others to follow in their footsteps.
5. Review your employee referral program periodically.
A couple of times a year (bi-annually or perhaps quarterly) take a close look at the data from your program. How many referrals are coming in? How does the quality compare to other candidate sources? Are you saving time and money as a result of the number of employee referrals you've received? How many employee referrals have converted into hires?
Use these data points, as well as feedback received from referring employees, to consider any changes you might need to make to the program, such as:
More lucrative and/or different kinds of incentives

Restructuring of the program

More or less frequent reminders
---
Implementing an employee referral program can be a great way to find new talent, but it's important to do it the right way to get your employees excited about it. By following these five guidelines, you can create and roll out a successful employee referral program that will help you find better employees who are more likely to stay for the long run.