Do you run a business that's in high demand, but don't have the manpower to fill all of your open positions? Or are you looking for a way to train the next generation of construction or manufacturing workers? Starting an apprentice program might be the perfect solution!
An apprentice program is a structured training system that allows individuals to learn a trade while working under the supervision of a journey-level worker. These programs have been around for centuries, and can be a fantastic way to attract and retain employees.
Here are a few examples of apprenticeship programs (sometimes called training academies) recently launched by HVAC companies:
Getting started isn't as difficult as you might think. We'll walk you through the process, from setting goals to creating a plan and finding the right candidates.
What Makes a Successful Apprenticeship?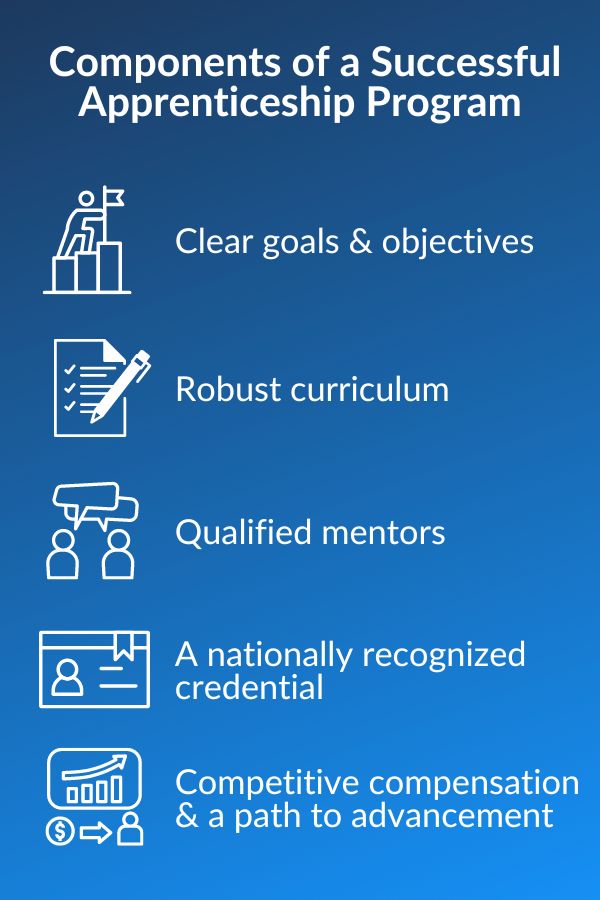 According to the US Bureau of Labor Statistics, the machinist, fabricator, tool and dye maker, electrician, and technician occupations have the most serious shortages of skilled employees. These crucial roles need a great deal of training, but pay decent salaries.
Learn-while-you-earn programs are a great way to overcome this skilled trades gap. By attracting potential employees who might not have considered a career in the trades, and providing them with on-the-job training in a lucrative industry, you're creating a high quality career path.
For businesses, apprenticeship programs can provide a consistent pipeline of skilled workers. And they are trained in a way that fits your company's specific needs and processes.
Apprenticeships also improve employee retention rates — once an apprentice has completed their program, they're more likely to stay with your company and continue working in their chosen trade.
When you start an apprenticeship program, there are a few key components that will make it successful:
Clear goals and objectives

A well-planned and robust curriculum

Qualified mentors

A nationally recognized credential

Competitive compensation with a path to advancement
If you're considering starting an apprentice program, take the time to develop a plan that includes all of these elements. Doing so will help ensure that your program is successful and meets the needs of both your business and your apprentices.
In the sections below, we'll provide more detail on how to include each of these components in your program.
Planning Your Apprenticeship Program With Clear Objectives
When you start an apprenticeship program, improving your bottom line might be the ultimate goal… But you need to identify the specific ways an apprentice program will help you get there:
Do you want to increase production?

Reduce turnover?

Increase safety?

Address a skills gap?
Define what success looks like in your training program and create measurable goals so you can track your progress.
Creating A Documented Apprenticeship Curriculum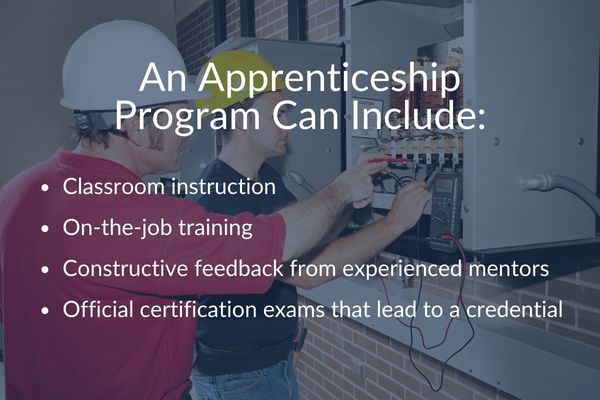 Your apprenticeship program will likely take candidates from zero experience to journey-level status, so it's important to have a curriculum that progressively builds their skills. Your training program can include:
Classroom instruction

On-the-job training

Constructive feedback from experienced mentors

Official certification exams that lead to a credential
Some will learn best by doing, while others will absorb information more quickly if it's presented verbally or in written form. The curriculum should also be flexible enough to accommodate the different learning styles of your apprentices.
Your curriculum should be specific to your industry, company's processes and needs. This will ensure that apprentices are learning the skills they need to be successful in their role. 
For example, if you're starting an apprentice program for machinists, you'll want to include instruction on machining mathematics, CNC programming, blueprint reading, and metallurgy. These things would be standard inclusions for the trade — but you might also want to include company-specific training on safety with the machines you use and your quality control procedures.
You'll also need to decide how long the training program will last. Some programs may cover all the bases in just a few months, while others may take a few years for completion. Getting qualified to safely operate a forklift in a warehouse only takes 2-4 weeks, whereas electricians and plumbers often complete 4+ year apprenticeship programs.
Your curriculum and program length will all depend on the trade, the level of experience you're starting with, and how much theory vs. hands-on training is required.
Choosing Qualified Mentors
Your workforce is only as strong as its leadership. Apprentices will need someone to guide and support them as they learn the ropes. This is where qualified mentors come in. Ideally, mentors should be:
Experienced in their field

Patient and good at communicating

Able to give constructive feedback

Able to work with people from diverse backgrounds

Respectful of different learning styles

Someone who knows your company well and follows its processes
You may already have employees who fit this bill, or you may need to look outside your company. An in-house mentor has the advantage of being familiar with your company's culture and processes, but an external mentor can provide a fresh perspective.
Sometimes a blend of both works best. For example, an apprentice might have a primary mentor who is responsible for their day-to-day training, with additional support from other employees or experts as needed. 
Registering for Industry or Nationally Recognized Credential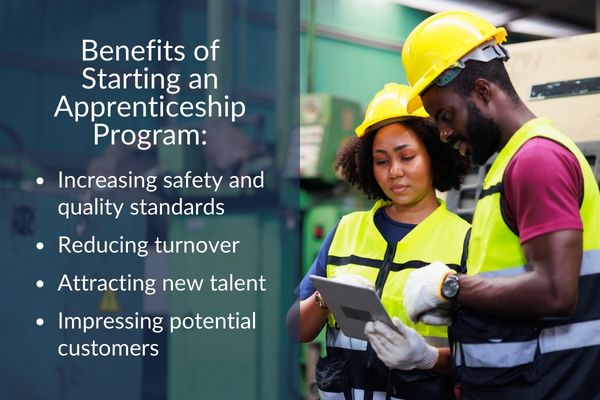 Registered apprenticeship programs often lead to an industry-recognized credential or certification, which is a major selling point for candidates who are considering your apprenticeship program.
Not only that, but registering your apprentice training program with the US Department of Labor or your State Apprenticeship Agency will give you access to additional benefits like:
Federal resources

Tax incentives

Training grants

Technical assistance
On the job learning in a registered apprenticeship program typically leads to a journey-level credential in the trade, such as an EPA/NATE certification for HVAC technicians or a master electrician license.
This not only benefits the apprentice but also helps your company by: 
Increasing safety and quality standards

Reducing turnover

Attracting new talent

Impressing potential customers
Offering Competitive Compensation
With the current labor shortage, it's more important than ever to offer a competitive salary and benefits package to your employees. This is especially true for apprentices, who are just starting out in their careers. You don't want to low-ball your apprentices and risk losing them to a competitor, but you also don't want to overspend on training that may not lead to a long-term commitment from the apprentice. 
Apprentices need to be fairly compensated for their time and effort. In some cases, this may mean starting at a lower wage, receiving raises as they complete certain milestones, and covering the costs of testing and certifications. 
Competency-based pay can be a great way to reward employees for their skills and progress. Wage progression can also be used to encourage apprentices to stick with the program and continue developing their skills. 
And don't overlook the importance of outlining a career pathway. Showing apprentices how they can progress within your company will help keep them motivated and engaged.
Do your research and find out what's standard in your industry and region for an apprentice pay structure. Factors like the trade, the level of experience, the length of the program, and your geographic location will help you determine what's fair and competitive.
Finding The Right Candidates for Your Apprenticeship
Not everyone is cut out for an apprenticeship. Just like hiring for any other position, you'll need to carefully screen candidates and be selective about who you bring on board.
When recruiting for apprentices, you should look for people who are:
Motivated to learn

Able to take direction and constructive feedback

Reliable and punctual

Able to work independently and as part of a team

Willing to commit to the program for the duration
As you screen candidates, be sure to ask about their long-term career goals. An apprentice who is only looking for a short-term solution is less likely to stick around and complete the program. You should also look for candidates who are a good fit for your company's culture.
Team Engine is the perfect tool for businesses with an apprentice program, which can help automate the process of posting apprenticeship opportunities, screening and selecting candidates, scheduling them for interviews and more!
If you're interested in starting an apprentice program, or if you already have one and are looking for ways to streamline the recruiting process, Team Engine can help. Grab your free 7 day trial to learn more about how Team Engine can grow your future workforce!