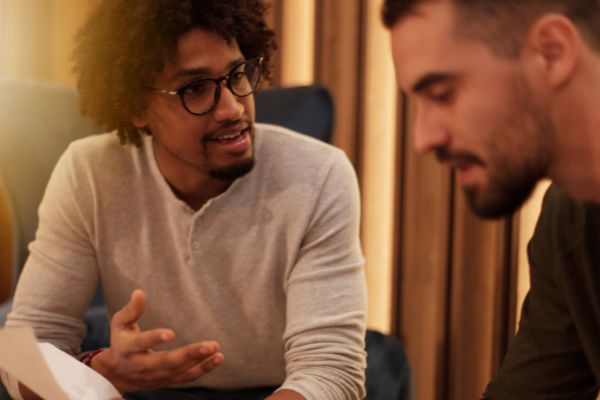 Although the terms 'recruiting' and 'talent acquisition' are used interchangeably and share certain similarities, they are slightly different hiring strategies, depending on the goal and overall approach.
Both recruitment and talent acquisition include identifying, screening, interviewing, selecting, hiring, and onboarding new candidates. Recruiting candidates is a short-term, momentary process, whereas talent acquisition is long-term and continuous.
In this article, we will review the difference between recruitment and talent acquisition by definition and strategy. 
What is Meant by Talent Acquisition?
Talent acquisition is a systematic process that creates a qualified talent pool to fulfill future hiring needs. Not only does talent acquisition fill current open positions, but it also develops a talent pipeline from which recruiters can pick the right candidates for future positions.
The entire talent acquisition process is divided into various stages including candidate sourcing, interviewing, candidate selection, and onboarding. 
Talent acquisition is an ongoing process with long-term planning where human resource teams build a strategic roadmap to hiring talent, keeping in mind long-term goals and company needs. A strong hiring strategy is one where talent acquisition teams tap the labor market thoroughly to fulfill their staffing needs. 
Developing Talent Acquisition Strategies
Sourcing and hiring the best talent is essential for consistent business growth and brand recognition, which means that an ongoing strategy is needed. Studies show, however, that 80% of construction firms have a difficult time filling these jobs, which holds true for many other blue-collar industries as well.
But with the right talent acquisition strategy in place, businesses can prevent these types of recruitment obstacles. Here's what you need to keep in mind while developing a talent acquisition strategy for your business:
Analyze the company culture, mission, and vision 

Pay attention to employer brand and market reputation

Evaluate each source of hiring—job boards, social media channels, etc. 

Consider data analysis and HR tools, like an

appplicant tracking system

(ATS)
What is Recruitment?
The process of actively seeking out qualified candidates to hire them for a particular role is referred to as recruitment. It is a linear process where recruiters hire candidates to fill open positions quickly within the company.
Some businesses regularly hire candidates quickly to fill short-term positions as needed in order to keep the workflow running. These such companies with high staff turnover rates can also implement defined and standardized recruiting strategies.
Developing a Recruitment Strategy
The traditional recruitment process was limited to filling current vacancies quickly so that the business wouldn't suffer productivity loss. In today's HR world, the recruitment arena has become more competitive than ever and recruitment processes have transformed significantly. 
When developing a recruitment strategy, keep your goals and objectives in mind as you:
Review your current recruitment strategies

Gather feedback from stakeholders, clients, candidates, and employees 

Use competitive recruiting tools along with a responsive

applicant tracking system

(ATS)

Write job descriptions carefully

using the right keywords to maximize reach and source better candidates

Stay active on social media channels for better brand recognition and engagement

Encourage recruiters to attract passive candidates who are not actively looking for a job
Activating a Recruitment and Talent Acquisition Strategy
Among the many basics of recruitment and talent acquisition, the most common aspects are mentioned below: 
Start with building a strong motive and company culture that helps create a healthy work environment. Not only will it help you build a brand, but it will also help to establish and achieve long-term business goals.

Plan every single step systematically keeping in mind the core objective. Prioritize your goals to meet current business requirements. Emphasize delivering the best candidate experience throughout the hiring cycle.

Utilize results-oriented HR tools to stay informed at every step of your recruitment process. Hiring managers must analyze applications cautiously, keeping in mind what they want to achieve and picking the one that best fits their requirements. 
Below are a few tips that will help you source the right candidate, whether you are a growing business or an established organization. 
Explore current market trends, industry stats, recruiting metrics, and gaps in recruitment. 

Recruiters and hiring managers must learn the right tactics to engage both active and passive candidates.

Competitor analysis is important as it helps analyze what others are doing differently to hire top talent. 

Encourage staff to participate in

employee referral programs

and recommend connections and acquaintances for open positions. 
Recruit and Acquire Talent Effectively with Team Engine
Recruitment and talent acquisition processes are agile and each have a unique purpose in the human resource arena. Recruitment is said to be a powerful approach for growing business as it helps in hiring potential candidates quickly for open positions. 
Talent acquisition, on the other hand, is a comprehensive process. Here, the candidate's skill set plays a vital role since companies are hiring for retention. Long-term business objectives can inform how you build the recruiting pipeline for these current and future positions. 
Team Engine's text-based talent acquisition and recruiting platform reduces the burden on HR employees by giving them access to hiring automation and text recruiting tools. The software works alongside your existing HR management solution to convey timely information to blue-collar candidates in industries including landscaping, construction, waste management, manufacturing, and more. If you're ready to automate and optimize your recruitment processes while eliminating repetitive tasks, employ Team Engine and see the difference.