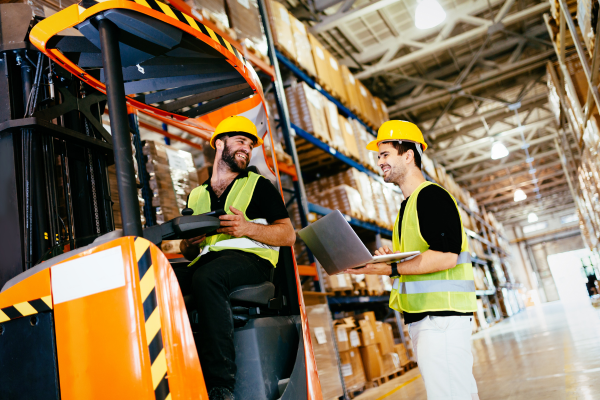 Hiring new employees is already a time-consuming process, but just because you hired someone new doesn't mean the work is done. From onboarding and training to consistent communication, there is a lot to be done with new deskless hires and it can be difficult to keep up with.
But you want to make sure that everyone is set up for success when they start at your company to maximize the likelihood that they become productive ASAP and stay on the team as long as possible. Make sure you are following these four best practices to make your new hires a success.
Welcome Your New Employees
It's important that your new employees feel welcomed to the company. When new employees start, their first day should be focused on introducing the company, co-workers, and job expectations. The Society of Human Resource Management stresses that "organizations that don't focus on acclimating new employees to their corporate culture are at a significant disadvantage. Employees who know what to expect from their company's culture and work environment make better decisions that are more aligned with the accepted practices of the company." 
With a deskless workforce, you will most likely meet your new employee on their first day, but how do you continue to make them feel welcome and stay connected when they're in a different location, and you're in the office? With text messaging.
Deskless workers are often left out of employee engagement practices, yet they are the most crucial group to be communicating with. According to Lexi McCausland, Communications Manager at University of Utah Health Plans, two-way communication is essential for deskless employees, and feedback must be a regular part of working with this employee population.
But deskless workers are less likely to use email consistently, face more technical challenges accessing an employee portal, and are harder to catch for an unscheduled 1:1 conversation. Text messaging allows for fast and easy two-way communication between you and your employees.
Besides being welcoming in-person on your employee's first day, you want to make sure that they know they can communicate with you throughout their time at your company. You can do this by sending a welcome text message that gives them a single, consistent point of contact to communicate with you going forward. 
Customers that use Team Engine typically send out a welcome message that looks like this: 
Hi Bob! We're excited to have you at John's Services Co. This is our Human Resources text phone number. You can text this number to submit any questions regarding time off, payroll, benefits, HR issues, etc.
We recommend sending this message within the first few days after the employee's start date to reinforce any in-person onboarding you have already done.
Create a Solid Onboarding Process
Onboarding is a difficult process for both you and your new employees. It can involve a lot of paperwork, meetings, and training, but the difference a good onboarding experience makes is significant. If you have a well-structured onboarding process, 66% of new hires will remain with your company for over three years. Reduced employee turnover saves you thousands of dollars, as it can cost 33% of an employee's salary to find their replacement. 

Onboarding and providing clear and complete training is even more important with a deskless workforce because your team is less centralized. With less centralization comes less supervision and a greater burden on individual employees to make the right decisions.
To ensure you have a good onboarding process, gather feedback from the folks who know it best: your employees. If your employees have been working there for years, they might not remember how they felt at the time, so it's best to reach out to your newer hires. We recommend asking your new hires about the onboarding process 30 days after their start date.
When it comes to getting feedback, keep it simple. Our customers typically ask: 
Hi Bob - This is Dave. We're excited to have you and hope you're enjoying it here at John's Services Co! We'd love your feedback. What is one thing we can improve about our training and onboarding process?
This allows your employees to give you feedback while the onboarding experience is still fresh in their minds. You can collect information about what is going well and what isn't to improve how you train your new employees. Having this two-way communication also shows your employees that you value their feedback and have a voice in the company. 
→ Employee Onboarding Template
Employee Benefits
If you offer your distributed employees any benefits like health insurance, PTO days, 401k, or anything else, a three-month eligibility period is pretty typical. During that time, employees may forget about their benefits and not fill out the paperwork. It's important to remind your employees when their probation period ends, so neither side gets left behind. It also goes a long way to show that you care about their well-being.
Five days before your new hire is eligible for their benefits, remind them that it's coming up. This way, they can fill out any required paperwork in time for their health insurance or other benefits to go into effect. Then, send your employee another message on the day their benefits go into effect to let them know their benefits have started and complete any due enrollment forms. 
Celebrating Anniversaries
It's essential to recognize the employees that have stayed with you through the long-haul. Celebrating an employee's work anniversary is a way of telling them they're important. If you can send a gift, then that is great, but sometimes that isn't possible. Just acknowledging a work anniversary can go a long way. We recommend messaging your employee on their anniversary, especially if they're a deskless worker. This is a great message to text your employee the morning of their one-year anniversary: 
Congratulations Bob! You've been with us at John's Service Co. for a year now! We appreciate all your hard work and are excited to continue working together!
---
When you have many different employees to watch over, it can be challenging to manage all of these dates and contact each employee. With Team Engine, you can automate text messages to be sent to your employees on the respective dates. Just add their contact information and start date, and never worry about it again. If you'd like to communicate more efficiently with your new hires, try Team Engine today.