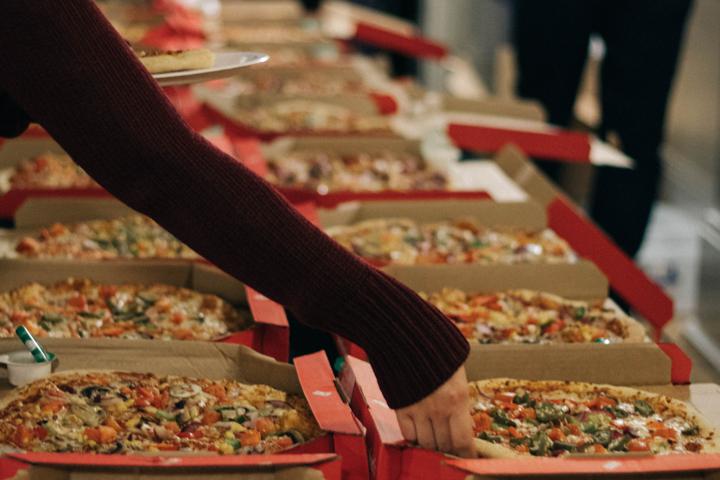 Team building activities are a great way to build an engaged workforce (especially new hires) but only if they're designed well. Keep in mind that the best time to use team building activities is when you need to get strangers talking to each other, or when you want to foster employee engagement. With that in mind, we pulled together a few ideas that might go over well at blue-collar companies.
1. Create a friendly competition at an entertainment venue (escape rooms, arcades, etc.).
Divide your team into smaller groups and see who can complete an escape room the fastest. Or go to Dave & Busters and see which group can win the most tickets. Race go-karts for fastest time. Play laser tag for highest points. 
A key consideration for this type of team building activity: Intentionally divide your team into groups of employees who don't know each other as well, or who don't work directly together.
2. Send small groups out to lunch together. 
Blue-collar lunch ideas don't have to be extravagant or complicated. Consider sending small groups out to lunch on their own at a nearby restaurant of their choice. Breaking bread is a form of social bonding, and it's most effective in a small group of 3-5 people. Anything larger than that and you run the risk of not everyone being able to participate in the conversation. 
A key consideration for this type of team building activity: Make sure to send them off with the company credit card (and agreed upon spending limits) in hand, or offer to cater in. 
3. Organize a themed lunch pitch-in.
Much like a small group lunch, chili cook-offs and other types of cooking contests also bring employees together to bond over a meal. Since a pitch-in is on a larger scale than small group lunches and harder to foster that same type of intimate discussion, turning the pitch-in into a competition could incentivize higher participation and engagement—especially when there's bragging rights and prizes on the line. 
A key consideration for this type of team building activity: Make sure you provide grocery gift cards for employees who cook for the pitch-in, or reimburse them when it's over.
4. Throw a pizza party, or show up randomly with cupcakes.
Are you sensing the food theme yet? The difference here is that a pizza party or cupcake surprise require zero work or involvement on the part of your employees, which means participation should be high! You just have to make the food show up, then they get to eat it on a break while socializing with their coworkers.
A key consideration for this type of team building activity: A lot of managers don't see this as a formal "team building activity," yet many employees report free food and free time to socialize as their favorite (and most effective) way to get to know their teammates.
5. Have lunch-and-learns.
A lunch-and-learn is typically an hour long, lunch is usually provided, and a subject matter expert gives a presentation on a topic. The topics can be work-related, but are often more successful and engaging when they're not. This is one of the most popular blue-collar lunch ideas, since employees get a break from work, learn something immediately applicable together, and get a free meal.
For example, you could bring in a financial advisor to show employees how to save for a down payment on a house or car. You could bring in a nutritionist to show workers how to meal plan and meal prep so they don't have to eat gas station food for lunch every day.
You can also have employees lead lunch-and-learns and present on their own hobbies or areas of expertise. If Linda runs a cake baking company on the side, have her teach others how to professionally ice a cake. If Joe runs marathons in his spare time, have him do a presentation on how he trains and where his interest in marathons came from.
A key consideration for this type of team building activity: Meetings can be held after hours if you absolutely can not spare the extra time, but you'll see much higher participation if you schedule these sessions over a lunch break.
6. Take a class together.
Learning together—work-related, or otherwise—is another great way to strengthen a bond with a coworker. This is similar to a lunch-and-learn, but a bit more in-depth and hands-on.
Since there are so many types of classes available (cooking, welding, glass blowing, painting, etc.) you'll want to survey your employees to gauge interest in different options. You could send them an email or have their managers ask in a team meeting, but we think text message surveys are the best way to reach blue-collar workers.
A key consideration for this type of team building activity: Because these are time-intensive and might require travel offsite to the class location, you might need to schedule this type of activity after working hours, but make sure you still pick up the bill for participants!
7. Go to an industry-relevant museum or tour.
Team building outings can be educational, as well as entertaining! Take your employees to tour an industry-relevant museum, or to see the facility of a partner company upstream or downstream in your supply chain.
For example, if you manufacture automotive parts and live in or around Michigan, you could go to Detroit to tour the Henry Ford Museum. Or, you could take a trip to visit the manufacturing plant where your parts are assembled to create vehicles. 
A key consideration for this type of team building activity: With transportation costs, meals, and a lost day of production, this could get pricey quickly. Make sure this is something the majority wants, and make it clear that it's a special, one-time event.
8. Volunteer at a local non-profit or community organization.
Giving back to your community can be a meaningful and memorable experience, and it gives everyone a chance to interact with each other in a different (but equally productive) way.
A key consideration for this type of team building activity: Any type of nonprofit will work, but it's even better when the organization is in, or tangential to, your industry.
9. Play a quick game in the weekly huddle. 
Nominate a different person each week for Two Truths and a Lie. This game is great because it doesn't require any special skill or physical ability, everyone learns something interesting about one of their teammates each week, and it takes less than 10 minutes to play. 
A key consideration for this type of team building activity: Nominate the featured person a week in advance (ideally right after you finish the previous week's game) so they're not caught off guard or put on the spot.
---
Before you put any of these into action, make sure you read our article on planning team building activities for blue-collar workers. It covers all the reasons that people don't like team building activities and contains seven pro tips for planning an inclusive event that all your employees can enjoy. Subscribe to our newsletter to get future retention insights like these sent directly to your inbox!