Most HR professionals are already wearing many hats: payroll specialist, benefits coordinator, recruiter, mediator, the list goes on. And now, in the face of an unprecedented labor shortage, they're expected to become marketers, too.
That's because posting on job boards alone isn't enough anymore. It's a job-seeker's market, so they're faced with many options. So many, in fact, that they may never even see your job unless you've paid to promote it for visibility. Running an ad on social media is one way to diversify where and how you spend your recruiting budget, since you can target who sees your ad on social media based on their interests and geographic location.
But what about the people who aren't actively looking for jobs on career sites? According to the 2017 Mind the Workplace report, 71% of people are willing to switch jobs, but most of those people aren't actively looking at job posts or browsing job boards. Running job hiring ads on social media is how to target passive candidates.
And so, suddenly, HR professionals are expected to know how to write ad copy, design a graphic or video, and set up an advertising account (AKA become a marketer) just to get enough applications to make a hire. We know that's not fair, so if you're in HR and being asked to "cultivate an employer brand," we created some resources to help you get there.
You're going to need an overview on using Facebook and Instagram ads for recruiting, but before you can do that, you'll first have to design the visuals and write the copy for the ads you'll be running. Every company is different, so we gathered a few examples of job hiring advertisements from several industries for inspiration. Today we're looking at manufacturing recruiting advertisements.
Manufacturing Job Ad Example #1 (Instagram)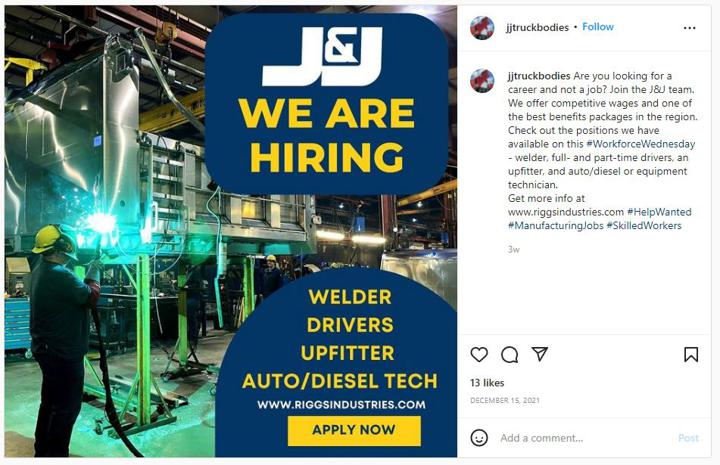 (click image to see native post)
Why we like it:
The glare from the weld is eye-catching, and likely to make a user on social media stop scrolling to have a look.
The photo also shows a worker in a manufacturing plant, so it's even more likely to capture the attention of welders.
The large logo and "WE ARE HIRING" let the viewer know exactly what the post is about, so they can decide if it's relevant to them.
How to improve it:
The call-to-action (CTA) could use some work. The Apply Now "button" in the graphic is misleading, because you can't click it. They did include a CTA in the caption to visit the website, but Instagram captions aren't clickable.
A better approach would be to instruct viewers to follow the link in their bio, and update their bio link to point to their careers page. Or, use a link-in-bio service like Later.
Manufacturing Job Ad Example #2 (Facebook)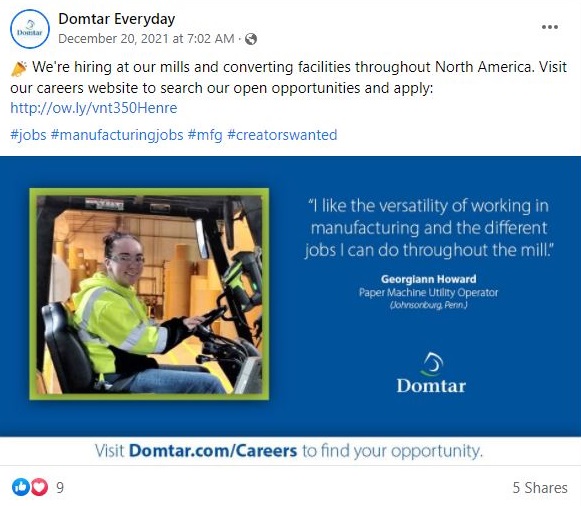 (click image to see native post)
Why we like it:
The photo of a real worker helps the viewer visualize themselves in the job, and see that people just like them are working this job.
The worker quote gives credibility and value to the ad. It's like a customer testimonial, but for working at your company!
The post's caption is short, but highlights that they're hiring (literally) everywhere, and ends with a clickable CTA leading to their exceptional branded careers page.
Manufacturing Job Ad Example #3 (Instagram)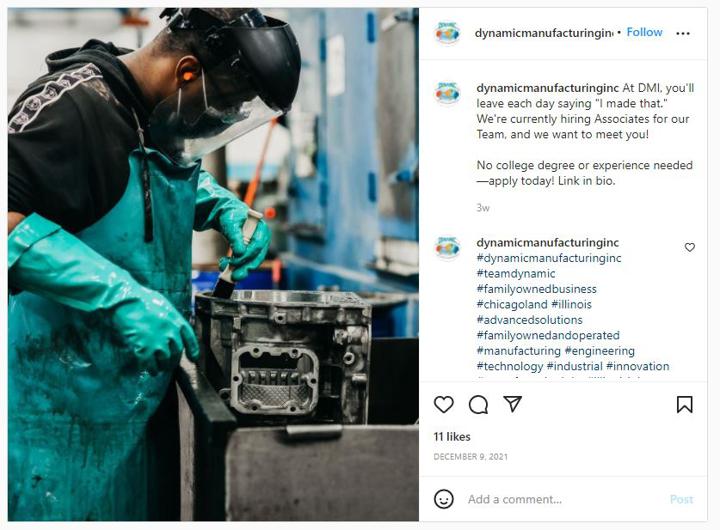 (click image to see native post)
Why we like it:
This photo doesn't have any text laid over it, which is good. Users come to Instagram to look at photos, not read text.
The photo is curious, engaging, and makes you wonder what he's doing with that brush—which makes you want to read the caption to see what's going on here.
The caption doesn't tell you what he's making, but you do find out that you could also make things like this, even without a college degree or experience in the field.
The CTA directs users to follow the link in the bio for more info, which is a quick and easy action to take on Instagram.
Manufacturing Job Ad Example #4 (Facebook)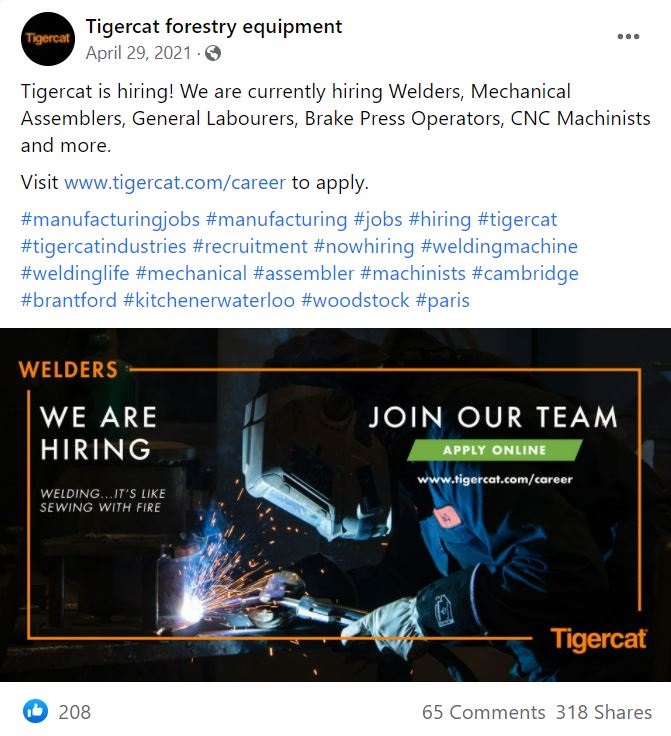 (click image to see native post)
Why we like it:
The line under WE ARE HIRING hints at their company culture and suggests this could be a playful and fun employer to work for.
The caption on the post lists the type of positions they have open, so people can decide if it's relevant to them before clicking.
There is a clickable CTA in the post caption, and it's also written out on the graphic in case users don't bother to read the caption.
Look at all the engagement on this post! Sixty-five comments, 318 shares, and 208 likes is nothing short of impressive. The heavy hashtagging may have helped with discovery of the post, but we suspect it's simply because Tigercat has over 77,000 followers on Facebook, which they've been growing since 2009.
Pro tip: Recognize that social media is a long game, so if you're just getting started with a social presence, don't be discouraged when you don't get engagement at this level...but always strive for it!
Manufacturing Job Ad Example #5 (Instagram)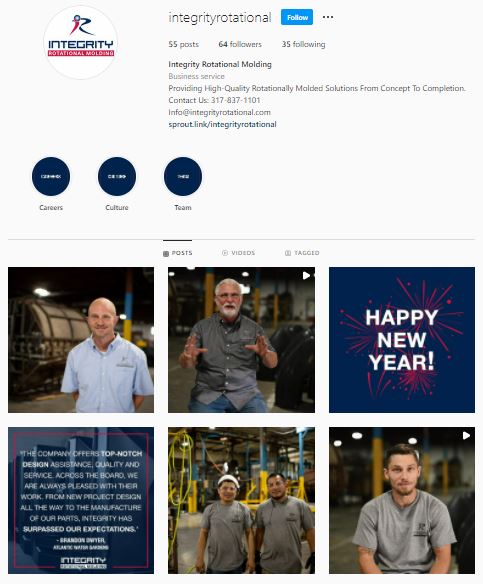 (click image to see Instagram account)
We couldn't pick just one post from Integrity Rotational Molding, because their entire Instagram account is geared towards recruiting!
Why we like it:
Integrity's Instagram profile has three Story highlights named Careers, Culture, and Team that showcase the benefits of working there, along with quotes and photos of real employees vouching for the high quality work environment.
Their posts are a mix of real photos and designed graphics. The photos are inherently more engaging since they show human beings and big machinery, and they aren't cluttered with text. But the graphics use consistent colors, fonts, and layouts, and those consistencies pull it all together for a cohesive feel.
Integrity uses a lot of video, which helps convince the Instagram algorithm to show the post to more people. But more importantly, you get to see and hear real employees talking about their work in their own words. The goal is for job-seekers to see the video and think, "That could be me!"
Pro tip: In our roundup of hiring ads for landscapers, we talked about the importance of experimenting with video, no matter how much or little experience you have with video editing. Integrity either has a video guru on staff or brought in a professional to film their employee testimonial videos, but you can accomplish something similar with just your phone (and maybe a couple bucks for an editing app). As Brent Barnhart from Sprout Social advises, the quality is less important than the presence.
Manufacturing Job Ad Example #6 (Instagram)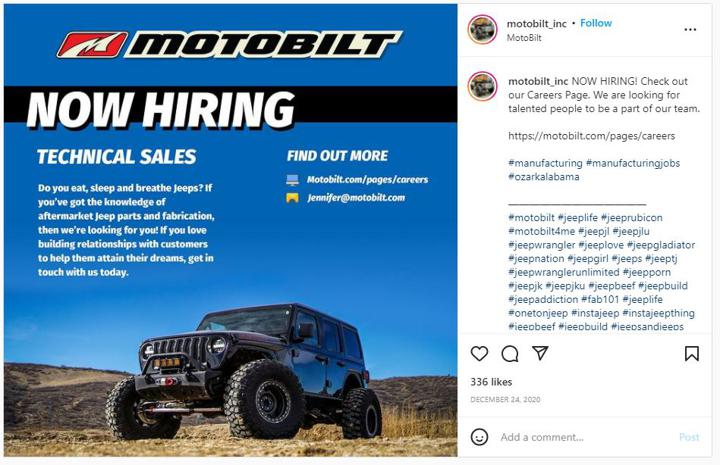 (click image to see native post)
Why we like it:
This company uses strong, bold branding on all of their social media, and their recruiting posts are no different.
Motobilt manufactures parts for Jeeps, so they aren't shy about tapping into the strong brand recognition and community that Jeep has by heavily hashtagging the post for discoverability. And with over 300 likes, it seems to have worked.
The text in the graphic doesn't talk about about pay or hours. Instead, it uses language to attract and appeal to Jeep-lovers, who are sure to be a good culture fit at their company.
There is a CTA to apply in the graphic and in the caption. It's not clickable like a bio link is, but it's pretty short and easy to remember if typing in to a browser.
Manufacturing Job Ad Example #7 (Facebook)
(click
here
to see native post)
Why we like it:
They show you exactly what to expect when you show up for their weekly hiring event. This novel approach lessens the anxiety that comes with going new places, doing new things, and job searching in general.
They branded their weekly hiring event as "Walk-In Wednesday, so even if someone can't make it this week, they'll remember that they can show up to apply on any Wednesday.
King Plastic applied captions to the video itself, which is a social media best practice because

many people watch videos in social media feeds with the sound off.

The text/caption of the post lists current open positions, and includes a CTA to schedule an interview today via a clickable link.
Pro-tip: Watch the analytics on all of your job hiring ads and if you notice one doing better than the others, double down on that tactic. It looks like this strategy was so successful for King Plastic that they decided to replicate it again a couple of months later!
Manufacturing Job Ad Example #8 (Facebook)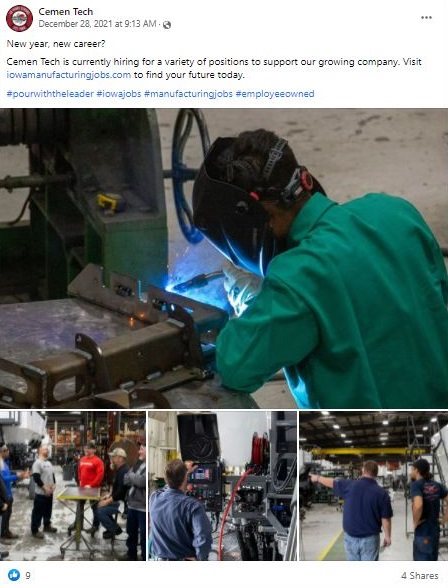 (click image to see native post)
Why we like it:
This post utilizes a photo gallery, which encourages the user to engage with the images for a closer look.
The photos are of real employees working inside the plant, which allows users to decide if they would be a good fit for this working environment or not.
The suggestion of a new career implies that no previous experience is needed and on the job training is provided, which is a valuable benefit to someone who is looking to grow and learn.
The CTA links to a well-designed careers page with photos, videos, current openings, benefits details and background information about the company.
Don't Do This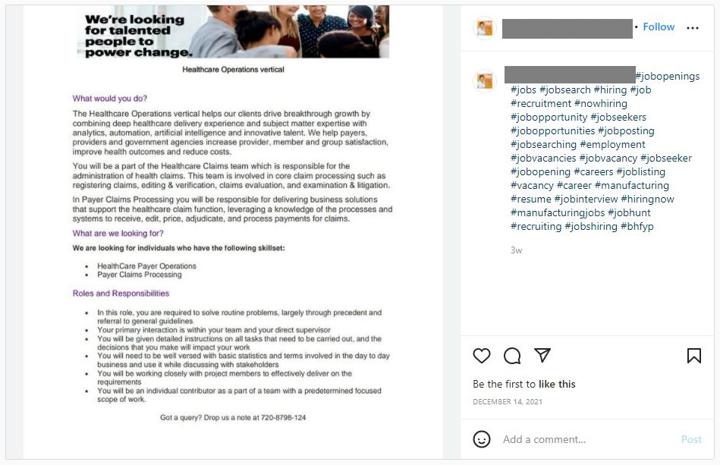 Why we don't like it:
SO. MUCH. TEXT. Nobody wants to see that on Instagram.
This isn't even a manufacturing job description, but it was tagged with the #manufacturingjobs hashtag. It seems unlikely that someone browsing that hashtag will have the required experience in health care payer operations and/or payer claims processing.
It doesn't follow our recommended best practices for writing a job description, since the company is not named, and the duties and responsibilities of the job are vague.
The caption to the post provides no additional detail or context about the position.
Best Practices for Creating "We Are Hiring" Ads for Manufacturing Companies
The key takeaways from these great (and one not so great) examples of manufacturing recruiting ads are:
Whenever possible, include photos of real employees on the job. This helps job-seekers decide if they would be a good fit for the company culture, and helps them picture themselves doing the work to decide whether or not they could do it.
Photos of people are more likely to grab attention in the social media feed than photos of buildings, tools, or machines. Photos of people using tools and machinery also work well!
If you must include text on the image, go light and simple. "WE ARE HIRING" in large text is often enough to get the point across. Save the details (but not too many) for the post's caption.
Include quotes from employees as social proof that your company is a good place to work.
Use clean, subtle humor if/when it's appropriate for your brand.
Include information to help people self-select or self-disqualify, such as "No college degree required" or "Must know how to read a tape measure."
Experiment with videos, even if you don't have any experience making them. 
Always include a call-to-action that tells users what to do next (e.g. follow link in bio to schedule an interview today).
---
For more inspiration, check out our complete roundup of recruiting ads, and sign up for our newsletter to be notified when we publish more content like this in the future.