Career sites are always a good place to start when it's time to hire, but they don't always get the job done. They may bring you the volume you need to fill the applicant pool, but you might also find that everyone in the pool is under-qualified or non-responsive.
And what about the people who are already employed, but open to the idea of switching jobs? If they're not looking at job sites, how do you find them and capture their attention?
Running hiring ads on social media is one solution to both of these problems. You'll eventually need an overview on creating ads for Facebook and Instagram, but before you spend any advertising dollars, you'll need to first design effective ads.
To help you get started, we pulled together a few examples of great hiring ads from the HVAC industry, along with the reasons why we think they're great.
Distribution Job Ad Example #1 (Instagram)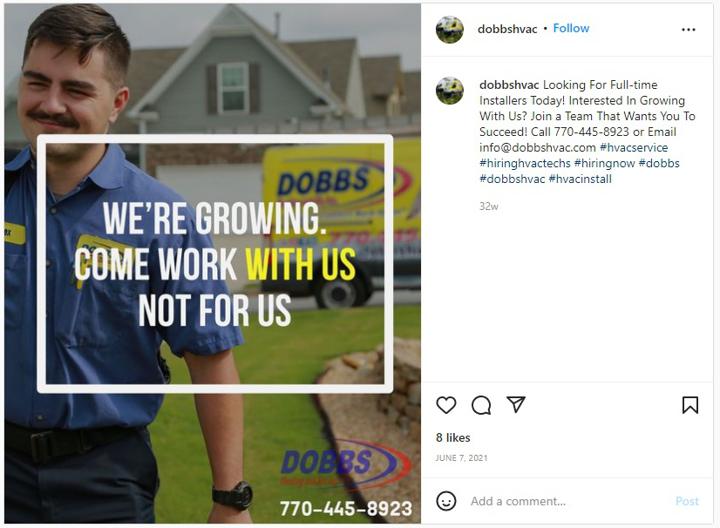 (click image to see native post)
Why we like it:
The message to "come work with us, not for us" signals a healthy company culture that values and respects employees.
If the viewer isn't familiar with the brand, the photo does a good job showing you who they are and what type of work they do.
The ad is light on text, which makes it more visually appealing and likely to stop users when scrolling in the feed.
This post contains three calls-to-action (CTAs): the phone number in the image, as well as an email and phone number in the caption. It's clear to anyone who might be interested what they should do next.
Distribution Job Ad Example #2 (Instagram)
(click
here
to see native post)
Why we like it:
This video is funny, informative, and embodies the company culture at Parobek. It might even instill some envy in someone who works for a boring company and yearns for this type of work environment.
This video emphasizes the fact that they have a place for all ages and experience levels, and shows how they all work together to learn and grow.
The post doesn't mention "competitive pay and benefits" or any of the other standard words and phrases used on most hiring ads—and it doesn't need to, because it's assumed that a company with such a strong focus on its people will compensate them well.
What it's missing:
A call-to-action that tells interested viewers where or how to apply.
A bio link directing viewers to their company homepage, or branded careers page.
Distribution Job Ad Example #3 (Instagram)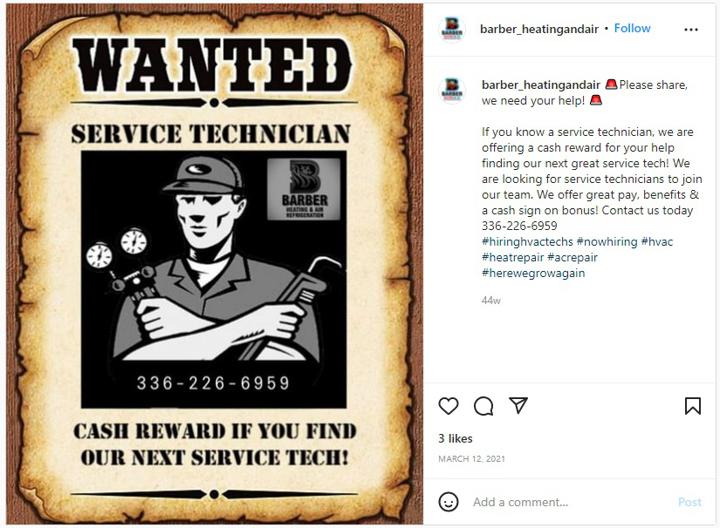 (click image to see native post)
Why we like it:
This is a fun twist on the classic WANTED poster from the olden days. It's a novel approach to designing a job hiring ad, which should be effective at capturing attention in users' Instagram feeds.
We usually recommend using photos of actual employees in hiring ads to help viewers visualize themselves in the job, but in this case it makes more sense to use a cartoon character. He's armed with the tools of an HVAC tech, and the job title of "Service Technician" is posted above him, so it's clear the type of person this company is looking for.
The company logo is included, but has been greyed out to better match the overall aesthetic of the graphic.
Keeping with the theme of the WANTED poster, the company is offering a "cash reward if you find our next service tech," which is a clever way of saying they offer a sign on bonus.
There is a CTA in the graphic and in the caption—both advising interested parties to call.
What it's missing:
Any CTA is better than no CTA, but we recommend directing users to a link in the account's bio that leads to a branded careers page with more information about the positions available.
Best Practices for Creating "We Are Hiring" Ads for HVAC Companies
Lead with your company culture and values, because that's what sets you apart from other HVAC companies.
Experiment with video, even if you don't have experience shooting or editing videos. A simple video filmed on your phone will do the trick, and maybe a couple bucks for a video editing app. The quality of the video doesn't matter as much as just having video content on your social profiles.
Go light on text. Photos, videos and graphics are much more engaging and attention-grabbing than a bunch of words.
Think outside the box on your design. Novelty attracts attention, so try a design that looks totally different from what your competitors are doing.
Always include a CTA so that interested parties know what to do next.
---
Want to see what recruiters in other industries are doing? Check out our complete roundup of Facebook and Instagram ads for hiring. If you found these tips to be helpful, sign up for our email newsletter to have more content like this delivered right to your inbox!