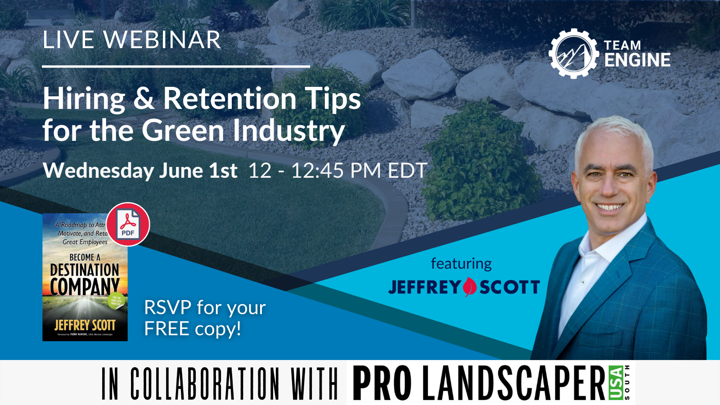 Which comes first: hiring great employees, or creating a great company culture? On Wednesday June 1st, we'll answer that question (and much, much more) in our upcoming webinar featuring green industry coach Jeffrey Scott.
With decades of experience as an entrepreneur, owner and consultant in the landscape and general contracting industry, Jeffrey has an inside view of the unique hiring challenges (and opportunities) faced by his clients—the same ones you might be experiencing in your own organization right now.
Attend the webinar to learn:
What's working for other landscaping companies
How to improve retention using "shared leadership"
How to raise financial performance by employing an "ownership culture"
Novel and proven recruiting tips to get staffed up
Why becoming a Destination Company® will solve your staffing issues
Jeffrey will also be joined by Lara Beckemeier, VP of Human Resources and Administration at Landesign, to share tips and tricks she's currently using to recruit and retain labor for the suite of landscaping companies she oversees.
After the presentation, Jeffrey will take live questions from attendees and give everyone who attends a free digital copy of his book, Become A Destination Company®.
---
Don't miss this opportunity to hear from one of the green industry's most authoritative coaches & thought leaders. Uncover the changes you need to make today to recruit and retain top landscaping talent tomorrow.