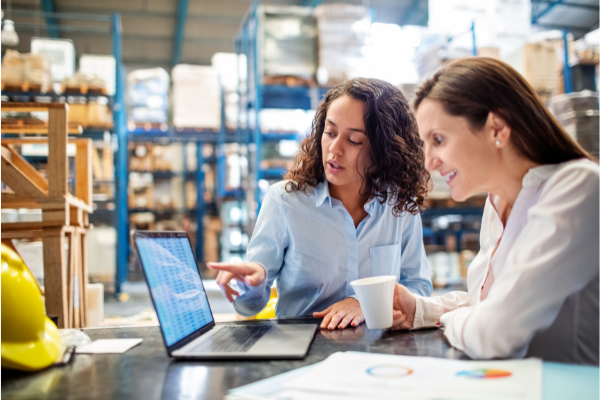 According to Softwareworld, there are 14 core responsibilities of a Human Resources Department. Those key functions are: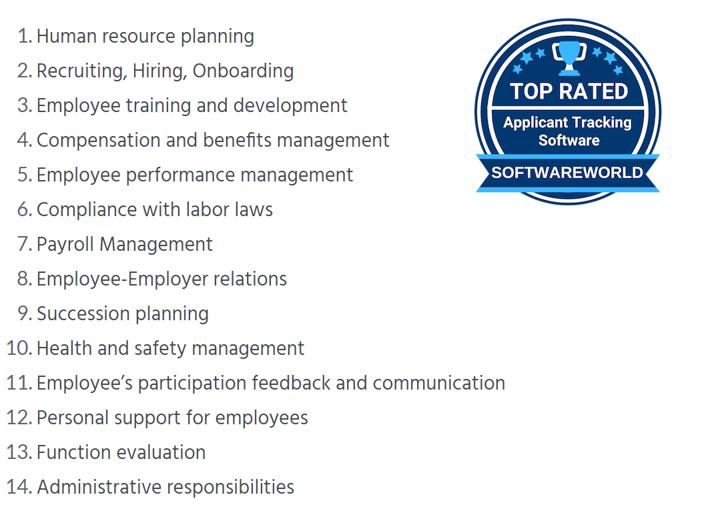 Of the 14, Team Engine's suite of organizational communication tools can help you be more effective at over two thirds of those functions. Here's how:
Recruiting, Hiring, Onboarding
The secret sauce to effective hiring in today's ultra-competitive labor market is speed. The quicker you establish contact and start moving them through the funnel, the higher your chances of converting them into an employee. That's why hiring automation is essential, especially for companies in blue-collar industries. 
Fortunately, recruiting & hiring is at the heart of the Team Engine software. Our automations enable companies to engage applicants early in the hiring process, long before competitors even have a chance to review the application. It's also able to screen candidates on the factors that matter most to blue-collar companies such as relevant experience, responsiveness and commute time, as well as identify red flags like frequently switching jobs.
Employee Training & Development
While you can't conduct employee training and development through Team Engine, you can use it to communicate details about the training, such as a date, time, location and anything trainees might be required to bring. Deskless workers are unlikely to read an email or bulletin board memo with these important details, but you can almost guarantee they will not only see, but also respond to, a text message. Even better, with Team Engine you can send text message announcements to groups of employees en masse, such as to only those on a certain shift or in a particular department. 
After training is complete, you can also use Team Engine to send a simple survey to get feedback. Team Engine surveys are distributed and completed via text message, again increasing open rates and response rates. Asking for feedback immediately after a training session is important so that you can make adjustments as needed to continue to optimize the experience for the next group of trainees. Employees will also feel valued when asked to give their opinions and feedback on your processes.
Compensation & Benefits Management
Team Engine isn't designed to manage compensation and benefits, but we recognize that employee communication is a big piece of that never-ending process. One of our most-used features is the ability to send automated text message reminders to new employees when they are approaching the end of their probationary period and are becoming eligible for benefits. Similarly, open enrollment reminders can be scheduled in advance and sent en masse.
Employee Performance Management
Just as you can schedule automated messages about benefits enrollment, you can also schedule automated messages reminding employees when their performance review is coming up. Even better, the employee's manager can also receive these reminders, simultaneously making sure no one misses their review and demonstrating the importance your organization places on conducting those reviews. 
Payroll Management
Did someone miss a clock out? PTO hours not applied correctly? Was someone's paycheck short last week? Many Team Engine customers add their payroll specialist as a user in the software so they can quickly and easily reach any employee with questions, or respond to payroll questions from employees.
Employee-Employer Relations
With Team Engine's text-based surveys, HR can systematically collect feedback from employees about the organization's leadership, including the employee's own manager. Beyond formally asking for feedback through Team Engine, many companies find that simply having an HR hotline to text with questions really opens the lines of communication for many employees. When that happens, they are more likely to report issues early on while there is still time to course-correct, before they build up to something more drastic like a resignation.
Health & Safety Management
Team Engine customers have applied our team management tools to keep their customers safe in many different ways. Some use Team Engine to announce safety training dates, and then text out reminders the day before. Others send out periodic reminders about specific policies or procedures.
Martin Bros.
used the survey function during the early days of the pandemic to issue their daily Covid-19 screening questions.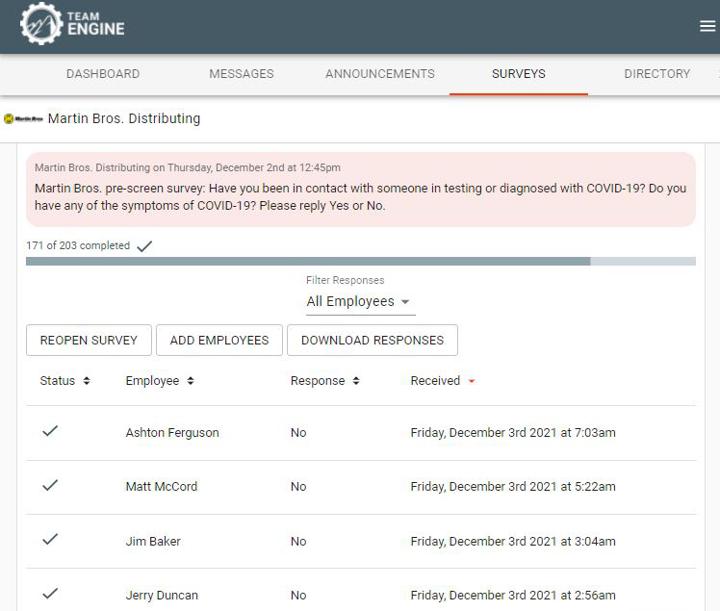 Standard Meat Company uses surveys to take headcount for their vaccine clinics.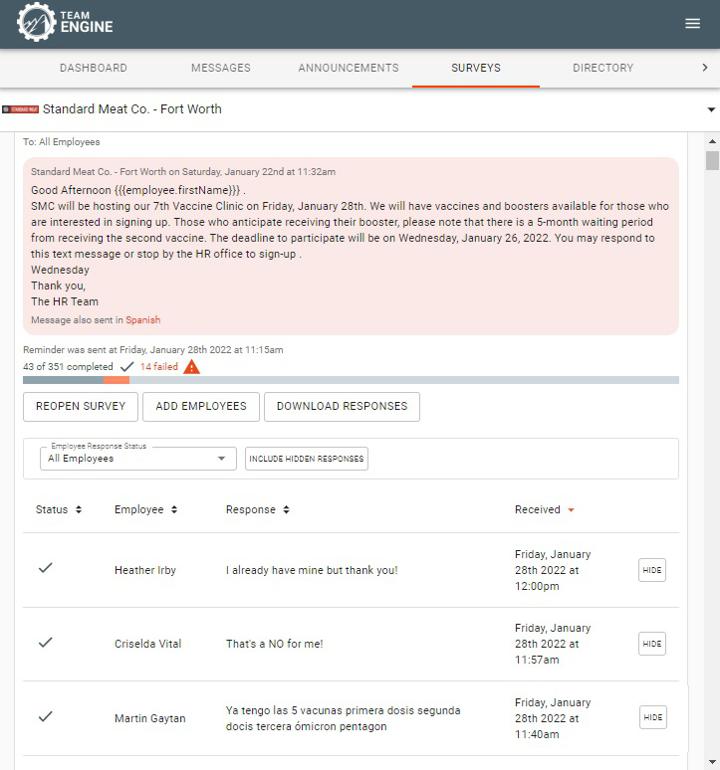 Whatever your company's approach is to employee health and safety, you can use Team Engine's communication tools to reinforce policies, keep them top of mind and—most importantly—demonstrate that you care.
Employee's Participation, Feedback and Communication
This function of HR boils down to "employee engagement," which is a result of feeling valued, welcomed, and involved in the regular business activities. This can be achieved through any number of ongoing tactics, including being asked to:
Evaluate leadership effectiveness

Contribute to new ideas or projects

Give input on company events and rewards

Discuss professional and personal goals with a manager
… all of which can be accomplished (and in some instances automated) through Team Engine's employee messaging system!
Personal Support for Employees
This function of HR recognizes that an employee's home life can negatively affect their ability to perform in their professional life. HR can bridge the gap between those two "worlds" by having an open door policy, helping the employee find the resources they need to get better, and by allowing them some grace while navigating through difficult times. 
Companies that use Team Engine's employee messaging system continuously report that their employees feel more connected to leadership by having a private, always-on, direct line of communication via their text message hotline.
Administrative Responsibilities
Softwareworld defines this HR function as being accountable for "promotions, discipline, appointments, and relocation of the employees." While these decisions are typically discussed and made outside of any software system, communication of those decisions (and any resulting changes in policy or procedure) can be communicated to employees (or groups of employees) quickly and efficiently with Team Engine. 
---
At the end of the day, the Human Resources department is responsible for recruiting and hiring the right people, training and developing them over time, and continual assessment of that development. Team Engine can't do your job for you, but it can make you more efficient and proficient at it. Sign up for a free seven-day trial to find out how.