Imagine this:
A passive job-seeker heads out into the world to start their day. They're employed, but aren't happy in their current role. They walk past their favorite neighborhood shop on their way in to work. They notice a "We're hiring!" sign in the window and think to themselves, "I should look into that," and keep walking. 
Three blocks down the street, they stop to grab a coffee and notice this sign on their way in: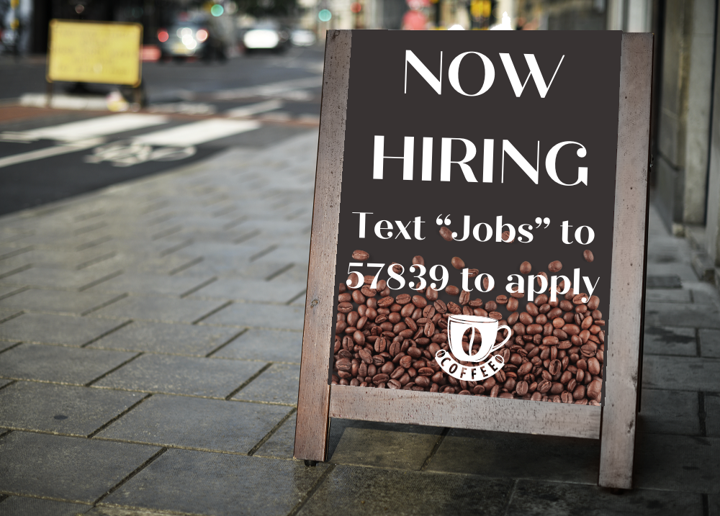 They pull out their phone, fire off the text, and complete a short form—all before their latte comes up at the counter.
Even if the job-seeker actually remembers to look up the first company's website later, they'll then have to navigate to the careers page, find the posting for the sales associate job, and spend 15-20 minutes completing the lengthy application.
The coffee shop, on the other hand, has already received and reviewed the applicant's responses to the short form, reached out for their resume, and scheduled an interview for tomorrow.
Have you ever thought about allowing candidates to apply by text at your own company? Concerned it might be complicated to set up or manage? Text recruiting software not only makes it possible, but makes it easy—for you and your applicants.
Benefits of Text Recruiting for Applicants
It's fast & easy.
A deskless workforce is a mobile workforce. They're unlikely to remember to look up a company later when they're at home with computer access, and even less likely to remember a website URL to apply. But it's fast and easy to start (and finish) the application process when all they need to do is send a quick text.
It's low-pressure.
Lengthy applications (whether they're paper or digital) can turn people off and scare them away from engaging with the company. Conversely, sending a text to initiate the application process requires very little time or commitment, so it's more likely to actually happen. 
It demonstrates that the company is modern.
Even if your workforce isn't tech-savvy, they'll appreciate a convenient and efficient approach to filling out an application. 
(Protip: Because everyone loves having options, you can even include your text-to-apply code on job postings to provide an alternate channel for submitting an application!)
Benefits of Text Recruiting for Employers
Provide an actionable CTA on job advertisements.
Whether you're advertising your jobs on social media, Google PPC, or physical signs hanging in windows, a text-to-apply option provides a very clear and easy call to action. This is especially important to include at the bottom of posters and other printed materials, since there is no button to initiate the application process like we're used to seeing online.
Automate correspondence to engage applicants faster.
As we have previously discussed, job applicants have a lot of options and are usually looking to start their new job quickly. By being first to respond to their application submission, you increase their interest in your company, and decrease the likelihood of them signing on with your competitor. With some text-to-hire software (like Team Engine), you can send automated text messages for the initial outreach for a faster response time, then personalize the conversation that follows via pre-screening questions and interview scheduling.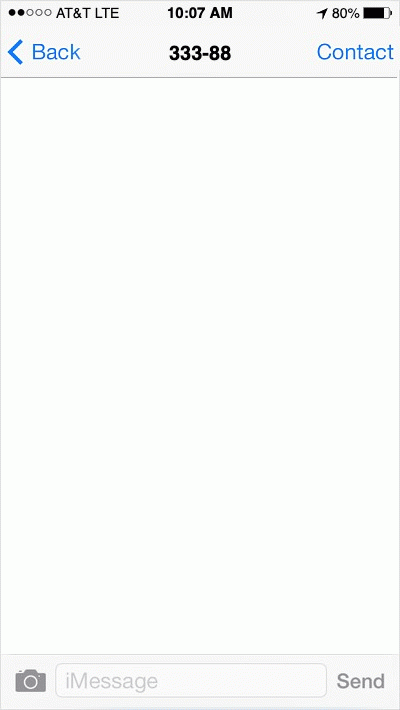 Get more applicants.
Encouraging job seekers in a deskless workforce to apply by text naturally leads to more applicants because you're inviting them to engage in a way that's comfortable and convenient to them. We've seen text recruiting to be especially effective for manufacturing, construction, transportation, retail, hospitality and other labor-intensive industries.
Maintain a record of all hiring communications.
Many recruiters are already texting with applicants, but they're doing it from a company-issued cell phone or their own personal cell phone. While it's inefficient to manage correspondence with a lot of applicants via text messaging, it's especially problematic for high compliance industries who need a record of all employee communications. Text-to-apply software alleviates that problem by securely logging all text messages sent and received during the hiring process.
How Does It Work?
While we can't speak for the ease of use on other text-to-hire software, we can say that text message recruiting is built into every job opening posted by Team Engine clients. With just two mouse clicks, you can start getting more applicants by asking them to apply by text.
From the home screen dashboard, click  on the "Get More Applicants" button for the job you wish to promote.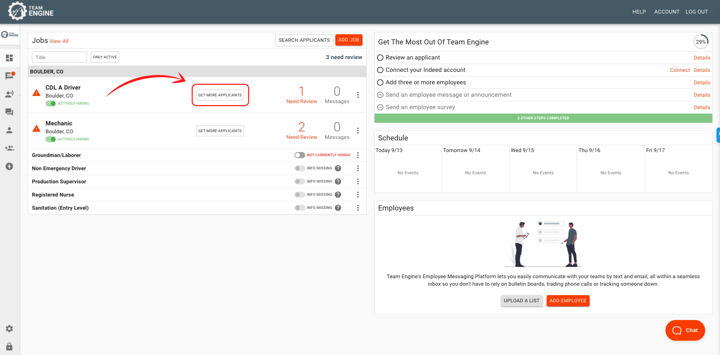 Scroll to the bottom to find the "Text to Apply" section.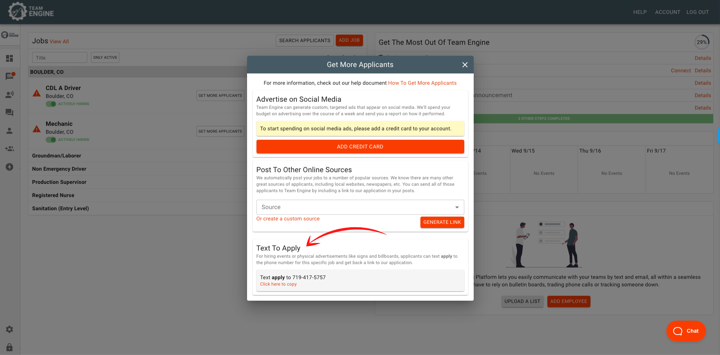 Copy the call to action (in this case, it's "Text apply to 719-417-5757") and start sharing it!

That's it; no special setup or separate login required. All applications that are submitted by texting that number will now feed directly into the Team Engine dashboard, right alongside all other online and offline sources.
If you're not already a Team Engine customer, sign up for a demo today to see how text message recruiting seamlessly integrates with the rest of our candidate sourcing and hiring automation tools to help you get more quality applicants faster.