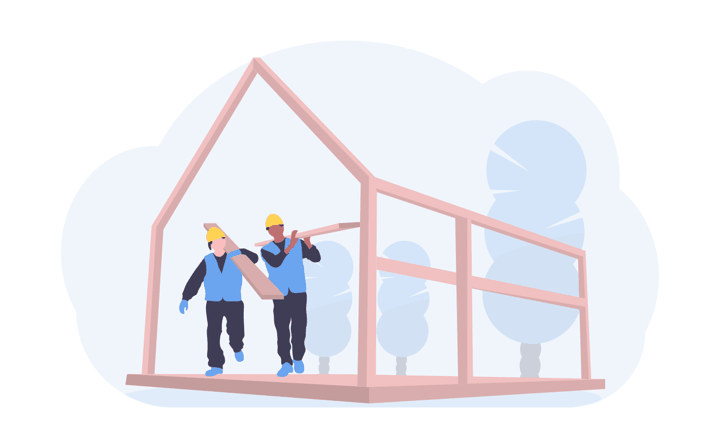 With the uncertainty of the economy, Team Engine wanted to look into some highlights that are happening in the workforce around us today. Blue-collar jobs have been in the spotlight lately, and many people are realizing the opportunity that lies ahead. See what different groups are doing to continue to support the American workforce:
Florida Boosts Local Workforce Program
Blue-collar jobs have been a hot topic lately, but how do people become qualified to work as carpenters, construction workers, plumbers, or electricians? Through apprenticeships. Apprenticeships can be difficult to get started though, so the Builders Association of North Central Florida has started a program for their members to sponsor employees for a low tuition fee and now there are more than 200 people enrolled in the program. 
See how BANCF is helping companies attract high-skilled and happy employees >> 
Where To Find Your Next Job
The pandemic has hurt the restaurant industry, and servers are now wondering what to do next. Something they may not realize is that their strong communication skills are transferable for a lot of different jobs. Restaurant workers can transfer these skills to work from hospitality to customer service to skilled trades.
Check out what job you can find next > >
Is Blind Hiring Right For Your Workforce?
Diverse companies are 35% more likely to have financial returns above industry medians, but there is still an issue with unconscious bias when hiring. How can you solve this problem? With bling hiring. Take out a candidate's identifying information and instead focus on their previous jobs and current skills. There are many options for how to assess someone's skills without knowing who they are.
See if blind hiring is right for you > > 
Guide for Improving Workforce Outcomes for Rural Community College Students
Community college workforce programs or trade programs are currently in the spotlight as they create career pathways for many young people who may not be able to afford college. Having these programs can be difficult in rural areas as there may not be a large population to sustain the program, but it's one of the most useful programs to have in rural areas. Social Finance created a guide for rural community colleges to improve their program outcomes. 
---
As the only blue-collar team management software, we seek to help you engage, empower, and grow your workforce. If you're looking to better your business, try Team Engine at no-cost today.