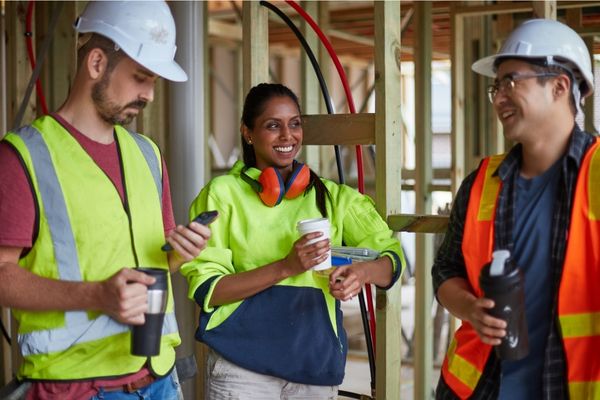 "I've wasted countless hours trying to find the perfect employee, only to have them not work out because of cultural differences." Does this sound familiar? 
Many contractors have been there; prioritizing skill over cultural fit. And it often ends in disappointment and turnover.
That's why so many contracting companies are starting to focus on building the right culture — one that attracts and retains top talent. But it's not as easy as just laying down the law with a few core values or mission statements. It takes careful consideration, deliberation, and buy-in from everyone involved.
What does it take to create a culture that actually drives results? Team Engine recently held a webinar with Nathan Tebedo, Lead Coach at ContractorCoachPRO, and Rosalynn Verges, HR Coach. Let's take a look at their recipe for building the right culture for your contracting business.
If you want to watch the full on-demand webinar (along with all the exclusive details we just don't have room for in this blog) you can access it here.

How to Start Building Company Culture That Gets Results
Culture is a buzzword that's been thrown around a lot lately, and unfortunately it's often reduced to something as basic as Taco Tuesday or plush bean bags in the office. But it's much more than just the cool perks and benefits you offer your blue collar workforce.
Creating a culture that not only attracts the right employees but also encourages them to stay and perform at their highest potential requires thoughtful planning and intentional implementation. 
Nathan discusses that the foundation of building a purposeful culture includes:
A clear and inspiring vision

An empowering company purpose

Core values that guide behavior

A mission for the year with specific goals
These things should set the tone for your company's culture, but it takes more than just thinking about them — it's about writing them down and then bringing these values to life on an ongoing basis.
Nathan stresses that culture has to be a part of how you operate every day, from who you hire and what kind of feedback they receive, to how decisions are made and how teams work together. It should be easily understood by everyone in your organization, from employees to customers and partners.
These 4 elements are the roadmap of where you want your company to go, and how you will get there. If your team understands what you are trying to build and why, they can help create a culture that drives results.
If you want to hear exactly how Nathan breaks down each of these elements and how they fit together to create a powerful culture, watch the full webinar here.
Fitting the Right Employees Into Your Company Culture
Communicating your culture is often where things break down... Many contractors are good at defining the culture they want, but not so great at communicating with a blue collar team. You have to be able to articulate what you do and don't want in an employee, and how they fit into the culture you are trying to create.
You don't want to be stuck sifting through stacks of applications, guessing whether or not somebody's going to be a good culture fit. Clearly conveying what kind of culture you have, and what kind of employee you are looking for from the get-go will save you time and effort in the long run.
Nathan and Rosalyn point out how this becomes especially important when you're working with recruiting companies or hiring tools like Team Engine. Recruiters and other hiring solutions don't live in your company, so they won't be able to pick up the subtle cues of what kind of people you want. You need to be clear and explain exactly what type of employees you are looking for.
Using the above 4 elements (vision, company purpose, core values, and a yearly mission with specific goals) you can:
Define the culture you want and how employees should behave within it

Communicate your culture to everyone involved in the recruiting, hiring and onboarding process

Bring values to life with daily actions  and decisions
Culture is an ongoing process, not a one-time event. And you need to continuously reflect on what you've created and set the example for others to follow. 
Consideration of what would keep employees at the company needs to be a key component as you build your culture — and that all starts with leadership.
Maintaining Company Culture
The importance of leaders in establishing a culture that values and rewards hard work, cooperation, and innovation cannot be overstated. Would you work for you? Nathan points out that leadership needs to ask themselves this question to ensure that they are living and breathing the culture they want to establish.
Leaders must live the values they set for their teams; not only by articulating them clearly but also through continuous action. Getting "buy in" (especially if you're not the owner) by demonstrating that you are all in can help create a culture of commitment and drive.
Leaders that show team members what successful teamwork looks like each day create an environment where everyone is encouraged to strive for excellence. In the trades and home services, this is especially important for hiring in a tight labor market.

Business owners and HR managers should ask themselves:
Would I want to work for myself?

What would keep me at my own business?

Is my company's culture accurately represented in our message and marketing efforts?

How can I retain good employees when they may be solicited by other companies offering higher pay or promotions?

How can I advance the careers of my employees within my own company, rather than them seeking opportunities elsewhere?
And then think about how you can convey all of this in your:
Branding (including website, blog, and social media)

Marketing efforts (such as job postings and employee reviews)

Interview process

Onboarding process

Training and development programs

Recognition and rewards systems
Nathan stresses the importance of gathering feedback from employees in order to maintain an excellent company culture. Utilizing survey tools to gather automated employee reviews via Team Engine at key employment milestones can provide invaluable insight so you are always up-to-date on your staff's sentiments, ensuring that everyone is aligned when it comes to overall culture.
The webinar reveals an important truth: your employees are recruiting for you. Happy employees are more likely to stay and will actively promote your business to others. Investing time and energy into maintaining a strong culture will give you more chances of attracting the right talent and keeping them around.
The Bottom Line: Employees Will Follow an Aligned Culture
At the end of the day, culture is what will drive success, attract and retain talent, and help you grow your business. The energy that comes from having employees who are passionate and excited to be part of a company with an exceptional culture is absolutely invaluable.
---
Now, this blog is just a tiny sample of what Nathan and Rosalynn shared. If you want to discover:
A

step-by-step plan for mapping out roles that match organizational needs

(while taking current employee skills and potential for growth into account)

The secrets to building an employer brand that employees will want to work for

The best practices for onboarding new hires and finding candidates that both fit the role and company goals

How to establish a positive, productive culture in a contracting business (and making sure your team is on board with driving results!)

How to leverage innovative tools to automate a culture-building and maintenance process without interrupting your day-to-day operations
Then get access to ContractorCoachPRO's best tips and strategies in the on-demand webinar here!