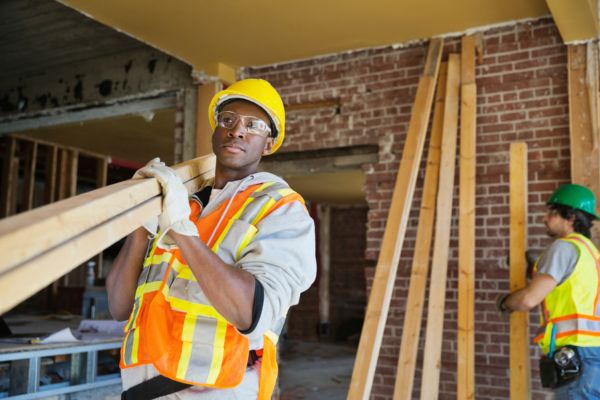 Sifting through piles of resumes and interviewing candidate after candidate can be an exhausting process. You could post job listings on platforms like Indeed and ZipRecruiter and hope for the best — but if you want to find candidates with the right skills and experience, you need to be a little more strategic.
Construction is a vast and complex industry, so taking advantage of job boards that cater specifically to this sector can really make all the difference when it comes to hiring. Here are 14 of the best construction job boards for finding top talent.
1. ConstructionJobs.com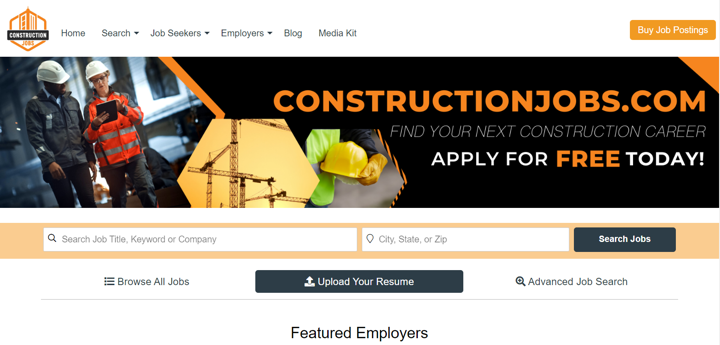 ConstructionJobs.com is one of the leading job boards for the construction industry. With a wide range of applicants in various fields within construction—including engineering, architecture, and project management—you can post your job openings on ConstructionJobs.com or search through resumes to find qualified candidates.
According to their website, ConstructionJobs.com aims to offer cost-effective options that fit your recruiting needs. You have the option to post open positions using a 30-day volume rate or you can upgrade to feature your jobs on the home page and at the top of search results. If that doesn't meet your needs, you can customize a package.
As an added benefit, ConstructionJobs.com states it will spread your job postings across other reputable job boards without any additional charges.
Advantages
Detailed company profiles to set you apart from the competition

Candidate database that's easy to navigate

Volume discounts for multiple job postings

Automatic cross-posting on other job boards

Sophisticated filtering system to narrow down applicants
Disadvantages
Limited information on the features (making it hard to know what to expect until you sign up)

Account required to explore the platform

Single location per job posting limits visibility
2. iHireConstruction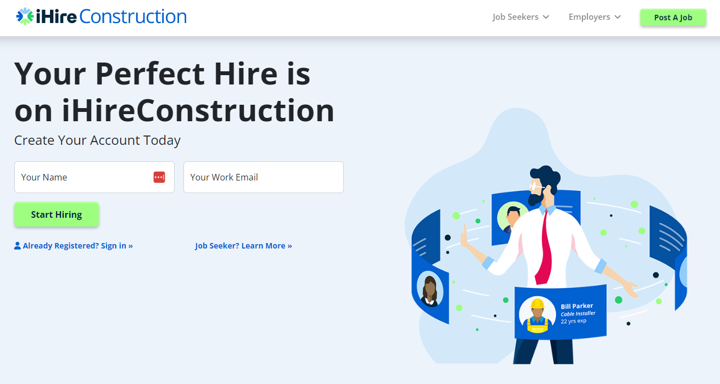 iHireConstruction is another popular job board that specializes in the construction industry. The site claims to have over 1.2 million construction candidates using the platform and nearly 200,000 active job seekers, so finding a solid fit for your open position shouldn't be too difficult.
Similar to ConstructionJobs.com, iHireConstruction offers various packages for posting jobs and searching through resumes. For employers, this platform also offers attractive features to help optimize job postings like:
Capabilities to easily refresh each job posting

Keyword optimization strategies to boost visibility

Candidate management features that enable employers to track applicants efficiently
iHireConstruction has competitive pricing options and includes discounts for multiple job postings. With an upgraded plan, employers also get access to both iHireConstruction and the parent company's general resume database (iHire). So you get to expand your search for top talent beyond the construction industry and into a broader network and other related fields.
Advantages
Job posts get a refresh every 15 days and are relisted at the top of search results, giving you consistent visibility

Volume discounts for multiple job postings

Custom pre-screening questionnaires to filter applicants better

Integration with iHire's main resume database to expand your search

Strategies and ideas for better keyword optimization

Candidate management tools so no one slips through the cracks

Job posts also shared on iHire's Twitter feed for more reach
Disadvantages
No advanced communication strategies like you might find on bigger job boards (like email campaigns and text message features)

Mixed reputation because of inconsistent results

Account required to explore the platform
3. ConstructionJobForce.com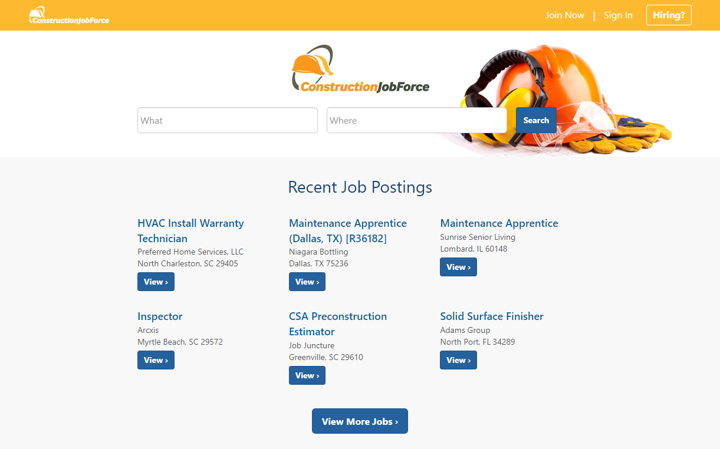 ConstructionJobForce.com is another top contender in the construction job board space. The site is powered by Nexxt, which offers a whole host of tools to help employers tap into their career network.
As far as pricing goes, ConstructionJobForce.com is a more affordable option than several of its competitors. And with the range of job posting and promotion features through Nexxt, employers can enjoy a good level of visibility.
The main difference with this job board is the advanced features that you may not find on other construction job boards like:
Text and email campaigns

Programmatic and display advertising

Hiring events

Sophisticated reporting
Overall, employers who want to take a more active approach with their recruiting efforts may find ConstructionJobForce.com to be a better option than the competition.
Advantages
Integration with Nexxt's career network

Affordable pricing options

Advanced communication features to reach qualified candidates faster and stay in touch long term

Advertising features for greater visibility

Candidate criteria filtering

Reporting for tracking and analyzing candidate engagement
Disadvantages
Does not directly accept job postings from employers (you have to purchase your package and monitor everything through Nexxt)

Complex user interface that may be confusing to non-tech savvy employers and a wide range of recruiting features that may be overwhelming

Employers have no control over which websites display their ads for open positions.
4. Procore's Construction Career Board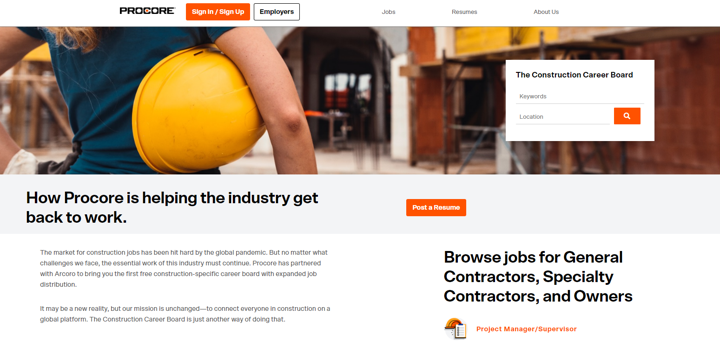 New to the construction job board game is Procore's Construction Career Board. Created in response to the pandemic and subsequent labor shortage, this free construction job board is geared towards smaller contractors who may have limited budget and resources when it comes to finding skilled workers.
Employers can join the Procore Community and enjoy complimentary access to their career board, as well as exclusive access to virtual training sessions from their Talent Acquisition team about hiring best practices and strategies.
There are already thousands of open positions listed, no doubt because this is a free option!
Advantages
Free for both job seekers and employers

International capabilities with English and Spanish job postings

Posting is extremely fast and easy

Exclusive content and training sessions to help with hiring and recruiting
Disadvantages
Limited features as of now with no extra job promotion options

It may not have as many job listings as other popular job boards
5. ToolBelt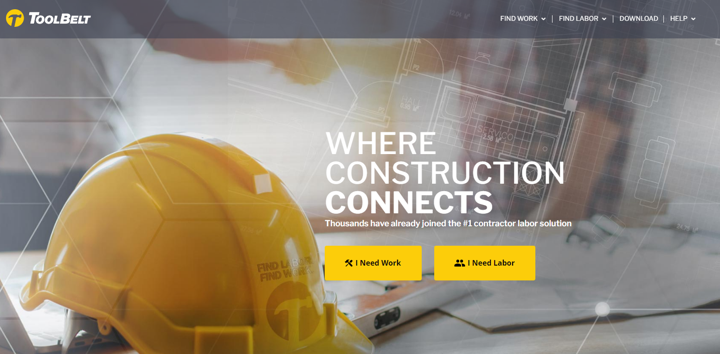 Another newcomer to the construction job board scene is ToolBelt. This growing labor solutions site is designed to provide opportunities to subcontract work on a per-project basis. Now, that's not to say a long term relationship can't be formed, but the majority of ToolBelt's job postings are looking to fill short-term or contractual positions. So it could fill a gap until a permanent hire can be found.
With ToolBelt, you basically post a job and contractors can submit bids, then you hire the most qualified contractor to complete the project. 
The biggest limitation is that this platform started in Washington state and is expanding through the West Coast, so it won't be an option for all employers. However, ToolBelt plans to become a national platform in the near future.
Advantages
Has a dedicated Pro Team to support employers in navigating the app

Subcontractor bids are transparent and easy to compare

Posting projects is fast and easy
Disadvantages
Posting and applying for jobs is only available via the app

Currently limited to the West Coast States

Limited geographical coverage at this time
6. The Blue Book Network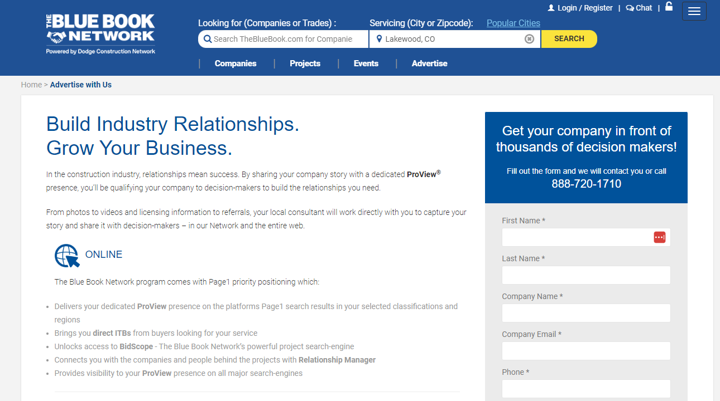 The Blue Book Network is an online search platform to connect specialized contractors and material suppliers with buyers in the commercial construction industry. It has been around since 1913 and continues to be one of the most trusted job boards in this sector.
The Blue Book does not post job openings directly, but it is a great resource for employers looking to build their network and learn more about qualified contractors in their area. In the Blue Book Network database, employers can find detailed profiles of contractors who specialize in their particular area of need, or subcontractors can use the database to find employers looking for their services.
Keep in mind, this platform does way more than just source talent — its project management capabilities make it a useful tool for managing projects, monitoring progress of multiple contractors as well as gaining insights about jobs and planning.
Advantages
Search features are incredibly customizable and precise

Events, news, and industry trends updates

The network is well-established and reputable

There are many specialized industries to choose from and make connections with
Disadvantages
It is not technically a job board, so it's mainly used for building a network of subcontractors and vendors (rather than finding in-house employees)

You're locked into a contract that can seem expensive if you don't use all the features

Mixed BBB reviews (To be fair, many of the

reviews

are from users who wanted to find projects, not necessarily hire employees)
Trade-Specific Job Boards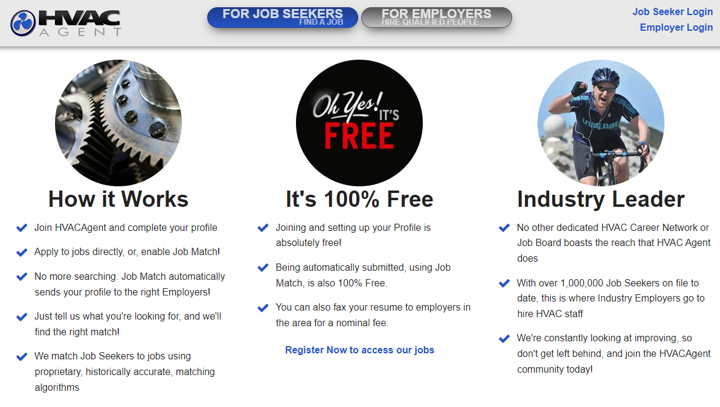 When you need to find a construction worker with very specialized skills, it's best to seek out trade-specific job boards. There are several options and each has their own pros, cons, and pricing that should be taken into consideration.
Here are a few niche job boards in the construction industry that you might consider:
HVAC Job Boards
Electrician Job Boards
Plumbing Job Boards
We should also mention that there are many trade associations that have job boards as a benefit to their members. It's worth looking into whether or not your local organization has one, as these tend to be better sources of qualified talent.
LinkedIn Groups & Facebook Groups
Another idea is LinkedIn Groups and Facebook Groups dedicated to various trades. These are great places to network and find job postings or people who may be looking for opportunities. 
You can do a broad search for groups as well as narrow down your search to only include groups in construction that serve specific cities and states.
A few examples are:
LinkedIn Groups
Facebook Groups
With each of these, keep in mind that you might be interacting with people who are nationwide or even international, so you may have to do some extra digging to find qualified local candidates.
---
Ultimately, the best place to post jobs really depends on your industry, location, and job type. 
With so many options out there, it can be tricky to narrow down the best ones that will attract qualified candidates quickly. You're likely to have a higher success rate if you do your research and spread your postings across a range of boards, rather than putting all your hiring eggs in the Indeed basket.
But all these job boards and social networks can be time-consuming to post and search through manually… If you're looking for something easier, consider Team Engine for job posting, and so much more.
Our software helps streamline the entire hiring process by automating manual tasks. You can instantly reach a wider audience without having to post individual listings manually across multiple job boards. 
Plus, with our applicant pre-screening and tracking features, you can quickly identify the best candidates for your business and stay organized. See for yourself why Team Engine is the best construction job board for employers! Click here to get your free trial today, or signup for our email newsletter below.