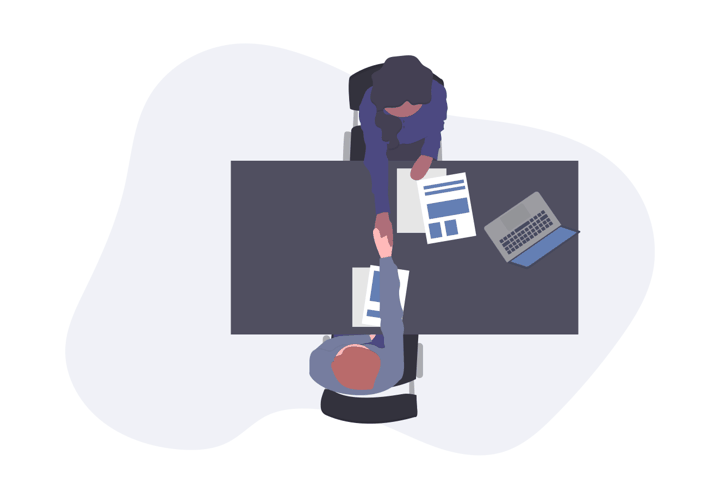 Across the nation, businesses have started to reopen and are getting ready to hire new employees. It is exciting that we can start to bring people back into the workforce, but we can't simply go back to the regular old way we did things. 
It's time for a new approach to hiring. 
According to SHRM, the Society for Human Resource Management, recruiters must come up with new ways to hire that comply with legal and safety regulations. So we reached out to a few of our favorite experts and asked them to share their tips on how they are handling hiring during this time:
Get Creative with Tools You Already Have
"We have always had a 4 step interview process, so that hasn't changed, but we used the tools we've always had, like Microsoft Teams and Zoom, to convert our in-person interviews to digital. We start with a phone call, then you have a video interview with someone from HR, then a video panel interview with a few experts, and last an in-person interview." - Angela Bradley, Director of Human Resources, Melink Corporation
Add Some Flair to Your Job Descriptions
"Hiring is tough right now. We have recently adjusted our job descriptions to give them a little more flair. We've also created a video of one of our employees that shows a "day in the life" of the job we do." - Dustin Centofanti, Chief of Operations, Top Gun Facility Services
Focus on Company Culture
"When hiring, quality candidates will come to you if your business advocates for a strong culture, great benefits, and competitive pay. A strong company culture is how you can keep your employees around during a time of crisis." - Chad Keelean, President, Keelean Disposal
Be More Available, But Don't Fall Victim To Comfort
"For companies that are dealing with hiring right now, my advice is to make yourself more available to interviewers during this time. When dealing with employees who are always on the go, they may not have the necessary technology to be available for a video interview at any moment, so doing an interview later in the day when your candidate can get to a computer is better than making them do an interview on their phones in their car. Everyone is dealing with the new normal, so it's okay to be more lenient about what is happening in the background of the interview, but don't let yourself and others fall victim to comfort. Still show up as your best possible self!" - Angela Bradley, Director of Human Resources, Melink Corporation
Don't Abandon In-Person Connection
"We find that it is still important to meet with potential candidates in-person, but due to safety reasons, we think it's best to leave that to the last interview. Adding OSHA safety protocols to interviewing was never something you thought about in HR, so it's an interesting transition to now make sure that the desks are cleaned off, everyone has a mask on, and temperatures are checked for an interview." - Angela Bradley, Director of Human Resources, Melink Corporation
"Our work requires employees to come in every day, so we still interview in-person as we need people to be comfortable with coming in." - Dustin Centofanti, Chief of Operations, Top Gun Facility Services
Be Patient
"I'm moving strategically and focusing on stabilizing my company. You can't grow until you are stable. In an economic recession and pandemic, the foundation of every industry is shaken; some less than others. Find a way to stabilize and operate from there as you build your way back up. Sometimes you have to pivot and do something new! The goal is to stay in the game! That's the only way to get better, survive, and grow." - Tonya Hicks, President/CEO, Power Solutions Inc.
Break It Down
So what can you do as you restart the hiring process? 
Look Into The Tools You Already Have:

Your company likely has tools that you have traditionally only used for office staff like video conferencing, email, and chat, and consider how you might use them during the hiring process. Even if you don't have software to bridge the gap, you can also use your cell phone to

text potential applicants

. You may even notice increased responsiveness since they're able to respond without having to worry about background noise or what is happening around them at home. 

Update Your Job Descriptions:

Your company is constantly changing, and so is the job your employees are performing. Especially with the pandemic, you want to keep your job description and requirements consistent with the new rules and regulations your state and company have added to maintain a healthy and safe workplace. Looking to re-write your job description?

We've written a guide for you

. If you're not sure where to start, download our

templates

, you can customize them to your business and they're free!

Focus On Company Culture:

As Chad mentioned, a strong company culture does a lot to attract great candidates. Add photos of your teams, company get-togethers, and the work you do, and consider adding a short video tour of your main office to give your applicants an insider's view. Don't feel pressured to get a professional photographer/videographer; applicants are looking for a way to connect with you, so showing them

something

is better than nothing.

 

Be Flexible:

During this time, deskless workers are no different than the rest of the world, struggling to balance home life, kids home from school, and uncertainty, so be more open to interviewing at times you normally wouldn't. Also, try to go with the flow if the background is suddenly filled with family members or pets. Not everyone has a quiet office at home, and it's something everyone is still adjusting to. 

Stability Comes First:

If you don't have all the support pieces in place to scale quickly, don't jump-start hiring just because everyone else is. It's important, especially during a pandemic, to be able to

build a plan for the future by reducing uncertainty

.

 
Starting to hire during this time is definitely tough, and we know restructuring the interview process can be a hassle, but taking the time to train everyone on the new process pays off when you can feel confident you are putting every applicant through a rigorous process without compromising anyone's safety.
---
At Team Engine, we create the tools blue-collar companies need to help folks in the blue-collar industry to build and manage amazing teams; that is why we ask the experts for you. We're also focused on helping the hiring process go smoothly and keep you engaged with candidates even when you can't meet them face-to-face. If you're looking to revamp your hiring process, try Team Engine at no-cost today.