While text messages are one of the most effective ways to reach out to job applicants, we consistently see that figuring out what to say is difficult. We're excited to launch text-messaging templates to make it easy to send messages using pre-written texting best practices.
Our goal is to save you time managing the recruiting process and to make it easy to be more successful with text recruiting by taking advantage of best practices.
Using Text Templates
On every candidate's profile (who's agreed to receive texts), you'll see a series of examples of text messages that we've seen work well for that particular stage: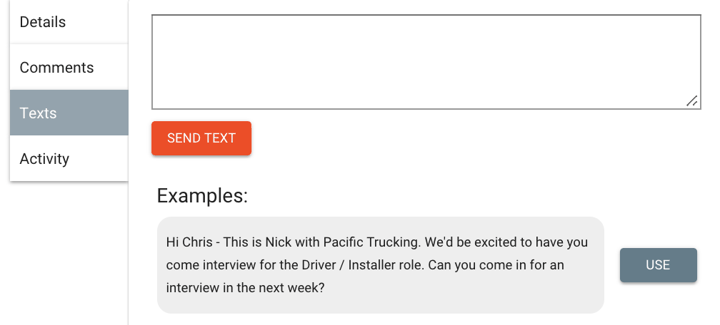 Once you click "Use", we'll populate the text message box but you'll still have another chance to edit the message before sending. Depending on whether a candidate has just applied (and you want more information on them) or you're trying to schedule an interview, Team Engine will suggest a series of examples based on what stage the candidate is in.
Customizing Templates for your Company
Every company and job will start out with a series of default suggested text messages that will be modified based on where the applicant is in the recruiting process. For each of these messages, the name of the company, the job, the applicant being texted, and the user who's texting will be automatically plugged into the text to make it more personal.
That being said, these suggested messages can also be customized for each specific job (or you can even add new suggested messages).
Responding to Texts
When a user texts you back, you'll receive an email letting you know. You can also set up a text notification so that that these texts come straight to your phone:
Once you receive the text, you can then click the link to quickly reply (which will take you quickly into Team Engine).
Increasing Response Rates via Text
At the end of the day, the goal of text message recruiting is to make sure you reach out to candidates quickly (so they don't accept another job in the meantime) and you make sure they show up for the interview, their first day of work, and answer any questions you have (while also building their excitement).
We'll keep adding best practice text-messaging templates as we see what's working best across our customers. Team Engine users can also send automated text messages for candidate follow-up and interview reminders.
If you're interested in our new features and would like to set up a free trial head over to our page. We will set you up with a specialist who can show you the software and get you set up.