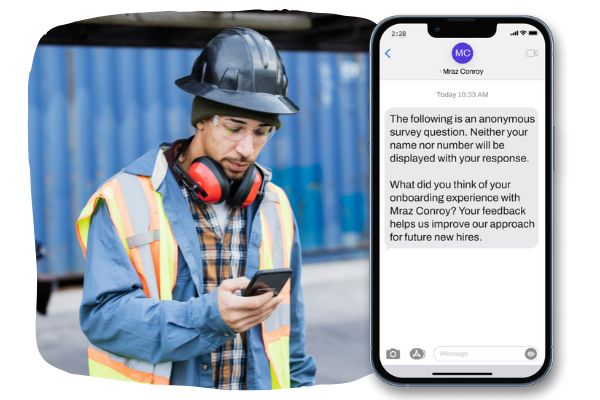 The option to collect anonymous survey responses has the potential to increase survey participation by up to 74%, particularly when surveying around sensitive topics in the workplace.
Examples of When to Use Anonymous Survey Responses
While every organization's needs and culture are different, here are a few scenarios in which collecting anonymous feedback might lead to better and more honest responses:
Pulse Checks on Culture or Specific Initiatives
It's great to ask your employees what's working well and what's not, but many will withhold "bad" feedback out of fear of being reprimanded. If they can share anonymously to eliminate that fear, you'll get better feedback for cultivating a stronger company culture. 
Benefits Evaluation
Benefits are often tied to health and personal details (and cost the company a lot of money) so employees might be more forthcoming about what they need in an anonymous survey.
Disciplinary Actions
Nobody likes a tattletale, but sometimes you need to get to the bottom of a situation. With anonymous surveys, it would be possible to corroborate information from a number of eye witnesses who might otherwise be unwilling to share damaging information about their co-workers.
Best Practices for Collecting Anonymous Feedback
Explain why you are asking for their feedback, and what you hope to achieve with it.

Keep questions short and simple.

Distribute and conduct surveys over text message for even higher completion rates.

Tell employees that their feedback will be anonymous.
How to Setup a Survey with Anonymous Responses
Setting up an anonymous survey in Team Engine is very similar to setting up a standard survey with one key difference: check the "Receive anonymous responses" box on the setup screen.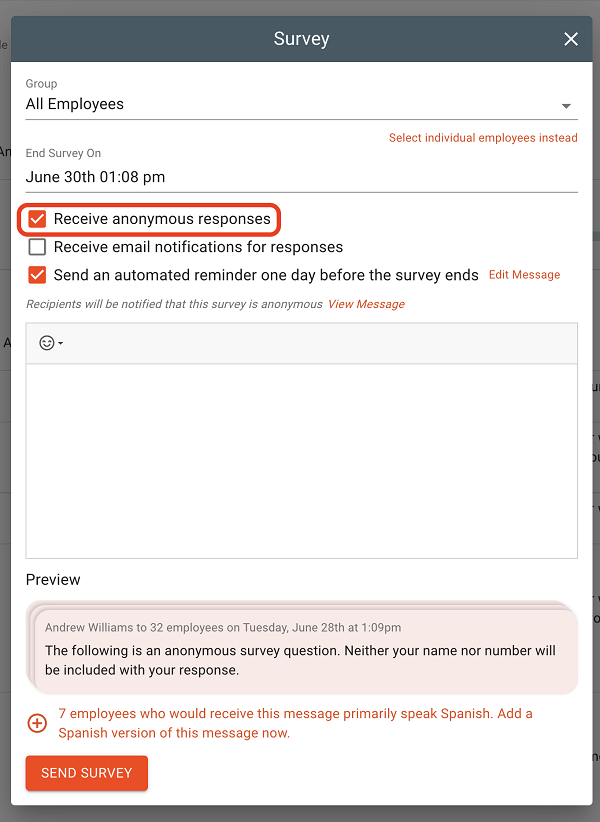 Checking that box tells our system that you do NOT want to know who submitted each reply. It also automatically includes this disclaimer when distributing the survey to the employee: The following is an anonymous survey question. Neither your name nor number will be included with your response.
For more details and a step by step walkthrough, check out this article from our Knowledge Center.