April is National Volunteer Month, a time to promote and participate in community service across the country. For businesses, it's also an opportunity to simultaneously: 
Make a difference in the local community

Attract new customers and create loyalty with them

And recruit new talent
In blue-collar industries, National Volunteer Month is especially relevant — from construction to landscaping and beyond, these are industries that traditionally rely on word-of-mouth and reputation to find new hires. So National Volunteer Month can be an excellent way to increase your presence and gain recognition. 
The key to successful community engagement lies in finding a project that aligns with the values of your business and the solutions it provides. In this blog, we'll explore some ideas for community involvement that can benefit both your community and your business!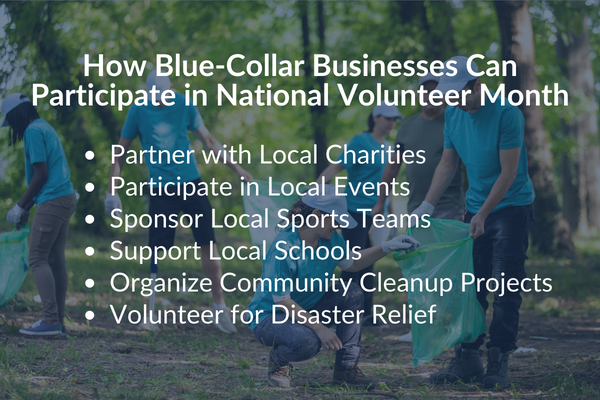 Partner with Local Charities
For smaller mom-and-pop shops, partnering with a local charity is one of the most direct ways to give back and make a difference in your community. You can donate your time, resources, skills, or even money to directly impact the lives of your neighbors.
Charities focused on housing, health, and education are great starting points. If you have a skill or trade that can help the organization in a specific way, that's even better. 
Habitat for Humanity is a fantastic fit for many blue-collar companies and a big front-runner in this space. But there are many ways construction companies give back by building new facilities or repairing existing ones. Plumbing companies can provide access to safe and clean water. And waste management companies can support environmental causes. 
There are just so many creative ways to contribute your skills!
And while you're helping the charity, you're also building relationships with local community members who will have a vested interest in your business. This ultimately helps you reach potential hires and potential customers.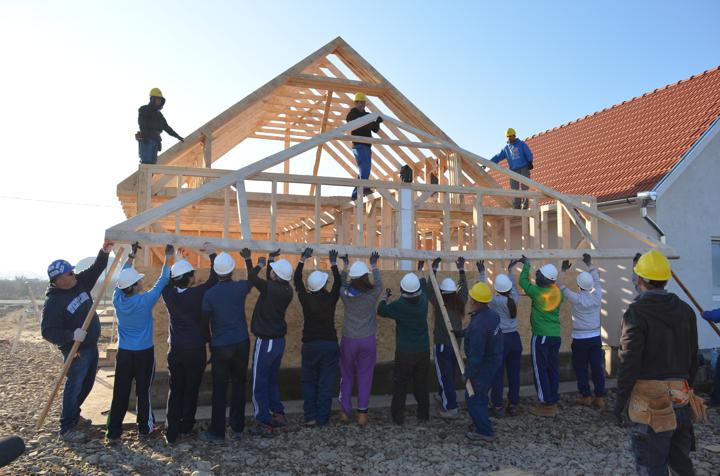 Participate in Local Events
Throughout the year, communities host various events that are designed to bring people together and show off what makes their city special. These can range from small street fairs to large festivals and everything in between.
There are endless ways to get involved in these types of events – you could:
Sponsor the event

Provide free services, supplies, or swag to attendees

Host an activity booth

Support the setup or cleanup efforts
Whatever you choose, make sure that it ties into your business or showcases your brand in a relevant way. People will remember your contribution and be more likely to hire you or recommend you when they need work done.
Support Local Schools
Schools are the cornerstone of any community – they're where our future leaders get educated and develop into the people who will shape our industries and country. And in the midst of a massive labor shortage, what better way to reach out to potential hires than by helping develop their talents from an early age?
If you have a blue-collar business, there are plenty of ways to help out local schools:
Donate supplies such as tools or materials

Offer classes on skills related to your trade

Mentor students who are interested in pursuing a career in your industry
This is a great way to build your brand and create relationships with students (or their parents) who may one day become valuable employees. It also gives you the chance to directly influence the future of your industry by inspiring young people to join it! 
Check out our recent article on how to foster these types of relationships with schools and students to promote the trades.
Sponsor Local Sports Teams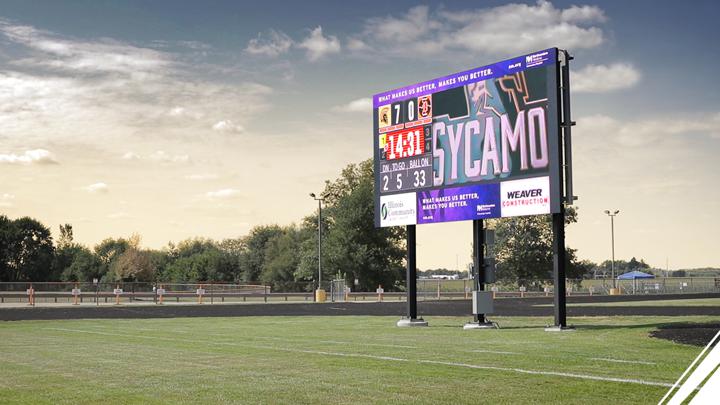 Blue-collar businesses require physically fit workers and people who can collaborate well in a team environment. One of the best ways to find those types of people is by sponsoring local sports teams. 
Not only does it give you access to athletes and coaches, but it also helps build community spirit and goodwill toward your business. Sponsoring a team gives you an opportunity to show off your brand in front of hundreds or even thousands of fans and family members. 
Depending on your location and the size of your community, you can sponsor any number of teams that cater to various age groups:
Little league teams

High school tournaments

Adult athletic clubs

College-level teams

Semi-pro or professional teams
Most of these will already have a range of sponsorship opportunities at different price points. You might be able to place a branded banner within their field, place your logo on their uniforms, or run an ad on the jumbotron. This is a fun way to build your presence in the community and possibly find potential employees who have the talent, drive, and values that you're looking for.
Community Cleanup Projects
No matter where you live, there's always work to be done to keep your community clean and safe. And with national volunteer month in full swing, why not mobilize your business to help out?
You can organize a company cleanup day where employees can come together to spruce up the local parks or streets. You could even partner with an existing organization that has regular cleanup days, such as Keep America Beautiful or the national Adopt-A-Highway program.
Not only does this keep your community looking great and create a safer environment for everyone, but it also gives you more exposure to potential hires.
Volunteer for Disaster Relief
When disasters strike, the devastation can be overwhelming. People lose their homes and possessions, infrastructure is destroyed, and communities are left to pick up the pieces of their shattered lives. In these times of unprecedented need, communities need the unique skills of tradesmen and women.
Blue-collar businesses, such as roofers, construction companies, and other skilled trade workers, are in a prime position to make a substantial difference in the recovery process.
By assembling a dedicated team of employees and volunteers from your company to lend a hand during a disaster, you can truly create an impact in the affected communities, both domestically and abroad. Whether it's rebuilding damaged properties or simply providing clean-up assistance, your unique skills or resources will be invaluable in these difficult situations.
Even if your business doesn't specialize in a trade directly related to disaster relief efforts, you can still make meaningful contributions to the cause. Financial donations or contributions of much-needed supplies can go a long way in supporting devastated areas.
How to Make the Most of National Volunteer Month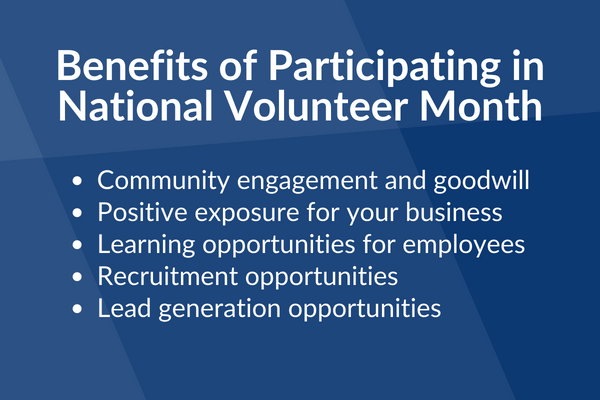 Once you've chosen the charity, event, or cause that you'd like to support, it's important to craft a well-thought-out plan that results in:
Community engagement and goodwill

Positive exposure for your business

A safe, efficient, and fun experience for all involved

Learning opportunities for current and future employees

Recruitment opportunities
Here are a few tips to help you get the most out of national volunteer month:
Engage with Local Organizations
Prioritize supporting local organizations. This will ensure that you're contributing in a meaningful way to the people you live and work near.
Promote Your Efforts
Spread the word about your community involvement efforts. Promote the event through social media, blogs, and other channels to maximize engagement and exposure.
Invest in Your Brand
Ensure that your company brand is represented in all volunteer activities. This might include t-shirts, bags, banners, etc.
Have Recruitment Marketing Materials Ready
Have marketing materials on hand that highlight the benefits of working for your company. Bring branded swag, job applications, and other information that job seekers can take with them.
---
Ultimately, National Volunteer Month isn't about what you can get out of your community, but rather what you can give. But by taking part and leveraging the power of community engagement, you can build strong relationships and gain valuable exposure to potential customers and job seekers. It's a win-win for everyone involved.