Every recruiting strategy needs a multi-channel approach. What that means is, posting a job on a career site and calling it a day is not enough. Not only do you need to post the job on all the major career sites, you also need to promote the job postings to audiences beyond the career sites. Why? Because audiences on career sites are actively looking for jobs in your industry, which is good, but often still insufficient to fill all hiring needs. 
That's why social media hiring ads are one of the five channels of job promotion that we recommend to all customers—so you can get your jobs in front of people who are not actively job-searching who might be open to switching jobs or industries.
If you're new to social media advertising, we created a guide to using Facebook and Instagram ads for recruiting to help you set up your first campaign. But before you can do that, you need to design the ad's copy and imagery. Getting started can often be the hardest part, so we pulled together some inspiration and best practices to keep in mind. Below are some great examples of hiring ads for construction workers, the second installment in our series looking at recruiting advertising for blue-collar industries. 
Construction Job Ad Example #1 (Instagram)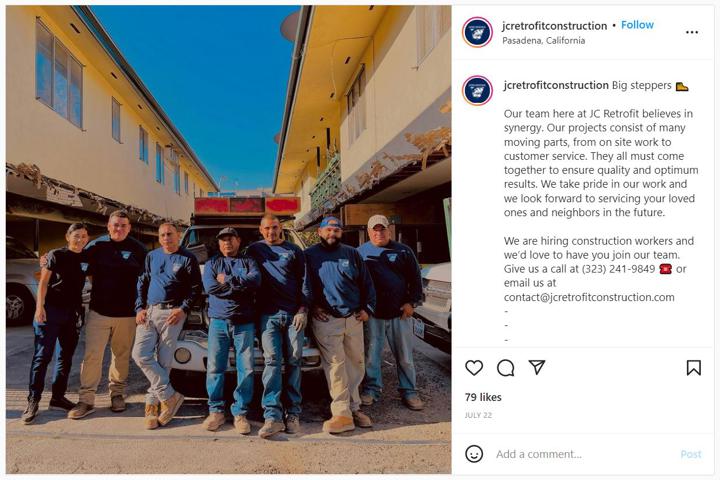 (click image to see native post)
Why we like it:
This image has no text; just a photo of a construction crew that enjoys working together. While it doesn't scream WE'RE HIRING, it's exactly the type of content that Instagram users want to see, and thus are more likely to engage with it.
The caption doesn't talk about pay, hours or benefits; it talks about the intangible benefits that make this a great company to work for, like taking pride in one's work, serving one's community, and collaborating with team members.
The caption includes a call-to-action (CTA) to call or email if interested in joining the team.
Construction Job Ad Example #2 (Instagram)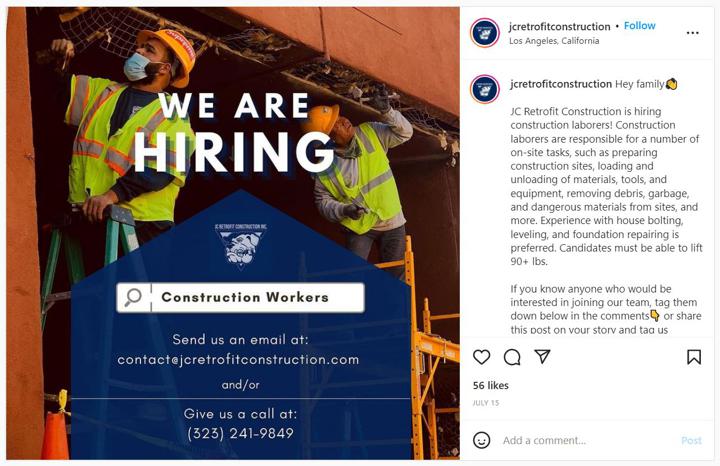 (click image to see native post)
Why we like it:
Another one from JC Retrofit! This time they've laid some text over the photo, but it still shows real employees on a real construction job, so it's clear right away what the post is about and who it is targeting.
The caption explains the type of tasks a construction worker does and calls out that "Experience with house bolting, leveling, and foundation repairing is preferred." It's effective at weeding out unqualified people early in the process, but doesn't go into so much detail that no one wants to read it.
The CTA for this post is unique in that they're asking for engagement with their profile (instead of how to apply) which could help convince the Instagram algorithm to show the post to more people.
Pro tip: Check out JC Retrofit's full Instagram profile for more inspiration on other types of content construction companies can create for social media.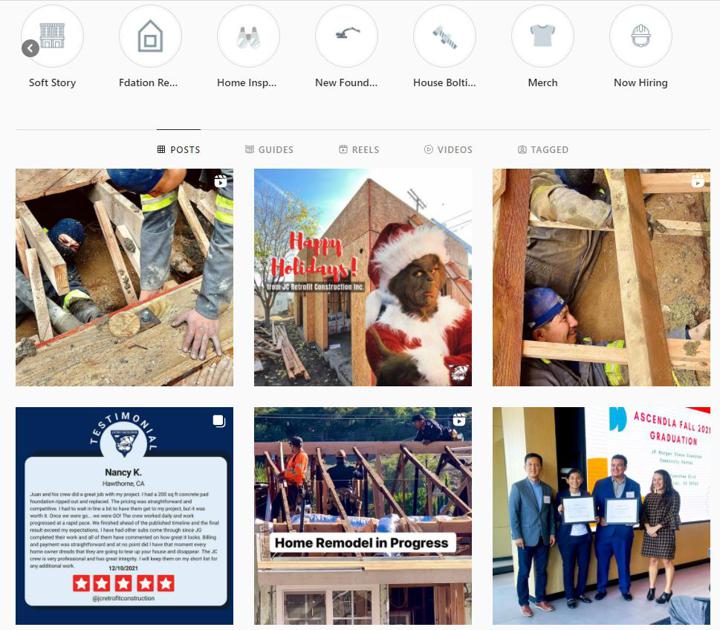 Construction Job Ad Example #3 (Instagram)
(click
here
to see native post)
Why we like it:
The video is eye-catching and likely to make people stop scrolling in their feed to watch.
The heavy duty equipment shown in action will grab the attention of construction industry professionals, or those who desire to join the industry.
The caption on the post is short but informative, letting the reader know exactly which positions are open. 
The caption includes a CTA to get in touch via email.
Pro tip: In our roundup of hiring ads for landscapers, we talked about the importance of experimenting with video, no matter how much or little experience you have with video editing. If you know someone with a drone (or can hire someone who does) you can create a stunning video just like this one with very little effort and expense.
Construction Job Ad Example #4 (Facebook)
(click
here
to see native post)
Why we like it:
This marketing video also doubles as a recruiting video, and 84 Lumber's social media manager was smart to add the #JobsInConstruction hashtag so that people looking for a construction job might find it. 
This video is full of engaging clips featuring large-scale projects that would excite the right type of individuals for the job.
The video also features real employees talking about being the best at what they do and having the capabilities to do it all. To job-seekers, that signals that this company employs smart, hard-working people (i.e. colleagues you'd want to work with).
Construction Job Ad Example #5 (Facebook)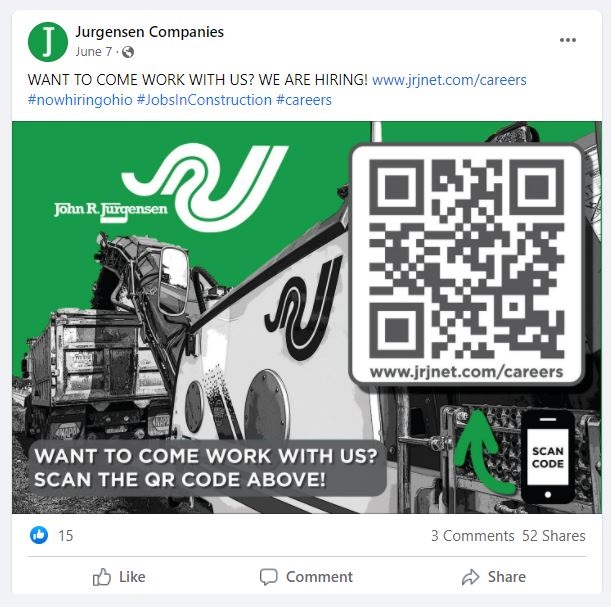 (click image to see native post)
Why we like it:
The simple editing on this graphic turns an average photo of some equipment into the backdrop for an engaging ad.
There's not a lot of text, but enough to let you know that this company is hiring and the next step is to scan the code to learn more.
The large QR code (with a URL written out below) and the reinforced instructions to scan the code take up almost half of the space in this ad, and make for a very effective CTA.
Don't Do This: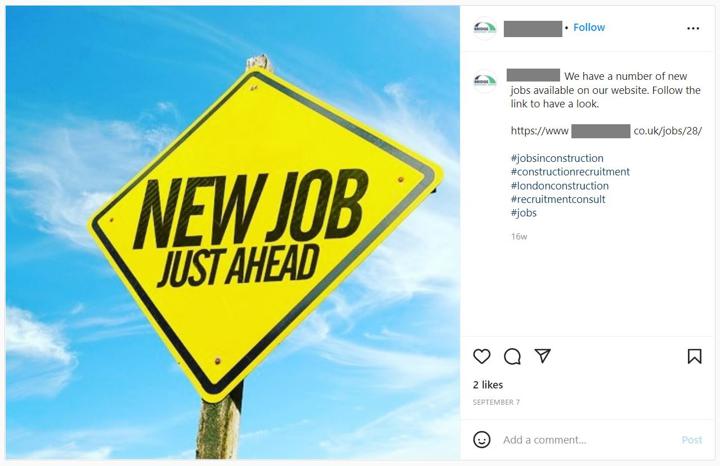 Why we don't like it:
The generic image doesn't tell you anything about the job or the type of person who should fill it, and it's not eye-catching or exciting.
The caption also tells you nothing about the jobs available, or the benefits of taking the jobs.
The URL is not clickable in an Instagram caption, so the CTA is ineffective. A better solution would be to put the link in the Instagram bio and direct users to the bio link, or utilize a "link in bio" tool like Later.
Best Practices for Creating "We Are Hiring" Ads for Construction Companies
The key takeaways from these great examples of construction recruiting ads are:
Use images and videos of workers on the job to help people visualize themselves doing the work and understand the nature of the job at a glance.
Save most of the information about the job (or jobs) available for the caption of the post; it just clutters up the image and makes it less engaging.
Don't go overboard with text, in the graphic or in the caption.
Always include a call-to-action that tells viewers what to do next (e.g. follow link in bio to apply now)
Experiment with videos, even if you don't have any experience making them. 
---
Still looking for inspiration? See more from our series featuring great examples of hiring ads for blue-collar jobs.
Subscribe to our newsletter to be notified, and check out our other hiring and recruiting resources for the construction industry.