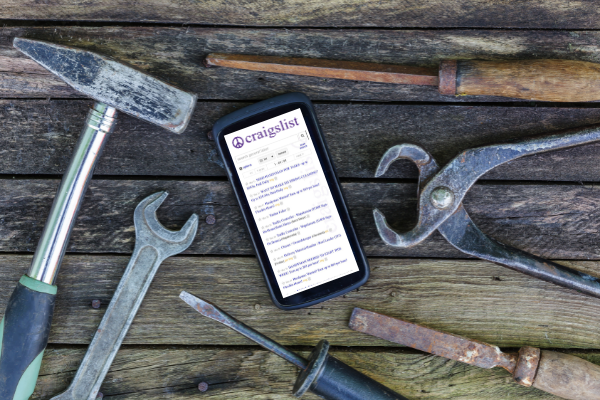 Craigslist can be a great resource for finding talent, but it's important to know what you're doing before you start posting job ads. In this article, we'll give you everything you need to know about hiring on Craigslist, including how much it costs to post jobs there, whether or not you can advertise those jobs, and other benefits to finding blue-collar candidates on the site.
What is Craigslist?
Craigslist is a website that allows users to post classified ads. There are a number of different categories on the site, including jobs, housing, and items for sale. 
Craigslist is one of the most popular online classifieds platforms and remains a trusted source for blue-collar workers to find tools and supplies to do their work. It's no surprise, then, that many also turn to Craigslist when searching for gigs and employment.
Who can post jobs on Craigslist?
Any employer can post jobs on Craigslist. You can even post jobs without making an account, but creating an account is always recommended so that you can edit details and/or repost jobs.
How does Craigslist work for employers?
When you post a job on Craigslist, your ad will be displayed on the site's job board. Job seekers can browse through the ads, and if they're interested in applying for your position, they can send you a message directly from the site.
You can also search for candidates on Craigslist by browsing through the site's resumes section. Candidates who have submitted their resumes to Craigslist can be contacted directly by email if you find them to be a good fit for your job opening.
How to use Craigslist for finding employees
To post a job on Craigslist, simply visit the jobs section of the website and click on the "Post a Job" button. You'll be asked to provide some basic information about your position, such as the job title, salary, and requirements.
You'll also need to create a brief job description, and you can include a link to your company's website if you have one. When you're finished, click on the "Post Job" button and your ad will be live on the site.
(Click here for detailed instructions on posting a job on Craigslist.)
In addition to posting jobs, you can also search resumes on Craigslist by picking the most relevant city page, then scrolling to the bottom for the "resumes" link.
How to manage jobs on Craigslist for employers
Once you've posted a job ad on Craigslist, it's important to keep an eye on the responses. You may receive a lot of messages from interested candidates, or you may only receive a few. Either way, it's important to reply to every message in a timely manner. You can either reply to candidates directly or use the Craigslist messaging system to keep track of all your conversations in one place.
We recommend using a third-party applicant tracking system (like Team Engine) to help you manage your job applications. Applicant tracking systems make it easy to keep track of all the candidates who have applied for your position (regardless of where or how they found you), and they can even help you to screen candidates and track their progress through the hiring process.
Is Craigslist free? 
Craigslist is free to post classified ads for items and events, but you must pay to post a job opportunity.
How much does it cost to post a job on Craigslist?
Anywhere from $7 to $75, depending on the location of the job.
What type of jobs are best suited for finding employees on Craigslist?
Unskilled labor and other types of blue-collar jobs are best-suited for Craigslist. Specialized roles and executive positions are better suited for Indeed and ZipRecruiter.
Can I post a job fair, career day, or open house?
Not in jobs categories, but you can post them under "events."
What are the benefits of using Craigslist for hiring?
By charging a nominal fee to post jobs, Craigslist keeps their job board from being inundated with irrelevant job postings, but remains accessible for serious employers—even those with a small recruiting budget. 
Craigslist is also a tried and true resource to obtain tools and project supplies, so it's a great place to recruit blue-collar workers.
Craigslist also allows you to target job postings by location, so they're only visible to geographically relevant candidates.
Lastly, you can search resumes for free by clicking the "Resumes" link at the bottom of the Craiglist page for your city.
What are the cons or downsides of using Craigslist to find employees?
If you live in a very rural area, you might not be able to find a Craigslist page for your closest city. Also, there is no free option for posting jobs.
Can you advertise jobs on Craigslist for higher visibility?
No. Unlike many popular job boards, Craigslist does not offer the option to pay for increased visibility on job postings. The fee you pay to post the job is simply for access to post that job, not to promote it.
Does Craigslist have an app for employers?
Yes, Craigslist has an app on both the Apple App Store and Google Play, which can be used to post jobs, among many other things.
Can you clone job postings on Craigslist?
No, you can not clone job postings to speed up the process of posting many jobs at once. However, you can apply for a "paid posting account," which gives you special tools for managing paid postings, multiple users on the same account, and the ability to post jobs without entering credit card information every time.
What is the Craigslist policy for posting jobs?
The general rule is that you can post one ad in each city every 48 hours, but if two listings are very similar after this time period passes then your ads may get blocked for good! You should try removing any duplicates before refreshing or trying a new category search so as not to have too many elements competing against each other.
When does a job posting expire on Craigslist?
After 30 days.
Can you communicate with applicants on Craigslist?
Yes, you can send messages through Craigslist. However, applicants may forget to log in to Craigslist or their email to check messages, so it's always best to attempt to contact applicants by phone.
---
So, is Craigslist the best way to find employees? The answer isn't so clear-cut. There are pros and cons to hiring employees through Craigslist, just as there are on Indeed, ZipRecruiter, Google for Jobs, and Facebook Jobs. But, if you're looking for a cost-effective way to find a great pool blue-collar of candidates, Craigslist may be the perfect option for your company!