TLNT.com reports that HR leaders need "the right tools and access to data to create hard numbers that accurately reflect the people of the business" and that "better data analytics will prove to be the secret ingredient that impacts HR strategy" in the future.
According the the article's author Julie Rieken, "Analytics provide an opportunity to bridge the gap that exists between HR and the data that gives value-add to our organizations. By backing up our victories through facts and figures, we can begin setting organizational goals that exhibit HR's full scope and potential for the future."
In response to this trend, Team Engine's engineering team has been hard at work creating reporting features to help you quantify the results of the hard work you put in to talent acquisition and people management.
This week, we're excited to announce that Team Engine users can now view applicants by status and source for any job over any period of time on the Data Analysis tab.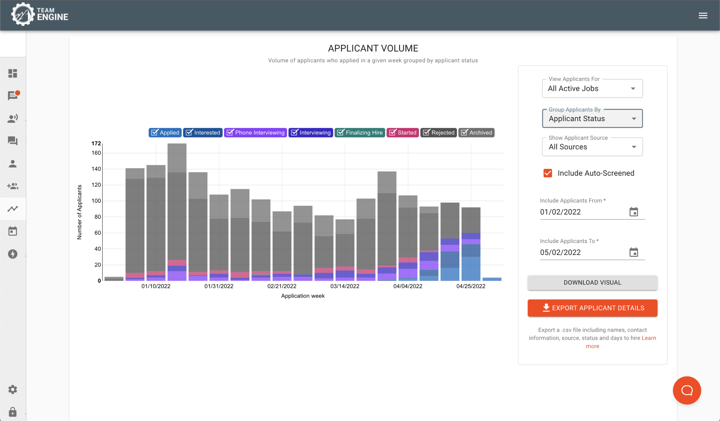 Select applicant status and source, adjust timeframe, and download the chart and data to share with others.
Have questions or feedback? Hit us up on chat by clicking the small orange circle in the lower right corner of your Team Engine account!