The pressure to find the perfect employee can be overwhelming in any industry. But when budgets are slashed and murmurs of layoffs start, the stakes are even higher. Even in a recession, blue collar businesses must find talented people to keep their operations running smoothly.
Recruiting and hiring top talent on a budget during recessionary times can be tricky. Companies need to review the traditional recruiting strategies they've used in the past, while being mindful of limited resources. Here are some tips to help you source great employees without breaking the bank:
Leverage Technology to Streamline The Hiring Process
If there is less headcount in the HR department, there is less time to deal with recruiting and hiring. One of the best ways to reduce the manual workload is to leverage technology to automate repetitive tasks.
Tools like Team Engine automate your recruiting and hiring process by eliminating manual tasks such as:
Sifting resumes without you having to spend hours scrolling through them

Filtering out unqualified candidates so you don't waste anyone's time

Scheduling and tracking interviews right away while the potential employee is still interested

Tracking and following up automatically so you don't miss out on any great candidates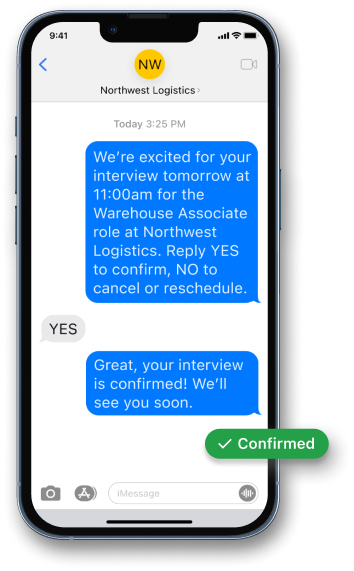 The time and cost-savings of automating these tedious tasks allows you to focus on interviewing the best candidates and making a great hire.
Rely On Your Network
The best way to find top talent is by tapping into your current network. Before you say "but we've already hired everyone we know," keep an open mind. Think of each current employee and every past customer, vendor, and partner as part of your recruiting network.
Let everyone know that you're looking for a great hire and ask them to refer qualified candidates who are open to new job opportunities. Many times, it's the quietest members of your network who can help you find hidden gems that no one else knows about.
Email your customer list, put recruiting materials at your supply houses, nearby colleges, and trade schools, and enlist your current employees to send you referrals. You can even roll out a referral program as an incentive for them to help you find the right person.
Your virtual network can also be a powerful tool. Local Facebook Groups and LinkedIn can provide a wealth of potential candidates you may have never reached before.
Post Job Ads on Free Job Boards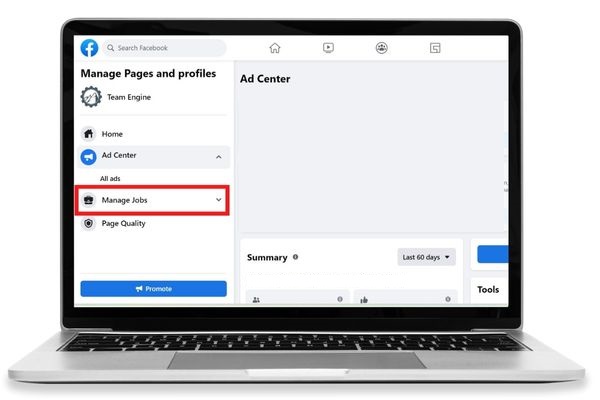 Did you know Facebook still has a job board? (From your business page, navigate to the Ad Center, then click "Manage Jobs.") LinkedIn, Indeed, and Craigslist also offer free job postings. Cast a wide net by posting your job on multiple job boards to get the most exposure for your open roles.
You'll get more results for your efforts if you post on multiple sites because each job board provides access to different pools of candidates. If one job board isn't yielding the right results, you might have better success on another.
It's important to note that while these sites are free or low-cost, they can also be time consuming. Team Engine makes it easy to post on multiple job boards in a single click. Learn more about integrated job posting here.
Improve Your Recruiting Materials
A recession creates the "perfect storm" for companies in the skilled trades to rethink how they present themselves as an employer. Update job descriptions and hiring ads to make sure they are effective and resonate with the right candidates.
Highlight the great things about your culture or work environment that differentiate you from other employers in your area. If you offer flexible scheduling options, unique perks, or professional development opportunities, make sure to include that information too. Make sure that your careers page on your website, brochures, ads, and other recruiting materials are up-to-date so prospective hires have an accurate idea of who you are as a company.
Not sure how to write a compelling job post that will draw the right applicants? Check out these tips on how to write a job ad that attracts qualified candidates.
Hold Virtual Interviews
Labor is always the most expensive part of running a business. You can save time (and money) by using virtual interviews for pre-screening candidates.
Video conferencing software like Zoom and Google Meet allow you to connect with candidates remotely. And most people are familiar with them after two years of remote and hybrid work. 
A video call saves time by eliminating the need for in-person interviews until a few of your top candidates have been identified. You'll still be able to see the person and get a feel for their personality like an in-person interview, without the unnecessary hassle of bringing them in prematurely.
Consider Freelancers & Contractors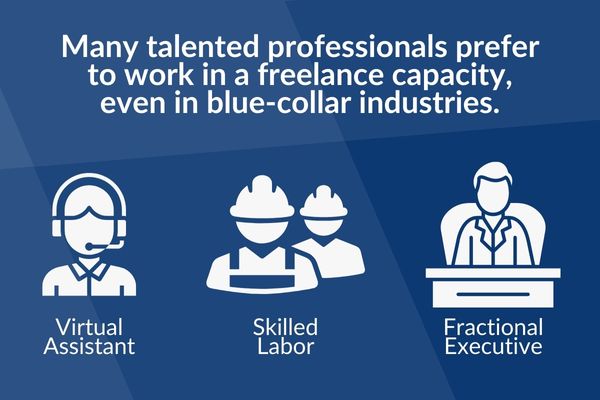 Full-time employees come with payroll taxes and other overhead costs that just aren't feasible for some companies during a recession. If you need to fill a short-term position or add specific skills, consider hiring contractors instead.
These types of workers are typically more cost-effective because they don't require the same level of commitment as a full-time employee and can fill in any gaps you may have in your current team.
The gig economy is growing rapidly and there are plenty of talented professionals who would prefer to work in a freelance capacity. From fractional CMO's to virtual assistants and independent skilled labor, there is an abundance of qualified contract workers who could be a great addition to your team.
---
No matter what recession-proof recruiting strategies you decide to use, there is one thing that will make it all easier: a comprehensive and automated hiring solution like Team Engine. With features designed specifically to help recruiters and business owners automate their hiring needs, you can get back to focusing on what's important: finding the perfect fit for your team. Grab your 7-day free trial here.