Advertising on social media is a great way to generate a large volume of applicants for hiring. There are several articles that can walk you through the basics of setting up Facebook ads. This article is a great overview of advertising on social media and this video shows you how to create a Facebook recruiting ad.
What is more difficult to find is how to get better results when running ads on social media. Here are some tips that will generate some ideas for improving your results
1. Use photos that are high contrast or interesting
.
Any image or video that you use in an ad should "stop the scroll." Attention on social media is currency and you have to earn it. Ads with bad photos blend into the background, and people will scroll right past them. You want people to stop for a few seconds to pay attention and take action.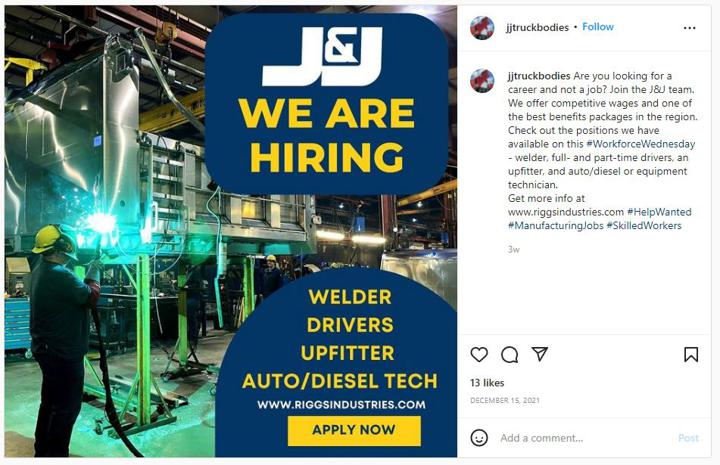 2. Your ad must answer the question "What is this about and what is in it for me?
" 
The text in your ad (copywriters call this "copy") must tell the reader in clear terms what it is and what it will do for them. Do you want to hire career-minded people that want to learn and grow? Tell them that. Continue by explaining what is in it for them. List every benefit you can think of and give them a reason to take action. Don't leave anything out. For example, did you forget to mention that you offer free fresh coffee daily?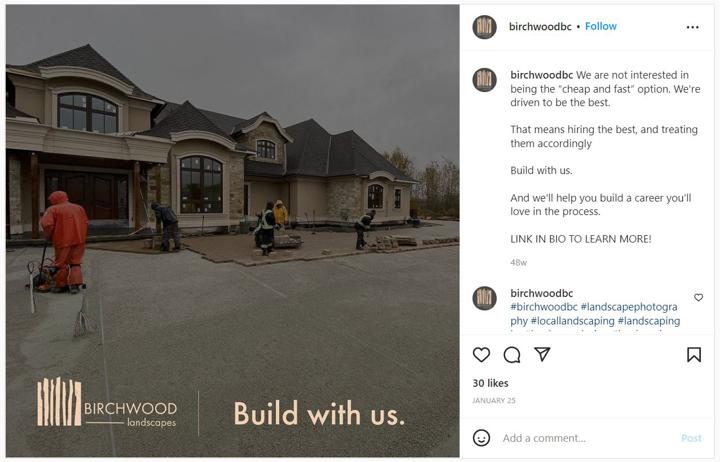 3. Use an interesting headline
.
Some of the most successful headlines include a pay range. For example: Now Hiring Foreman - $32-$40 per hour. This answers what the ad is about and what's in it for them as soon as possible. Other headlines can be about a specific benefit like "We will train you to become an electrician on the job". Your job now offers the promise of education and developing a skill. This is value beyond a paycheck.
4. Talk about the fun stuff you do in the ad
.
Christmas party? Taco Truck on Friday's? Volunteer? Connect with something deeper. People want to be a part of something. People want to be part of a team that makes the world better.
5. Have a hiring process and connect with applicants.
When an application comes in, add them into your hiring process in Team Engine or set up an automation in your CRM. If they look like a great candidate, pick up the phone (or send them a text) and book a time with them. Speed and attentiveness is important when someone shows interest in working with you.

6. Have someone assigned to interacting.
Advertising on social channels means you need to have someone check those channels. You will get better results if you like and reply to every comment (good or bad) that your ad receives. The more comments and likes that you get, the more likely the cost of the ad will decrease. If someone is negative, reply with a positive comment. The negative commenter does not realize that they are helping you reduce your ad cost!
7. Engage in direct messages.
Direct messages are where relationships start on social channels. Reply to comments on your ads and then message that person. Ask questions. Tell them about what your company is doing. If things go well, invite them to apply or set up a phone call. One thing you should not do is send a boilerplate message with a phone number and a link to the website. Be social and engage.
8. Always be recruiting.
Always be on the lookout for great people. You do not have to spend a lot of money to stay in front of potential employees. On Facebook, you can spend as little at $1/day to keep your ad running. When you have an open position or want to grow, you can increase the ad spend to generate more applications.
---
If you are new to running ads on social media, start with the article linked in the beginning of this article. Watch and complete the how-to video that follows. Once you are comfortable running ads, or if you already are, work through these suggestions.
There is no one-size-fits-all approach to recruiting on social media, so experiment with a variety of tactics, then double down on what's working the best for you.