When hiring for a position, hiring managers often come across high-quality applicants who they don't end up hiring for a variety of reasons. Unfortunately, those positions often re-open and employers are forced to start from scratch, even though they've previously come across high-quality candidates for that position. This means they're then forced to restart the hiring process all over again, and sometimes even pay for job ads to resurface those candidates.
To combat this issue, Team Engine users are now able to save applicants that they aren't hiring right now—but might in the future—and easily resurface them in the system when they're ready to re-engage.
When might this be useful?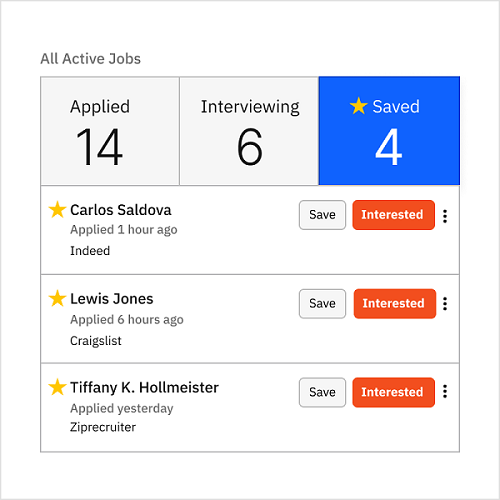 Here are a few examples:
The applicant is a better fit for a different position that's opening in the future

The position was filled, but there are qualified applicants in the queue who might be a good fit if/when the position opens again in the future

The best candidate has been selected but may not clear their drug and background screenings, in which case other qualified candidates would be pursued

Before making a public post, you'd like to share the newly opened position with candidates you've previously screened and/or interviewed
What's new or different in Team Engine?
Instead of rejecting an applicant you might want to hire at a later date or letting them sit idly in your hiring pipeline because you aren't sure where to put them, you now have the ability to move an applicant to this new "save" category to reference later.
An ideal candidate can come in at the not-so-ideal time, so rather than lose them in the shuffle or have to remember them for later, Team Engine now makes it easy to save these candidates, as well as reach back out to them when the right time comes.
---
Want to learn more about how to save and resurface qualified applicants in Team Engine's applicant tracking system? Have a specific use case you're not sure how to handle? Schedule a call with our customer success team today!