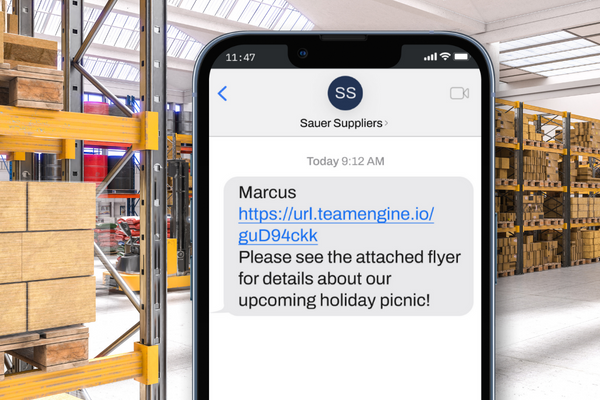 We are very excited to announce that Team Engine customers and their employees can now exchange file attachments via text message!
When could this be helpful?
The sky's the limit, but here are a few ways some of our customers are already using this new feature:
Sending pre-hire paperwork

Sending images of job sites as examples or to celebrate good work

For asking/answering questions about pay stubs

Sending images of equipment or products that are hard to identify based on words alone

Sending images to support wayfinding e.g. to find an interview location

"Here's Where to Click" screenshots in apps and software

Sending performance review documents

Sending a PDF of the company newsletter or branded memos

Sending graphics and signs for upcoming events

Sending work schedules

Sending PDFs with information about insurance
What type of files can be sent?
How to attach a file in Team Engine
If you would like to add an image or a document to messages to employees, or to an announcement, you simply have to click the "Upload File" button on the top of the message editor box. This will add a clickable link to the message that the recipient can click on the download the file.