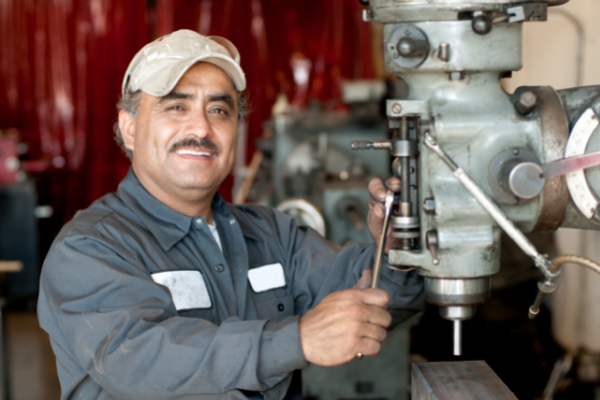 In the race to discover and hire blue-collar laborers before your competition, it's easy to overlook the things that matter most to them—the perks that will truly pull them in like a magnet. 
In our latest ebook, The Blue Collar Guide to Attracting Top Talent, we uncovered several important factors that blue-collar workers look for when considering new opportunities for employment. Above all, blue-collar workers want to go about their job and enjoy the people they work with. They want to work for a company that doesn't keep them in the dark. And they want insight into how to advance within the organization.
Develop a Culture Where People Actually Want to Work
Creating a culture where people actually want to work is essential for attracting blue-collar workers. This means developing a workplace that is safe, fun, and interesting. Offering physical work and being outside the office are also big draws for this type of employee. Having variety in the job and a relaxed work environment are important too. 
Create Ample Opportunities for Workplace Socialization
Some of the most important factors for blue-collar workers include feeling like they belong in their workplace, having friends at work, and feeling appreciated by their bosses. 
Promote social interaction among your employees. Whether it's through team-building activities or simply taking lunch breaks together, encourage your employees to get to know each other. This will help them work better together and build a strong team.
Recognize your employees' hard work. When your blue-collar workers feel appreciated, they'll be more likely to stay with your company and put in extra effort. Show them that you appreciate their contributions by praising them publicly or giving them rewards such as gift cards or extra days off.
Offer job stability. One of the biggest concerns for blue-collar workers is job security. Let your employees know that you're committed to them and that they have a long-term future at your company. This will make them feel more comfortable and trusting of your organization, which can lead to higher productivity levels.
Transparent & Frequent Communication from Leadership
Blue-collar employees are frequently regarded as alienated from the rest of a company. While this may have been true in the past, modern blue-collar employees demand openness and frequent conversation from leadership. This is particularly crucial in sectors where blue-collar workers are required to modify machines or procedures on a regular basis.
When employees are kept in the dark about initiatives that impact them, morale can suffer. When management understands exactly what workers are doing, it can better comprehend how to set objectives and educate staff on how to accomplish them.
Well-Defined Plans for Personal Growth & Development
Employees who realize that there is a chance for advancement in a blue-collar career typically stay longer than those who don't. This is one of the reasons why employers provide training sessions, mentoring programs, performance evaluations, continuous feedback sessions, and leadership tracks as part of a career development plan. Employees decide whether or not to stay at the company based on whether or not they believe their abilities are being fully utilized and if they feel like their skills are being properly utilized.
What Comes Next
Cultivating culture and a desirable working environment is only half the battle. In today's sparse and competitive labor market, employers often have to seek out qualified candidates to fill jobs, too. Contrary to the famous line from Field of Dreams, just because you build it doesn't necessarily mean they will come. 
That's why the second half of our guide takes a deep dive on applicant sourcing, employee referrals, social media and other offline sources for finding and connecting with qualified blue-collar workers—whether they're actively looking for work or not. Download your copy for free today, start hiring the best tomorrow!