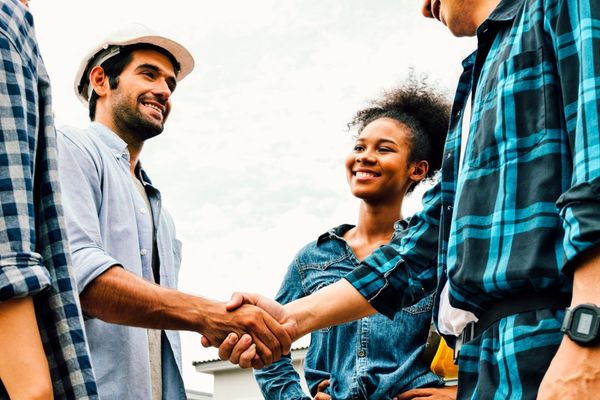 With a massive skilled labor shortage in the construction industry, it can be hard to find reliable workers — and even harder to keep them. In an industry where every minute counts, margins are tight, and hiring managers are stretched thin, it's no wonder many construction companies turn to a catch-all job description when they need to hire a new employee.
If you want to find the right candidate for the position and keep them around for the long haul, then your construction worker job description needs to compel the right person, not repel them... 
If you're in charge of hiring for a construction company, then avoid making these 5 big mistakes when revamping your hiring ads and job descriptions.
Not "Selling" Them on the Company or the Role 
In a competitive job market where candidates have the upper hand, you really have to "sell" people on your company and the role. You have to explain why your company is better than the competition, and how this job could be a great fit for the right candidate.
The first 3-5 sentences of your job description are crucial for achieving this. No one will read past the introduction if they're not sold on the idea of working for you.
Write a high level overview of the position answering these questions:
What is the job?

Why is it awesome?

What person would be a great fit for this role?
The average time to fill a position has increased significantly in recent years, taking an average of 42 days. In the construction world specifically, you're looking at a minimum of 12+ days. 
If you can explain what makes this job and your company stand out, then you'll have a much better chance of attracting the best candidates more quickly.
Being Vague About Pay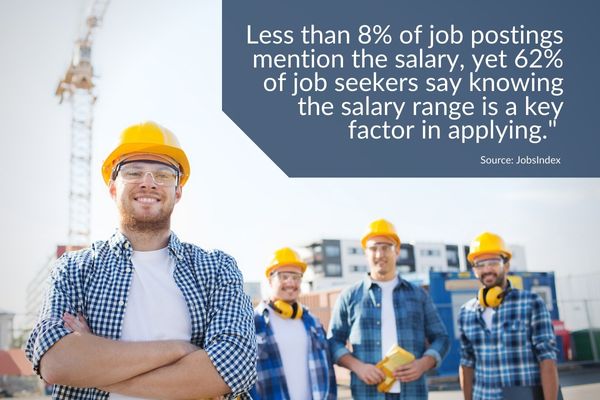 Construction workers are some of the hardest working people out there, and they deserve to be compensated fairly for their time and expertise. Unfortunately, many companies in all industries are vague about pay in their job descriptions and hiring ads in an effort to save money. 
But this inevitably backfires when workers feel like they've been misled or underpaid after accepting a position.
It's also a big waste of time for you and the candidate, since they may have already gone through the hiring process only to realize that the pay doesn't meet their expectations. This mismatch can usually be avoided upfront by being transparent about the salary.
Including salary data in your construction worker job description can help you stand out from the competition. Less than 8% of job postings mention the salary, yet 62% of job seekers say knowing the salary range is among the most important pieces of information when considering a job. Applicants want to know if you're staying competitive with wages.
So including this crucial information could mean the difference between finding a great candidate or being stuck with an empty position. 
Not Showing What the Day-to-Day Will Be Like 
Another mistake companies make is failing to give prospective employees a realistic picture of what their day-to-day lives would be like on the job. 
Sure, construction work can be challenging and demanding — but it can also be fulfilling and rewarding. 
Give potential candidates a taste of both sides so they can decide if the job is right for them. After all, it's much better to find out sooner rather than later if someone isn't going to be a good fit for the role. 
Potential employees want to know:
The days you operate

The hours you operate

The length of shifts

The possibility or likelihood of overtime

Relevant logistical information about use of company vehicles for transportation to/from job sites
Providing this information upfront will help you recruit better-suited candidates more quickly.
Including an Overwhelming List of Responsibilities 
Many companies tend to overcomplicate their job descriptions, which often leads to confusion and frustration from both sides. Yes, job seekers need to understand the duties and responsibilities associated with the role... but you don't need to go overboard.

A long, exhaustive list of everything an employee will ever be expected to do will only serve to discourage candidates from applying altogether. Stick to highlighting only the scenarios that are likely to come up on an average day or week. We recommend pinpointing the main 5-10 responsibilities that are unique to the role.
Being Inflexible When It Comes to Experience or Qualifications
There are 1.9 jobs available for every unemployed worker, meaning that there are more job openings than there are people looking for work. That's why it's important to be flexible when it comes to experience and qualifications.
If you set too high of a bar, then you may miss out on an otherwise promising candidate. While it's important to hire qualified workers who can do the job safely and effectively, there should be some flexibility when it comes to hiring criteria:
Can you train an employee on the job?

Could you invest in certifications or other training to bring them up to speed?

Would it be wise to

start your own apprentice program

?

Could you cross-train existing employees to fill the role?
These are all valid questions that should be considered when building a construction job description. The more flexible you can be, the better your chances of attracting and keeping talented employees. Being open to these ideas can help you fill the role faster and with a better fit.
After all, you're not just hiring for skills and experience — you're hiring for attitude and personality too. By taking a more flexible approach, you may be able to hire someone with great potential (even if they don't check all the boxes on your list of qualifications).
The skilled labor shortage in the construction industry is no secret — but it doesn't have to spell disaster for your business. By avoiding these common pitfalls, you can make sure your job descriptions are attractive to the prospective candidates you really want to hire!  
Need help writing construction worker job descriptions that get results? Download our FREE templates now to fill your construction roles quickly and easily.