We recently had the opportunity to chat with Greg Cleary, founder of Pinnacle Business Guides, about something that affects all companies and gets overlooked often: the employee journey.
Most companies have an obsessive focus on the customer experience, and for good reason, since that drives revenue. But what happens when the employees serving your customers feel unappreciated and detached from their daily work? The customer experience, despite leadership's best efforts to perfect it, suffers dramatically. 
When you recognize that your company's employees are its single biggest competitive advantage, it makes better business sense to start investing time and resources into making sure that they're happy and engaged. Not only will they take better care of your customers, they'll stay with, and contribute to, your company longer.
Keep reading for Cleary's definition of the employee journey, how he thinks the employee journey is affecting today's labor shortage, and his best advice on using the employee journey to attract and retain the right people for your organization. 
What is the Employee Journey? (And Why Does it Matter?)
According to Cleary, every company's competitive advantage is its people, which is why Pinnacle Business Guides always focus on the "who" first when they begin work with a new client. That means attracting A-Players (i.e. the most skilled, highly qualified people available in your marketplace at the price you're willing to pay) and keeping them for the long haul.
As the term "employee journey" suggests, there's a lot of different components that all have to work together to create a complete experience. During the webinar, Cleary shared the following diagram and talked through each component of the employee journey.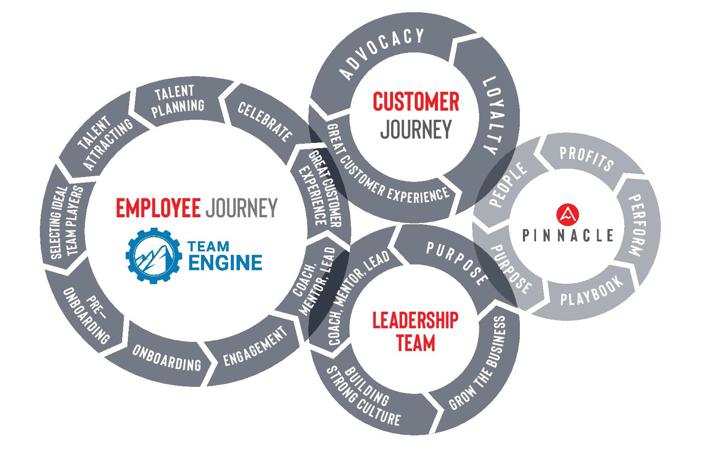 Cleary spent a lot of time discussing the recruitment phase of the employee journey, comparing it to college sports recruitment. "These schools don't wait until they have an opening to start searching. They know some students will be graduating and moving on, so they're always looking before there's a need." Similarly, recruiting for jobs shouldn't be a reactionary process. It should be "always on" and filling the pipeline so that when the need arises, you don't have to scramble to find a less-than-ideal solution.
When it comes to attracting the right talent, Cleary also said he's out with the "golden rule" and in with the "platinum rule," which instructs us to treat people the way they want to be treated. In a mobile-first world, and especially in blue-collar industries, that means communicating with candidates and employees via text message on their phone. "Let's meet them there, on their phones, instead of making them come out to the store, go to a computer and fill out an application," he advised.
Lastly, Cleary has observed that most companies skip pre-onboarding—a huge oversight on their part. The time between extending an offer and the candidate's first day presents a huge opportunity to keep crafting a unique hiring experience through communication about next steps, what to expect, and how excited you are to have them joining your company. He emphasized that, "People remember how you make them feel." 
Can Fixing the Employee Journey Also Fix the Labor Shortage?
Yes, but not in the sense that fixing your employee journey will suddenly bring you tons of new applicants to fill open positions. It might do that, but the bigger, better impact it will have is reducing your need to hire more people in the first place. 
For anyone who is struggling to fill jobs due to the highly competitive labor market, Cleary suggests getting your own house in order before attempting to bring in new recruits.
Stop turnover.
"Shut the back door," said Cleary, "and commit to not losing another single person who you've spent time and resources training." 
First and foremost, make sure your people are appreciated. For example, are existing employees receiving raises consistently enough to keep their wages competitive with that of new hires? 
He also recommends conducting a "stay interview" to ask employees if they're happy, if they have the right tools to do their job, if they feel appreciated, and if they still see themselves working with the company in six months.
"If you hire 10 and lose 10, your net gain is zero," he pointed out. "Work hard to keep the ones you have."
Review your own recruitment process and job descriptions.
Job descriptions should not be a three-page document acting as a catch-all wish list for every possible thing this person might do on the job. 
Instead, Cleary suggests a much shorter job description that focuses on the core values and culture of the company, such as "We want people with passion and pride who like being outdoors. We're looking for people who want to be part of a team and do great work. If this resonates with you, please contact us." 
(Need help getting started? Grab our blue-collar job description templates.)
And don't forget the platinum rule: Deskless and blue-collar workers want to apply to jobs on their phones, and they want to communicate about those jobs via text message.
Get more employee referrals.
A lot companies technically "have" an employee referral program, but they "do" very little with it, which renders it ineffective. 
One key consideration is to make the incentive lucrative and let employees know that payout is dependent on their referral's performance. This ultimately makes the referring employee more invested in the success of their recruit, which will in turn lead to a better employee journey for both of them.
Another pro tip is to regularly remind/ask your employees for referrals. We recommend automating your referral system.
Avoid temp labor if possible.
Cleary says that "the fastest way to get rid of your A-Players is to surround them with people who are just here to pick up a check." Attempting to fix turnover with temporary labor is both an expensive and short-sighted solution to the larger problem of a bad employee journey.
Temporary labor is not only pricey, but it undermines your culture by filling it with people who will only do the bare minimum. While it has its place in the right circumstances, Cleary advises against leaning on it with any regularity and instead suggests doing more of the above: getting more employee referrals, improving your recruitment process, and generally doing whatever you can to stop turnover.
---
To find and attract the right people, you've got to give them a positive employee experience over and over again—not just during their onboarding.