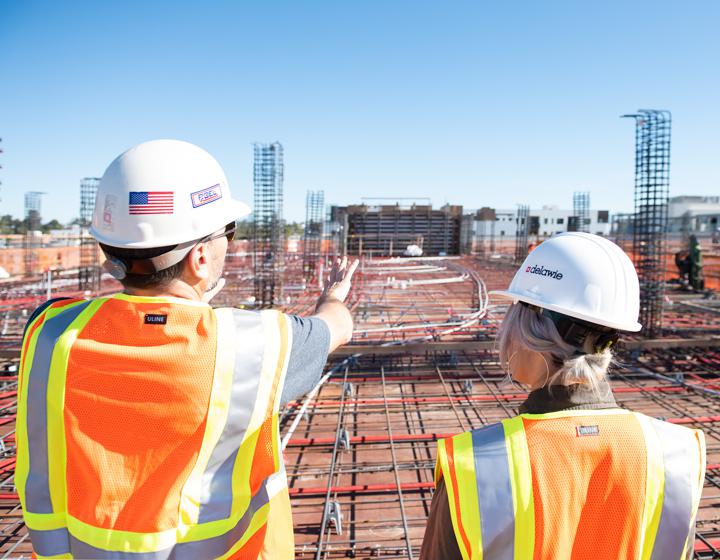 What is a hiring process?
The hiring process involves several steps, from defining the needs of an organization and recruiting, to interviews and onboarding. 
Hiring managers in blue-collar industries are currently facing a labor shortage. The problem is so acute that the U.S. Chamber of Commerce reports that as of June 2022, upwards of 60% of skilled labor is going unfilled. This challenge is forcing blue-collar hiring managers to react more quickly than in other industries. To beat your competition in the ongoing war for talent, you'll need to go to battle with a streamlined hiring process.
What are the steps in the hiring process?
Since time-to-offer is such a huge factor in today's labor market, streamlining the hiring process is more important than ever. Learn how to navigate the complex hiring process to find the top talent your blue-collar organization needs. 
1. Develop a job description to fit your hiring needs.
The first step in the hiring process is to identify your organization's current and future staffing needs. Once you've identified your needs, you can begin drafting the job description, or start with one of our blue-collar job description templates
Open job descriptions with a short introduction describing who you are, why you're hiring, and who you're looking for. Then, list the average tasks or functions the applicant can expect to perform on a daily basis. Transition into what you expect the applicant to bring, like special certifications or physical capability requirements. Close with reasons to work with your company. 
2. Recruit for the open position through advertising.
Now that you have written an effective job description, it's time to advertise that you're hiring. The most obvious place to start is job boards. Websites like Indeed, Craigslist, ZipRecruiter and Google for Jobs provide space to list your job post in an environment of job seekers. However, these are far from the only option to find great deskless employees. 
The most successful companies use a suite of candidate sourcing options in addition to traditional job boards, like employee referrals, corporate careers pages, offline advertising, and social media. Off-line job sourcing and social media advertising in particular can help you to reach a broader range of job seekers by targeting passive candidates who aren't actively searching for a job, but would be open to changing jobs for the right opportunity.
3. Review candidate applications.
Once your job posting is live and applicants start to trickle in, you'll need an efficient way to comb through candidates and start establishing contact as quickly as possible. Hiring automation software (like Team Engine) helps business owners screen applicants using preset filters based on applicants' commute time, experience, responsiveness, and even history of job-hopping. 
Before you start to review applications or make any selections, it's important to begin communication with the applicant (we recommend texting) as soon as you receive their submission. Let them know you received their application, when they should expect to hear from you again, and what the next step in the process will be. Managing expectations and not keeping candidates in the dark is a small step that can go a long way in helping you stand out from your competition.
4. Setup a phone interview as an initial screening.
By the time you decide to interview a candidate, you should have already established a line of communication with them. Using that same channel of communication, invite them to schedule a preliminary phone interview with you using an interview scheduling tool. Offer a range of dates and times that you can accommodate. Once they select a date and time, send a confirmation message with the date, time and location (physical or virtual) of the interview. The most important part of this process is to send a follow-up message a couple of hours before the interview to remind the candidate of their appointment and to reconfirm the details.
When conducting the initial screening, cover basic, high-level questions such as:
What are your qualifications for this position?

Do you have any experience in a similar type of job or industry?

Why are you interested in this job specifically?

Are you comfortable working with your hands and doing physical labor tasks as part of your job duties?

Are you comfortable working outdoors in all weather conditions?

What is your availability? Are you available to work overtime, on weekends, or in shifts that rotate throughout the weekdays/weekends?

Do you have any questions for me about the job opening or about our company in general?
Remember, the goal of this screening interview is to test the candidate's punctuality, to clarify their experience and skillset, and to gauge their overall interest and enthusiasm for the position and company.
→ Interview Message Templates for Job Candidates
5. Conduct the final round of interviews.
Successful hiring teams take the in-person interview phase of the application process seriously. They start by keeping the interview hypothetical. Questions never allude to the applicant already having the position. Since this interview takes place after an initial screening, hiring managers should expect to listen more and talk less. Allow the applicant to provide detailed responses. 
During this final round of interviews, talent acquisition teams focus on how an applicant's skill set fits into the role. The top candidates will have researched your company, and they will be able to answer technical questions to confirm their know-how. Don't discount transferable skills; you can teach technical skills, but soft skills are hard to find. 
6. Have the candidate perform applicable assessments for the position.
Because past performance is no guarantee of future results, it can be tough to place all your confidence in someone you barely know, even after an in-depth interview. Technical assessments, skills tests, and drug screenings can help mitigate some of that risk and give the hiring manager more confidence in their decision to hire someone. While this step isn't a requirement for sourcing the best candidates to fill your job openings, it's sometimes necessary for regulatory compliance and/or internal policies.
As with all blue-collar worker communication, we recommend text message for distributing links to take tests online, or to pass along the details for in-person screenings.
7. Run a background check and call their references.
As you near the end of the hiring process, filling job openings with eligible individuals can hinge on the results of a background check and/or conversations with their references. Speed and communication are once again key. Keep the applicant informed of what's happening via continued communication over text message, and be sure to conduct the background check and reference checks as quickly as possible.
8. Hire and onboard the new employee.
The first days at a new job come with paperwork, employee handbooks, and getting to know the current employees. Hiring managers should assign a model employee as a mentor for every new hire to learn the culture, responsibilities, and to help to ease them through the onboarding process. 
Successful organizations that implement organized onboarding practices show improved employee morale and retention. Human resource departments can further solidify new hire success by checking in with employees early and often in their new role. It all starts on day one by being prepared to welcome your new hire with open arms…and a solid onboarding plan!  
Simplify your hiring process with Team Engine
With Team Engine, filling job openings with the best workers is no longer a time-consuming chore. From automated job posting to streamlined applicant screening—with text-based candidate communication every step of the way—our software will help you gain efficiencies in your hiring process to seal the deal faster. 
Sign up for a free trial to see the magic for yourself.