It's a tight labor market and there are more open positions than there are people willing to fill them. You're already posting your job on job boards, collecting employee referrals, and keeping your company careers page up to date. And it's still not filling the applicant pool like you need it to.
When Team Engine customers come to us with this complaint, we always recommend looking into social media hiring ads as one tactic for getting more applicants. It's especially effective for industries like warehousing and distribution, where you're often looking for unskilled laborers who can come from almost any background, or have very little experience at all.
We make that recommendation because social media ads allow you to target passive job-seekers—people who might be willing to switch jobs, but are not actively looking at career sites. You can also show your job to people outside of your industry by targeting them based on personal interests and geographic location, instead of by similar jobs they've held in the past.
With all that in mind, we gathered up some great examples of hiring ads on social media and organized them by industry to uncover some best practices. Today, we're looking at hiring ads for distribution jobs in hopes of inspiring you to create your own compelling advertisements and start filling that applicant pool!
Distribution Job Ad Example #1 (Instagram)
(click
here
to see native post)
Why we like it:
In the first few seconds, the video captures the attention of people who've been thinking about a career change by showing someone who did exactly that.

After watching this video, y

ou have a real sense of the caring, compassionate company culture you'll find at Ocado, which can be a key differentiator against the competition.
The post caption reinforces the values demonstrated in the video: Be yourself, because you're with family, and we care about you.
It's a video, which helps the overall strength and presence of an Instagram profile.
The post caption includes a call-to-action (CTA) that directs viewers to the bio link to apply.
Pro Tip: You don't have to hire a professional videographer to make recruiting videos. As Brent Barnhart from Sprout Social advises, "Simple time lapse, behind-the-scenes videos, or short Reels are enough to draw in viewers for brands both big and small. What matters is that you're producing some form of video."
Distribution Job Ad Example #2 (Instagram)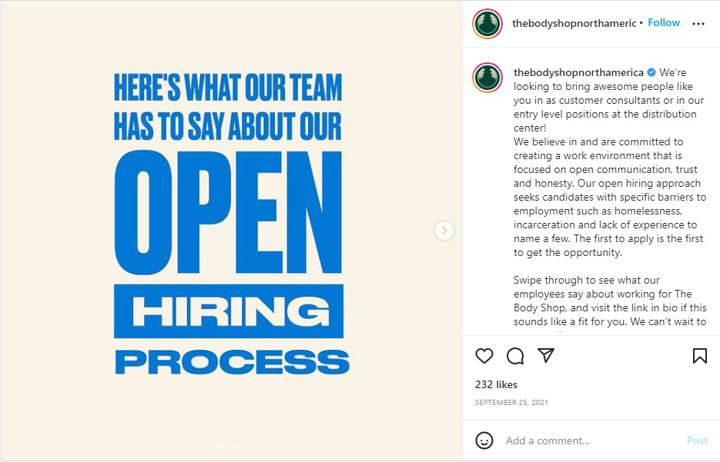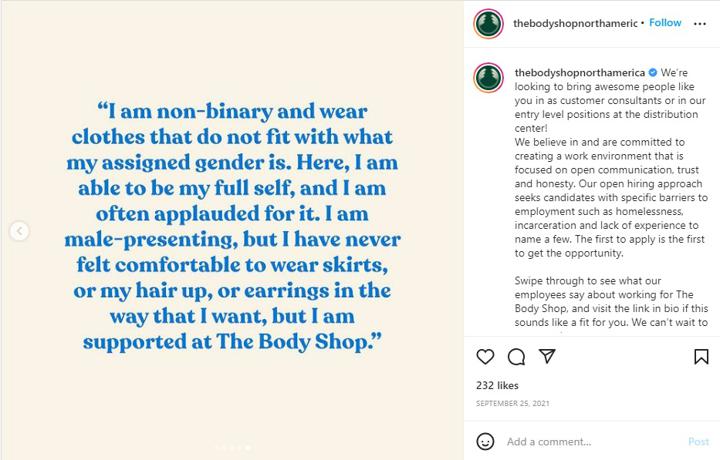 (click image to see native post)
Why we like it:
It features real quotes from real employees in their own words. Staff testimonials can carry a lot of weight in someone's decision to work for a company.
This ad is for a warehouse job for a beauty brand, which happens to have almost 16,000 followers. The recruiter likely had to work closely with the social media manager to get this posted (see next bullet point) but it's a worthwhile tactic if you're in a similar scenario with a consumer-facing brand.
Normally, we wouldn't recommend a post no photos or videos, but this is an exception. Each tile in the post is all text, but artfully designed using different fonts and intentional coloring, so it still stands out on the #DistributionJobs hashtag, but fits in with The Body Shop's overall Instagram aesthetic.
The quote from the non-binary person makes clear this company's commitment to diversity and inclusion and gives a very real peek into their company culture.
The post caption provides additional detail that might make this job extra appealing to certain job-seekers: Our open hiring approach seeks candidates with specific barriers to employment such as homelessness, incarceration and lack of experience to name a few. The first to apply is the first to get the opportunity.
The post includes a CTA to follow the bio link for more information.
Distribution Job Ad Example #3 (Instagram)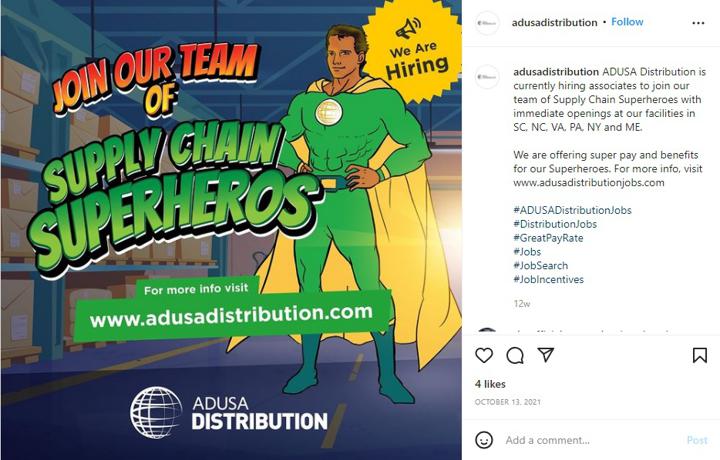 (click image to see native post)
Why we like it:
This company has created a strong employer brand by naming their workers "Supply Chain Superheros" and creating a comic book-style mascot who they often feature in employment ads.
The cartoon-style graphic with big, bold lettering stands out in a social media feed of lifestyle photos.
Since they hire nationally, the post caption specifics which states are currently hiring.
The graphic and the caption have a CTA directing viewers to their website, but no clickable link in their bio—a missed opportunity.
Distribution Job Ad Example #4 (Instagram)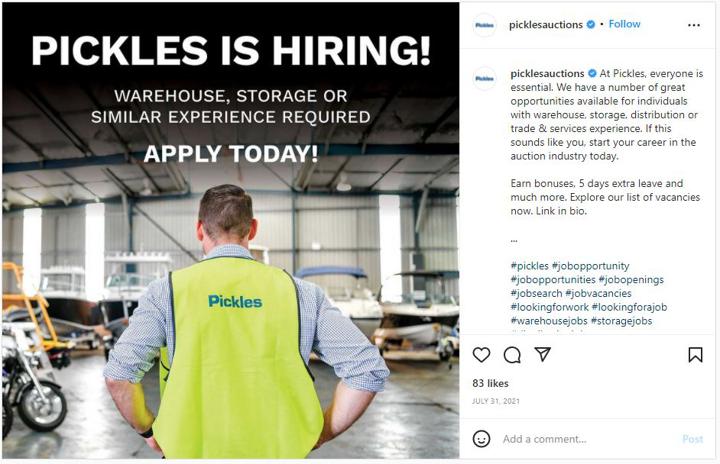 (click image to see native post)
Why we like it:
The large text at the top makes it clear what this post is about, so people can decide quickly if it's relevant to them.
The photo shows an employee on the job, so it's obvious at a glance what type of work they're hiring for.
Since some experience is required for the job, that's information is provided up front in the image, and reemphasized in the caption.
The post includes a CTA to follow their bio link for more info and to apply.
What's missing: The caption states that all employees are "essential" and mentions some basic benefits, but it doesn't hit on culture and values, which can be a big differentiator in the distribution and warehousing industry.
Best Practices for Creating "We Are Hiring" Ads for Distribution Companies
Really lean into what makes your distribution company unique, special, and a great place to work. Working in a warehouse or driving a truck is the same type of work no matter which company it's being done for, so make sure job-seekers know right away why you're different than all the others.
Experiment with video, even if you don't have any experience with it. What matters is that you're producing some form of video.
Use staff testimonials (written or on video) for social proof, which carries more weight than your own accolades.
If your company is a consumer-facing brand with a lot of social media followers, work with Marketing to find a way to make the occasional recruiting post.
If you hire from unique populations such as the incarcerated, homeless, or disabled, highlight that in your job ad.
If hiring in multiple cities or states, include that information in the post caption.
Consider creating a company mascot and/or tagline for the visual component of your employer brand to use in recruiting materials. Work with internal designers or hire an agency to make sure it's on-brand.
Always include a CTA telling viewers what to do next, like following a link for more information or to apply.
---
Looking for more inspiration? See what other companies are doing with their job hiring ads in landscaping, construction, manufacturing and HVAC. If you've found this content to be helpful, sign up for our newsletter to have future articles delivered straight to your inbox!