The seasonal fluctuations of the landscaping industry can make finding and retaining good employees a real headache. And with a massive labor shortage, the competition for top talent is only getting more difficult.
Writing a well-crafted job description is one way to ensure that you attract the right applicants for the position. Discover how to write a landscaper job description that will help you find the best candidates for your business below!
And if you're staring at a blank page not sure where to start, check out Team Engine's landscaper job description templates — they're free to download.

Describe the Ideal Candidate for the Job
There's a wide range of landscaping services that businesses can provide. Landscape design, hardscaping, lawn care, tree care, snow removal… the list goes on.
Before you start writing your landscaper job description, take a moment to consider what services you offer and what specific person will be the best fit for the role and your customers.
It takes a different personality and skill set to be a successful lawn care technician than it does to be a talented landscape designer. Will they need to have:
A passion for plants or extensive plant knowledge?

Creativity?

Physical strength and stamina?

Attention to detail?

Good customer service skills?

The ability to operate maintenance equipment?
Don't just think about who will fit the role, but also who will fit into your company culture. Do you want someone who is:
Outgoing or introverted?

A self-starter or someone who needs close supervision?

Happy working independently or as part of a team?
The way your job description is written should give applicants a strong sense of what type of person will excel in the role.
Lead with the Benefits of Working for Your Landscaping Company
In today's competitive job market, it's not enough to just list what you need from applicants; you need to sell potential applicants on why they should want to work for your company. To do this, you need to quickly answer the question: what's in it for them?
Can you offer

job security even in the snow season

?

Do you have a competitive salary and benefits package?

Do you provide on the job training and

career advancement

?

Do you reward productivity and offer unique incentives for a job well done?

Is your company culture positive and supportive?
List the benefits of working for your landscaping company right up front in your job description, this will draw in applicants who are looking for more than just a job — they're looking for a career.
It might be helpful to look at what other landscape professionals in your area are offering and make sure that you're exceeding those standards.
If you're not sure how to make your benefits package more appealing while staying within budget, check out the top 5 employee benefits that cost you nothing!
Outline the Duties of a Landscaper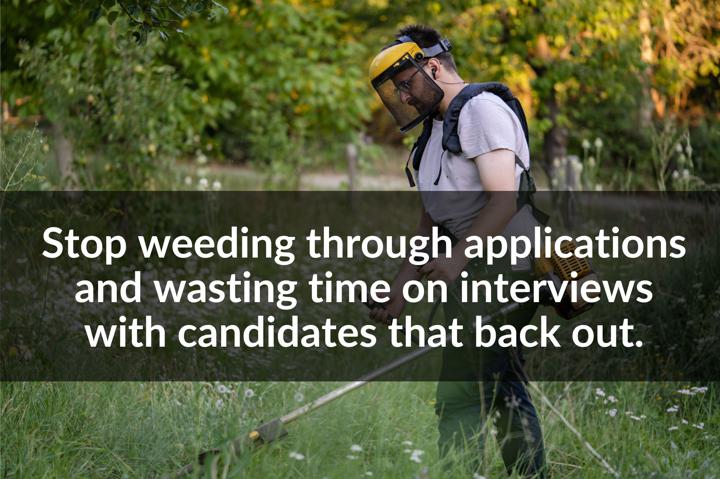 Candidates like to know what they're getting into before they even apply for the job. By outlining the landscaper job duties, you can help applicants screen themselves and only apply if they feel like they're a good fit. 
This will save you time weeding through applications and scheduling interviews, only for the candidate to back out when they realize the job isn't really what they were expecting.
Describe the main job duties that are likely to come up on an average day, and try to focus on 5-10 unique responsibilities that are specific to the job. This will give potential employees a better idea of what the day-to-day looks like and whether or not they're up for the challenge.
List Any Landscaper Job Requirements
Every role has specific minimum requirements that candidates must meet in order to be considered for the job. These are your "non-negotiables." For example, landscape architects will require a whole different level of skills, experience and education than entry-level crew members. 
So be clear about what you're looking for so that applicants know whether or not they fit the bill. Do you require:
A high school diploma or equivalent?

A valid driver's license?

Minimum number of years of experience?

Physical strength and stamina?

Prior experience operating maintenance equipment?

Specialized certifications? (i.e. certified arborist)
Keep your job description requirements concise. If you're not willing to budge on something that's fine — but the longer the list of requirements, the fewer qualified applicants you're likely to hear from.
While technical requirements are always necessary, don't forget about cultural fit and soft skills. Be willing to train people when you can. 
One way to ensure you have access to the best talent is by creating your own apprenticeship program. This is something that many home service companies are already doing to combat the labor shortage.
Research Salary Information for the Job Title Landscaper
Being vague and simply promising "competitive pay" is no longer enough. People want to know if the role will meet their family's needs before they apply. They also want to know if they're being under or overpaid for their experience and qualifications. So jobs that don't list a salary range are less likely to get high-quality applicants.  
Be transparent and give specific numbers. If you don't know if your salary will be enticing enough, find out the average salaries of landscapers in nearby areas to get an idea of what's competitive. Scroll through Indeed or LinkedIn, or check your competitors' websites to see what they're offering.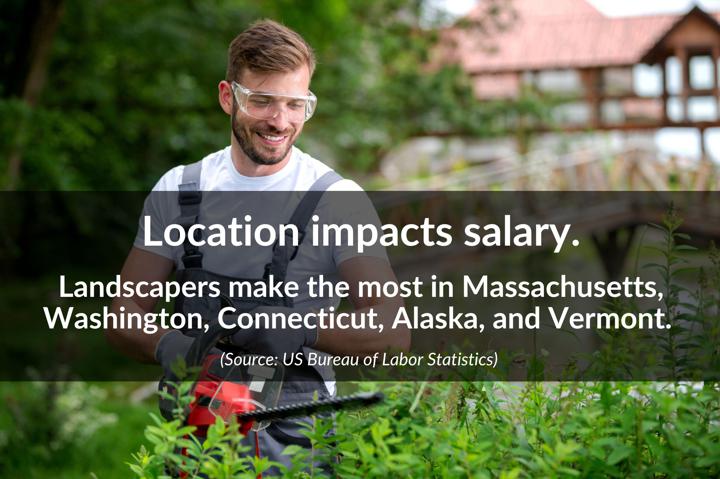 Remember that benefits, perks, and company culture can all play a role in whether or not someone accepts a job offer (even if the salary isn't as high as they were hoping for). So make sure you've really highlighted that in your benefits section. You never know who might be willing to negotiate!
Provide Clear Information on How to Apply
Every piece of recruiting and hiring collateral should include a call-to-action (CTA) that tells candidates what the next steps are. Landscaping job descriptions are no different.
Make it easy for people to apply by including all of the necessary information. Tell them how to submit their application and resume, whether you prefer email, an online form, or in-person drop-off. If you use an applicant tracking system (ATS) to screen and manage candidates, include a link to the job posting so they can apply directly.
Automate your Hiring with Integrated Job Posting
When a position opens up on your landscaping team, the last thing you want to do is waste valuable time manually posting the job to various job boards. An integrated job posting solution will do the work for you, by automatically pushing your listing out to the most popular job sites.
Not only will this save you time, but it will also help you reach a larger pool of qualified candidates. And when you're trying to fill a role quickly, that's exactly what you need.
Team Engine offers free landscaping job description templates to help business owners and HR professionals write a compelling job description. And with our easy-to-use platform, you can post that job description to the most popular job sites with just a few clicks. Grab a free 7-day trial of Team Engine today!