We've come to realize that there is a lot of nuance to the status of a job posting beyond just "hiring" or "not hiring." 
For example, there are times when you want to:
pause the inflow of new applicants so you can process received applications or prioritize applications from a specific event like a job fair

engage only internal applicants or applicants you explicitly reach out to 

send text messages to your "Saved" and/or referred applicants first when you re–open a job before advertising publicly
In light of this understanding, we've created some additional options for the status of a job in order to give Team Engine users greater control over applicant tracking and communication.
How Job Statuses Worked Previously
Before this update, a job could either be "active" or "inactive."
If a job was labeled as "active," that meant it was being actively pushed out to job boards including Indeed, ZipRecruiter and Google Jobs by Team Engine, and was also eligible for advertising on Facebook or Craigslist, should the user choose to do so.
An "inactive" job was no longer accepting applications or being advertised on Facebook or Craigslist, and users could not text with applicants to a job that had been inactive for more than two weeks. 
How Job Statuses Work Now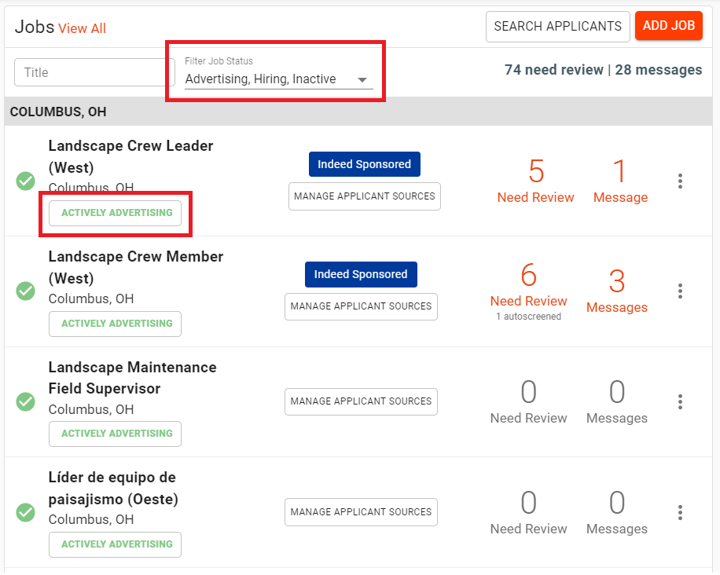 We added two new categories to account for situations in which a job may still be open but not actively advertising, and for jobs that are infrequently opened.
Here's the options Team Engine users can now select for the status of any job:
Actively Advertising (previously "Active")
This means the job is auto-posted to external job boards (Google For Jobs, Indeed, ZipRecruiter, etc.) and can also be advertised to Facebook, Craigslist, and other sources.
If a user adds a Facebook or Craigslist ad to a "Hiring, not Advertising" job (see below), it will automatically update the status to "Actively Advertising" and appear on the external boards.
Hiring, not Advertising (New!)
Selecting this status removes the job from job boards, and gives the user time to catch up on reviewing applicants. 
Crucially, this status also keeps the application open to allow for employee referrals and internal applicants. This status also allows the user to continue to send text messages to applicants to the job.
Not Hiring (previously "Inactive")
This status means the job is no longer accepting applicants, is no longer posting to any job boards, and removes text messaging capabilities with applicants. However, the job will still appear in most views (such as on the dashboard). This status is most appropriate for jobs that aren't open right now, but will be again within the next two weeks.
Archived (New!)
This status is useful for jobs that are obsolete or rarely open for hire. Rest assured that archived jobs will retain their data; we just remove them from your view so they're not in the way. 
Note that jobs will be auto-archived if they are marked as "Not Hiring" and have had no activity for two weeks.
How to Change a Job Status
As part of this update, the dashboard filters for jobs have been updated to allow filtering by various statuses. By default, all jobs are shown except for Archived.
The status listed under the job title in the dashboard is clickable. Clicking the current status opens a dialog to select the new status (along with a brief description of what each status is). 
You can also change the status of a job by clicking into the job. In the left panel, under the "Switch Job" down-down menu, you'll see the current status of the job next to a "Change" button. Clicking that button also allows you to update the status.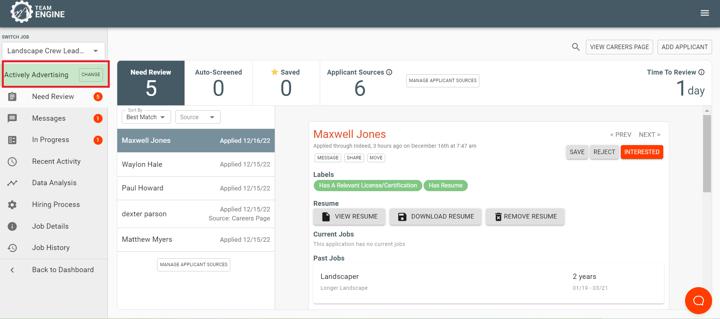 ---
Do you have a unique situation where these options might not work for you? Need clarification on the implications of selecting a particular job status? Attempting to do something not covered here? Schedule a call with our customer success team today!