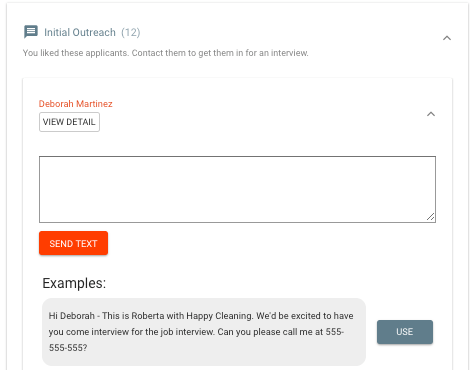 We're excited to launch a big interface update for Team Engine in the form of a totally revised To Do List. Our goal is to make your hourly hiring faster and more effective by giving you a short list of things you need to do that's right in front of you and can ideally be done in just 5-10 minutes a day.
How the New To Do List Works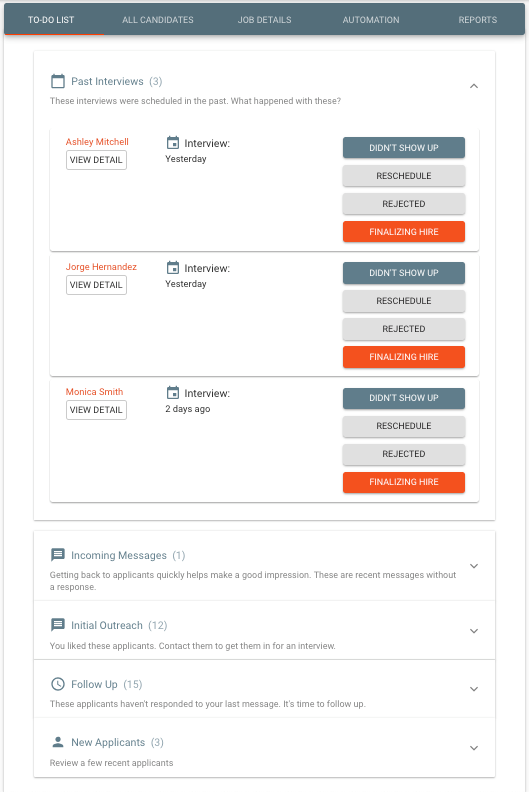 The core goal behind the to-do list is that you don't have to think about where to spend your time to move candidates forward. As an example, we'll show you a list of everyone whose interview is in the past and a quick button to mark whether they showed up, whether you want to reschedule them, reject them, or move them to the next step. As you complete each action, it'll go away.
A few of the sections you'll see in the To Do List:
Past interviews where you can mark whether applicants showed up and how they did.
Initial Outreach for any new applicants you've liked but haven't yet followed up with.
Follow Up for applicants who haven't gotten back to you one day after you last reached out.
Incoming Messages to show applicants who have texted you but you haven't responded to.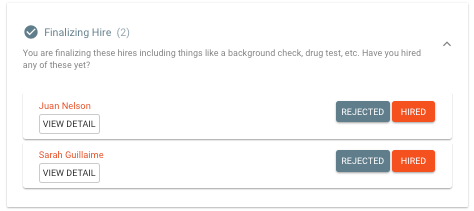 Automating Tasks Away to Make Hourly Hiring Faster
At Team Engine, our job is to save you time and make hourly hiring faster by getting good candidates from application to interview as quickly as possible. This is important not just because you have tons of other tasks on your plate, but also because getting applicants through the hiring process faster is one of the main predictors of whether they accept your offer. Hourly workers don't have weeks to sit around without an income, and they're likely to accept the first job offer they get that matches what they want.
Given this, we're focused on automating as many of the actions from the to do list as possible. If you have automatic text messages setup to go out after you Accept an applicant by clicking the Thumbs-up button, you won't see them in your to do list as the outreach will happen in the background. We'll then show them again after a day if they haven't responded.
Learn More about the To Do List
To learn more about the To-Do list and how to get started with Team Engine head over to our website and request a demo with one of our software experts.