At the core of any hiring process is getting as many high quality applicants as you can. Getting a big stack of resumes that are terrible fits for your job just wastes time.
We're excited to launch two features explicitly aimed at increasing the number of highly qualified applicants you get for each job (with as low a cost per applicant as possible) by automating employee referrals and integrating all jobs with ZipRecruiter.
Integrating Team Engine with ZipRecruiter
Our new integration with ZipRecruiter unlocks two new features to increase your applicants:
1.) All jobs will be automatically be pushed to ZipRecruiter to get more initial applicants for free. For any new job created, the posting will happen without the need for you to do anything, and if you change the job description, we'll update it on ZipRecruiter.
2.) You'll be able to boost jobs on ZipRecruiter to get even more applicants. For any job, you can choose to boost the job description to get more applicants from ZipRecruiter. Contact us (or chat with us in Team Engine) to learn more or to try this out on a job.
Automating Employee Referrals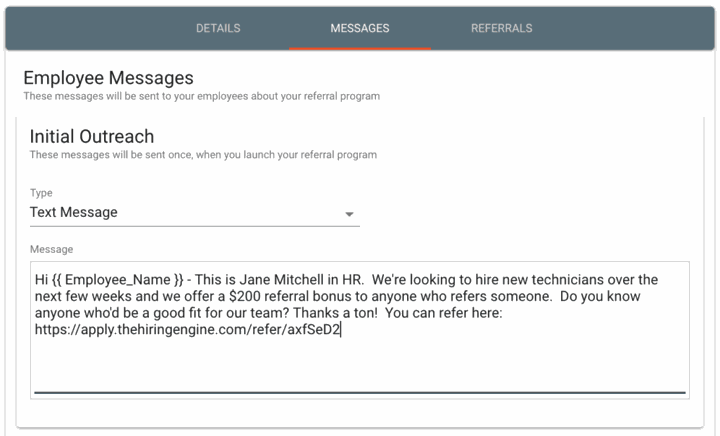 For many of our customers, we've found that their best employees came through employee referrals (not only best overall but also often at the lowest cost / hire). We're excited to launch a series of tools to increase employee referrals while also saving you time.
As a starting point, many companies have implemented some sort of referral program that rewards employees for recommending great people (typically paid out once that new person has applied and lasted for a given time period). This program is then promoted by word of mouth, by putting up signs around the office and by occasional email announcements. The key problems though are that: you can't scale the referral program to get more referrals, and the program depends on you remembering to talk to every single employee every month.
Our new employee referral feature helps make all of this easier by handling the tracking and administration of the referral program while also increasing referrals by keeping it top of mind through automated email and text follow-ups to employees.
Once you've given Team Engine details of your referral program, emails and texts will be automatically sent (or can be kicked off manually) to employees will be sent messages explaining who you're hiring and how to refer people. Once a referral is entered, Team Engine will automatically send a message to encourage that person to apply and then track who made the referral through the application process so you can see where your referrals are coming from.
No need for separate spreadsheets, and more referrals that just happen in the background. Set up a meeting with one of our software specialists to learn more about how to get started.