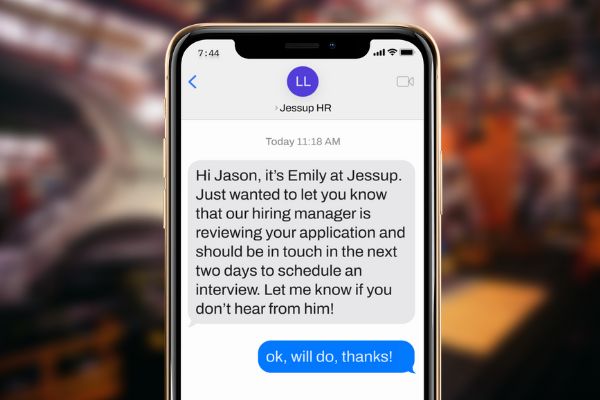 What is the hiring process timeline?
Too many unfilled job openings can cause stress for hiring managers. The untold number of hours designing and promoting the perfect job posting (not to mention filtering through countless unqualified applicants) can have human resource teams running for the hills. While the hiring process timeline can be daunting, with a few manageable steps, you can find the best talent in less time than ever. 
According to the Bureau of Labor Statistics, there is a massive gap between job openings and job hires, making it harder than ever to find skilled candidates. With Team Engine's recruiting platform, text message features and automatic communication capabilities give business owners and managers a powerful tool for locating the best talent in less time than the competition. 
1. Create the job description.
The first step in the hiring process is developing a job description. Job descriptions need to be short and impactful by providing a high-level overview of the position. Explain what the job is, what functions team members complete, the benefits you provide, and the job requirements. 
And if you're just getting started, our job description templates will point you in the right direction.
2. Post and publicize the job opening.
Post your job description on all the standard job boards (like Indeed, ZipRecruiter, and Google for Jobs) and on social media (like Facebook Jobs and LinkedIn). You can also find qualified candidates who aren't actively job searching by running recruiting ads on Facebook and Instagram.
Job boards and social media aren't the only places you can advertise job openings. You can use employee referrals, off-line publicizing, and live events like career fairs. To make sure you're reaching your total job audience, download our recruitment process checklist. 
3. Gather and review applications.
Human resource departments spend a significant amount of time in applicant tracking systems looking for the perfect candidate. This step also calls for  hiring managers to review applications, which can be one of the most time-consuming tasks in the application process.
Team Engine's streamlined applicant screening software shortens the average time spent reviewing applications during the selection process. Hiring managers can automatically filter down to the best candidates based on their commute time, history of job hopping, pay expectations and more. 
4. Begin the initial job interview process.
Once you've found qualified candidates, the interview process can begin. Phone interviews and video interviews are common, especially in the early stages of the hiring process, but many companies will also go straight to an in-person evaluation. However you decide to conduct your first interview, you'll have the best luck with candidate communication if you set up the interview over text message.
→ Interview Message Templates for Job Candidates
The first interview is an excellent opportunity to ask some basic questions to get a feel for the applicant. Hiring teams should ask questions like these:
What are your qualifications?

– This question reveals if the candidate has the skills or knowledge to handle the job requirements. 

Why are you interested in the role?

– Money is an obvious answer, but to ensure the applicant will fit in with the other team members, you'll want the candidate to actually desire to do the work. 

Are you comfortable with the physical demands?

– Deskless jobs are physically demanding. Applicants should be comfortable working with their hands, standing on their feet for long periods of time, and working under tough conditions, like extreme temperatures or weather conditions.

What is your availability?

– You want to make sure all shifts are adequately covered, and that the candidate has enough time to meet the demands of the job. Remember,

federal law

protects some interview questions, and you'll want to avoid asking prohibited inquiries. 
5. Hold the second round of interviews.
The second round of interviews should focus on skills and technical know-how. Hiring managers should also be careful to keep the phrasing of these in-person interviews hypothetical to avoid the applicant feeling like they're about to get the job offer.
In-person interviews allow the candidate to explain what makes them unique. Spend more time listening rather than speaking, and be sure to ask technical and competency-based questions. Set aside at least 30 minutes to fully assess the candidate.   
6. Do reference checks on candidates.
Some companies still require reference checks and/or a criminal background check. While it can be necessary for some job functions, it could also be a deterrent for candidates who would otherwise be great workers.
Ask yourself why the company is conducting reference and background checks and whether or not it's related to the functionality of the job. If there is no clear explanation for why the company conducts these checks, consider removing them. Not only does removing these steps shorten the hiring process timeline, but it also widens the talent pool.
7. Make a job offer.
The final interview should make a hiring decision easy. If there is no intention of moving forward by the end of the interview, it's best to communicate as much. Likewise, if you're not ready to make the decision, communicate the next steps and timelines clearly. Follow up with the candidate if you need more time, and be transparent with your status in the process. 
On the other hand, top candidates can impress during the interview. Don't risk them getting hired by another employer if you know you want to bring them on. Instead, present a job offer during the interview, even if you don't have an official offer letter prepared. Be sure to communicate what comes next and when they should expect a start date. 
8. Onboarding and orientation for new employees.
Onboarding for a new role can be overwhelming, especially on the first day. Make new hires feel comfortable and welcome them to the team with an organized onboarding and orientation process. Collect required paperwork and provide your new employee with all the resources they'll need for their new role. 
To fully integrate your newest team member, assign a buddy to show them the ropes. This training employee should be an ambassador for your company with the knowledge and skills of the role. Check in with the new hire during their first days, weeks, and months on the job to let them know you care about seeing them succeed, and to get feedback on how you can improve.
→ Employee Onboarding Template
→ How to Automate Employee Onboarding
Simplify your recruitment process with Team Engine
Hiring quality employees for your deskless workforce doesn't have to be a daunting and time-consuming process. In fact, skilled hiring managers can complete the entire hiring process timeline in a matter of hours following some simple steps. It starts with a great job description and continues through job application selection and interviews. Successful candidates will make it to the hiring and onboarding stage, completing the process.
It helps to have the tools you need to be successful, like Team Engine. Sign up for a free trial to see how our software can help streamline your hiring process today.