At Team Engine, we are always working on updating our platform to help you grow, lead, and support your team. This month we've added automated onboarding surveys, supervisor announcements, and so much more.
Automated Onboarding Surveys
The new automatic onboarding surveys in Team Engine have been really great. Without adding any work to my busy day, we have been able to learn who our best trainers are, make meaningful improvements to our onboarding process, and—most of all—demonstrate respect and care for our new employees and their input.
-Jill Ryall, Top Gun Facilities Services
Keeping in touch with new employees and getting their feedback is both important and challenging. An employee's experience in the first month or two is often the difference between retaining someone and seeing them leave. Gathering feedback on your onboarding and training process can give you valuable insight into what you can improve while also demonstrating commitment and caring for your employees. The hard part is making it happen. With hiring, payroll, open enrollment, and plenty of other responsibilities, not to mention employees who are out in the field or the warehouse away from a desk, this is often one of the first things to fall through the cracks. 
With Team Engine, you can send a personal, automatic, text message-based survey when employees reach 30 days of employment. You and your leadership team can see responses. They all go into one place where you can identify themes and quickly make changes to improve your critical early employee experience.
Improved Message Personalization
It is now easier than ever to personalize all of your messages to your employees. People are much more likely to read and respond to a message if it is specific and tailored to them using their name and other information. You can now easily insert these variables in your announcements and surveys and see a preview of what the message will look like to make sure you're sending the right thing.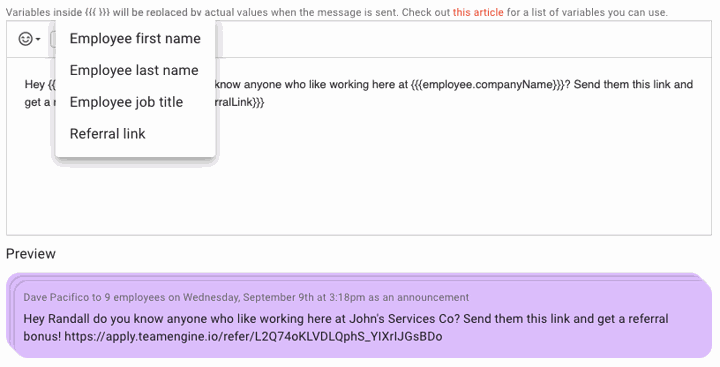 Team Engine supports language personalization as well. If you have employees who prefer Spanish instead of English, we will prompt you to add a Spanish version of your announcement or survey and then deliver the correct version to each employee. Personalization improves engagement and demonstrates that you care about your employees as individuals.
Supervisor Announcements

Your supervisor needs to remind their 30 employees about the monthly meeting coming up on Friday, but they're stuck! Before, they could message each of their employees, but that's time-consuming. Having to send out thirty different text messages and holding thirty different conversations.  
We went ahead and made things easy for you; supervisors can now send announcements.
This means supervisors are no longer limited to group messages with only ten people; instead, they send out a mass announcement to all of them. Announcements can help supervisors send meeting, safety, and other reminders.
How To Create a Group
Creating a group helps you organize your employees and communicate with them based on important attributes like job, location, supervisor, and more.
Select Directory in the side menu
The Directory will show you all of the employees that you have previously added. Select Manage Groups (unless you don't have all the employees your supervisor needs to text in the system, then add them first).

Once you are in the Group menu, select Add Group in the top left corner. Name the group and select Create. The group you created will show up in your menu. From there, you can select all the employees your supervisor would like to have in that group.

We want to make everyone's employee communication process as simple as it can be. We know your supervisors have teams of their own to manage, that is why we built them access to communicate with their employees no matter how many there are.
---
We believe that word of mouth is the strongest recommendation a business can get, so we've decided to continue running our referral program. As a thank you, we'll give you $200 for every demo you send our way, and your referral will receive our favorite Yeti coffee mug just for showing up.
Know someone who would love Team Engine as much as you? Head over to teamengine.io/referral for a customizable email template for you to send out that includes our brand new product flyer.