Communication with applicants and coordination between everyone involved in the hiring process are two of the biggest hiring challenges. Team Engine is making these easier by bringing calls into the fold. You can now both accept calls and call applicants straight through the software with the local phone number we automatically buy for every job.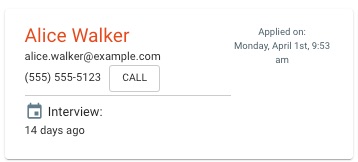 When you click the call button, Team Engine will call your phone, then call the candidate as well. By calling through Team Engine, the call will automatically get tracked and it will also come from the job phone number so you don't have to share your personal cell phone number. You can also save your number for quick and easy calling.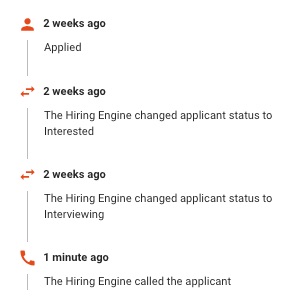 If the applicant calls the job phone number, it will get both forwarded and tracked, so everyone on your team can see a full history of calls and text messages from the applicant.
Phone Calls vs Text Messages in Hiring
Calls and text messages play different roles for many of the best recruiters. Text messages are a great way to reach out quickly, show you are interested, and to engage applicants right away on any questions you have, but the downside is that they don't let you get as good a sense of the applicant themselves and how they'll communicate in the work place.
Phone calls provide that direct human communication, but rely on getting the person on the phone – which often means they lead to less frequent and less immediate communication. Given that most of the best applicants have jobs presently, the best applicants might be particularly hard to reach.
We recommend a combination of text messages and calls. Some applicants will also prefer one vs the other, so this also helps you meet applicants on their own terms (and will give you a good sense of their written and oral communication).
If you're interested in seeing how this works, set up a demo with one of our software specialists.